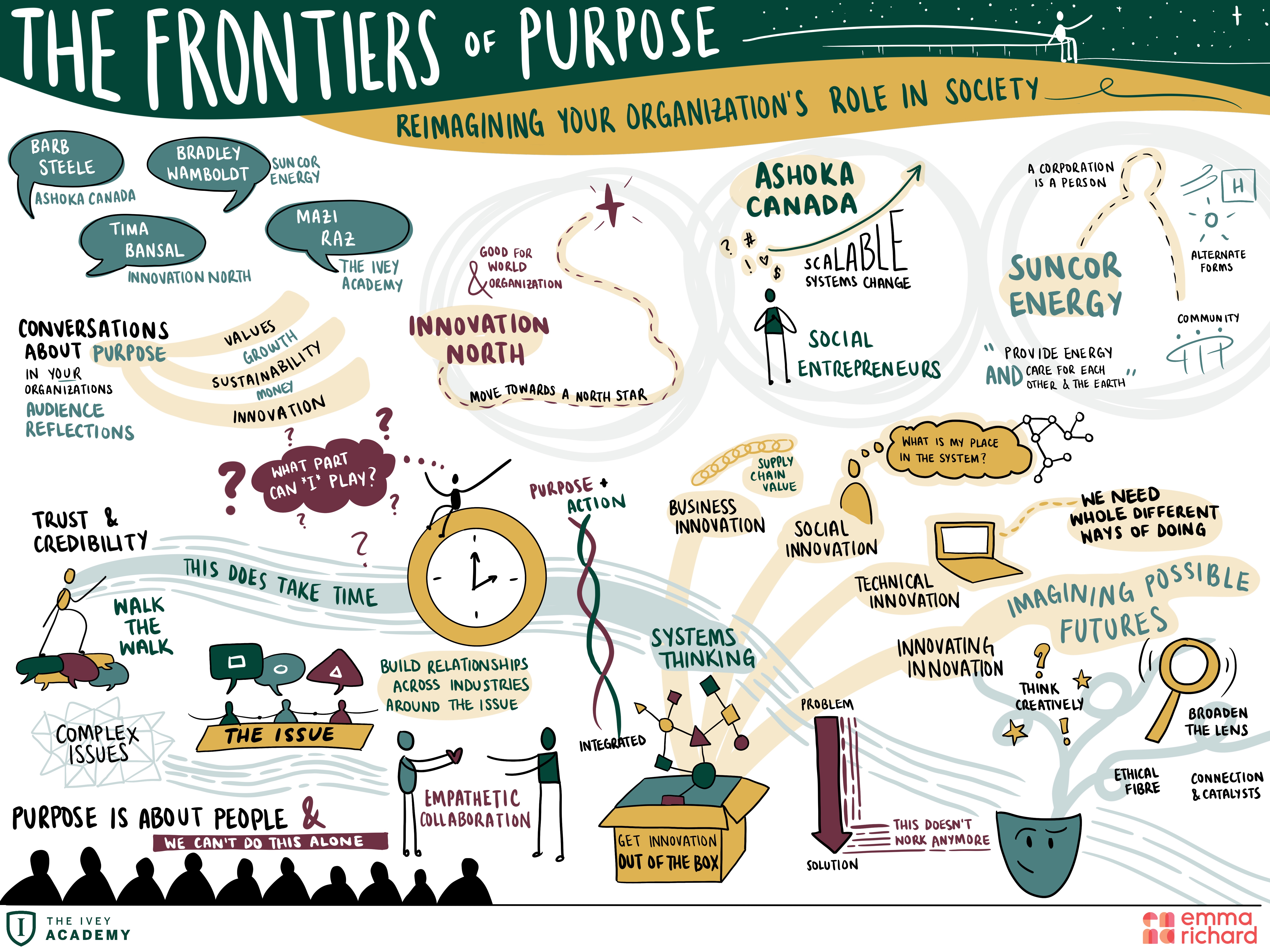 Graphic by Emma Richard (IG: @itsemmarichard)
We live in a time defined by large-scale environmental and societal challenges. The climate emergency, rising levels of inequality, agriculture and food security, and growing unemployment rates are among many trends affecting all societies and sectors. In light of these, what role can organizations play to help tackle these challenges? How can organizations—whether in the public or private sector—reconstitute their 'purpose'? How can they reimagine innovation to create shared solutions and build towards a more prosperous society?  
In this episode...
Hosted by Mazi Raz, MBA '05, PhD '14, Assistant Professor and Director of Learning Design & Strategy at The Ivey Academy, we welcomed Tima Bansal, Professor, Ivey Business School and Founder of Innovation North; Barb Steele, HBA '85, Executive Director, Ashoka Canada; and Bradley Wamboldt, EMBA '10, General Manager, Enterprise Technology, Suncor Energy, to discuss how organizations can create a future where businesses and society thrive. Using examples from the Innovation North community of practice, our panel explored the implications of reconstituting purpose on innovation and models of collaboration.
Other ways to listen:
Content Timestamps:
0:00 - Introduction and Land Acknowledgement
2:59 - Introduction to Innovation North
5:03 - Introduction to Ashoka Canada and social entrepreneurship
8:20 - Large organizations/corporations and creating purpose
13:50 - Innovation challenges / Stakeholder Buy-in
16:28 - Energy Future Labs as an example of creating shared purpose
22:16 - How "purpose" has changed for organizations
23:02 - Innovating the innovation process to be systems oriented
25:04 - What skills/processes/values are needed to be successful in achieving purpose?
30:01 - NGOs and collaboration with corporations
37:12 - Paradigm shift in the state of our world and the necessity of collaboration
40:34 - Creating easier pathways to connect NGOs and corporations
41:47 - Our individual responsibility to innovate
43:48 - Outro / Closing remarks
About The Ivey Academy at Ivey Business School
The Ivey Academy at Ivey Business School is the home for executive Learning and Development (L&D) in Canada. It is Canada's only full-service L&D house, blending Financial Times top-ranked university-based executive education with talent assessment, instructional design and strategy, and behaviour change sustainment. 
Rooted in Ivey Business School's real-world leadership approach, The Ivey Academy is a place where professionals come to get better, to break old habits and establish new ones, to practice, to change, to obtain coaching and support, and to join a powerful peer network. Follow The Ivey Academy on LinkedIn, Twitter, and Instagram.