Accelerating Leadership with AI
Redefine your approach to management through the lens of Artificial Intelligence and ChatGPT. Navigate the new evolution of work and lead change in your organization.
Summer Session
$790 CAD
Module 1: To Be Announced
Online
2 hours
Live Virtual + Self-Paced Learning
Module 2: To Be Announced
Online
2 hours
Live Virtual + Self-Paced Learning
Workshop Overview
The sharp rise of accessible Artificial Intelligence (AI) is already disrupting how people and organizations work across every sector and industry. Among the questions and challenges raised by ChatGPT, DALL-E, and other generative AI technologies, there are also immense benefits waiting for leaders prepared to recognize and capitalize on emerging AI-driven opportunities.
In this focused, intensive workshop, you will work with expert Ivey Business School faculty to identify and implement the critical habits and processes needed to use AI successfully in your team or department. Go beyond simply learning the tools – build a future-oriented action plan to navigate a rapidly evolving AI paradigm.
Long-term success as a leader depends on your adaptability and creativity. Accelerating Leadership with AI helps you accelerate your strategic thinking, understand the scope of AI-assisted work in your unique context, and enhance your approach to people leadership through the lens of AI.
Who Will Benefit
Accelerating Leadership with AI is designed for leaders at any level, in any function, across all sectors and industries. The potential applications of generative AI are limitless — you'll work hands-on with peers to share insights, practice essential skills, and find unique benefits for your specific context.
No previous experience with AI tools is needed to join this workshop.
What You Learn
Implementing AI solutions
Gauge your organization's AI readiness and identify practical applications to use AI for accelerated efficiency.
Predict and understand future developments in the AI space – from ChatGPT and beyond.
Managing people, processes, and culture
Determine the skills your people will need to work with AI. Consider talent development strategies and recruiting for an AI-driven future.
Adopt an entrepreneurial mindset to leverage AI, no matter your role.
Explore strategies for employee engagement around AI, encouraging a team culture that embraces AI-infused innovation.
Consider the ethical issues raised by AI, and how new tech aligns with your organization's mission and values.
Optimizing your personal approach to AI
Practice your prompt engineering and find best practices to maximize the output of AI tools.
Use AI to elevate the human element of work, automating repetitive tasks and finding the best use of creative, strategic thinking.
Reconsider your approach to leadership and performance management with an AI-informed perspective.
The total learning time commitment for this workshop is 4 hours of instruction and 1-2 hours of independent work.
Ivey Advanced Impact Certificate
Accelerating Leadership with AI is eligible for your Digital Leader Certificate pathway. Click here to learn more and view additional program options.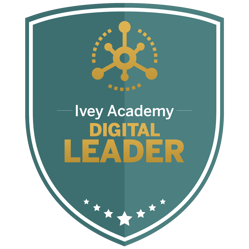 How You Learn
Accelerating Leadership with AI is an intensive, focused workshop designed for hands-on participation and peer learning. You'll work with Ivey faculty and brainstorm ways to apply AI-driven tools in your organization.
Learn more about the Ivey Experience
Return on Investment
Earn a credential from Ivey Business School. Your Accelerating Leadership with AI digital badge is linked to a unique URL, allowing you to showcase your advanced proficiency in online profiles.
Accelerate your strategic thinking and personal productivity with an AI-informed approach.
Receive exclusive event invitations and curated collections of thought leadership and research from Ivey Business School.
Devise practical ways to leverage AI for your team or department, applying your learning throughout the program to real-world challenges and opportunities.
Share new perspectives, frameworks, and research from Ivey with your team to build a greater sense of collaboration and cohesion.
Help your organization build the culture and capabilities to use AI for long-term success.
Fees
$790 CAD
The program fee covers all materials. Program fees are tax-exempt.
Applications must be submitted no later than 14 days before the start of the program.
FAQs
How are online programs delivered?
Online programs are delivered through a blend of live interactive virtual sessions with Ivey faculty facilitators and self-paced learning modules. Each module guides you through videos, cases, and exercises that help you prepare for and reflect on your learning. You'll then participate in a live online class to discuss and apply your new knowledge with peers and faculty. All components of virtual programs are required for participants.
What funding resources are available?
How should I prepare before attending the program?
Our Program Managers will contact all registered participants before the program start date with instructions to join our online Learning Management System. Once logged in, you can create a class profile, view other participants' profiles, and access a list of assigned preparation activities. Plan to review and complete preparation work in advance of each class session.