Communication and Leadership Presence
Enhance your leadership presence and bring your authentic self forward. Practice communication skills with peer support to discover a deeper awareness of your leadership identity.
Price Range
$5,490 - $5,990 CAD
Fall Session
$5,490 CAD
October 25 - October 27, 2023
In-Person
3 days
London, Ontario, Canada
Spring Session
$5,990 CAD
April 17 - April 19, 2024
In-Person
3 days
Calgary, Alberta, Canada
Program Overview
Successful leaders know how to have an impact. Great leaders know how to inspire. Communication and Leadership Presence takes your leadership presence from good to great through authentic communication.
This transformative program is designed for leaders ready to move beyond traditional approaches to communication. Through a deeply personal process that links leading-edge research, neuroscience, and sociology with guided self-reflection, you'll learn how to cultivate your leadership presence by identifying and bringing your best self forward.
Throughout the program, you will practice your communication skills, receive coaching from top-rated Ivey faculty, and build a global peer network that will be in your corner when you need them most. Return to work with the confidence to navigate difficult conversations, communicate your vision, and inspire others from a place of self-awareness and understanding.
Who Will Benefit
Communication and Leadership Presence is designed for emerging and experienced executive leaders alike, who are growing in their careers and need to enhance their impact at work. You will become proficient in the art and science of communication skills and unlock your authentic leadership presence in any situation. Participants commonly hold roles in management through to the C-suite of their organizations.
What You Learn
Understanding your authentic leadership style
Gain a deeper understanding of your communication styles, preferences, strengths, and weaknesses; identify areas for improvement and build an action plan with feedback from faculty and peers.

Apply various communication theories and models, learning about the neuroscience behind effective communication.
Practicing inclusive leadership
Consider your personal practice of equity, diversity, and inclusion to engage in meaningful communication across cultures and intersectionalities. Understand your audience as individuals and build authentic connections with people who think and work differently.
Practice active listening—as well as giving and receiving feedback—to build stronger relationships and foster a collaborative work environment.
Communicating in context
Present ideas clearly and succinctly, leveraging good storytelling fundamentals to engage any audience — whether it's one person or a crowd.

Account for different perspectives and ensure your vision is heard by team members, leaders, and external stakeholders.

Connect set and setting to put best self forward in any context: in person, on the phone, and in virtual video meetings.

Use data and visualization to enhance your communication.
Navigating difficult conversations
Navigate difficult, crucial, and confrontational conversations from a place of self-awareness and an awareness of others.

Manage conflict and create shared value through effective communication.

Integrate dimensions of leadership character within your approach.
Ivey Inclusive Leader Certificate
Communication and Leadership Presence is eligible for your Inclusive Leader Certificate pathway. Click here to learn more and view additional program options.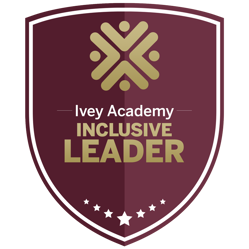 How You Learn
Communication and Leadership Presence is deeply experiential, grounded in case research, and facilitated by expert faculty from Ivey Business School. Our real-world approach to learning is about the practical application of new skills. Through simulations, presentations, and self-assessments, you'll build confidence in your communication and awareness of your personal leadership identity.
Learn more about the Ivey Experience
Return on Investment
Earn a credential from Ivey Business School. Your Communication and Leadership Presence digital badge is linked to a unique URL, allowing you to showcase your advanced level of proficiency in online profiles.
Form lifelong connections with peers through learning and social events. The Ivey Academy alumni network is a long-term resource for participants to share business opportunities or seek advice on life and career challenges.
Explore new perspectives while taking time for mindfulness, reflection, and practice away from the demands of your day-to-day. Return to work with an open mind and increased confidence to be effective in your role.
Receive discounts on select programs, exclusive event invitations, and curated collections of thought leadership and research from Ivey Business School.
Complete self and peer assessments to build a deeper awareness of your personal approach and leadership style.
Advance your personal pathway for leadership development, enhance your long-term contribution to organizational success, and invest in planning for succession.
Gain insights from across various sectors, industries, and organizations, borrowing best practices and new perspectives from outside your organization to jump-start innovation.
Share new perspectives, frameworks, and research from Ivey with your team to build a greater sense of collaboration and cohesion.
Enhance your company culture with progressive approaches to inclusive leadership.
Lead sustainable high-performance teams through effective communication.
Participant Testimonials
This program was fantastic — it showcased advanced, research-based, practical tools for me to apply to my workplace. The faculty was also very available and prepared to make an engaging learning experience for all students. I highly recommend it to all leaders.
Alex Chan, Director, Canadian Stewardship Services Alliance Inc.
This program has helped me engage better as a leader. I came here hoping to make my voice heard, but I'm leaving ready to be the voice my organization wishes to hear. As an alumna of the Ivey MBA program, I was surprised at the extent of my learning even after all these years. I won't wait to sign up for another program.
Nicole Turnbull, Business Unit Manager, TD Bank
Kanina is absolutely world-class. Her expertise—not just in the theory of leadership—but through actual, real-world life experience is second to none. The storytelling, empathy, and engagement with the class were absolutely perfect.
Paul Hoekstra, Vice President Strategic Development, Grain Farmers of Ontario
Everyone comes from different organizations, which adds so much value because you see people from every industry represented. And everyone went in with an open mind, willing to share and connect deeply. That made the experience truly special.
Danny Potvin, Regional Director, Dollarama
Interacting with so many different personality types in the class absolutely mimicked the scenarios you might face at work. Learning to appreciate that diversity while finding a way to work together toward common goals was incredibly valuable and transformative for me.
Harsh Jain, Senior Manager, Ontario Power Generation
This course blew me away… So much more than a theoretical class on leadership. It walks the talk and takes everyone right out of their comfort zone in a significant way. Highly recommend!
Michael Hudgin, Assistant Portfolio Manager, Ontario Teachers' Pension Plan
Amazing, emotional experience. So intense – in a good way! Highly recommend. The best continuing educational course I have taken. Lessons will stick with me forever.
Laura Blyth, Director, HR Strategy, Governance & Talent, WSIB
Fees
$5,490 - $5,990 CAD
The program fee covers program materials, meals, and hotel accommodations for sessions at our Ivey Spencer Leadership Centre. Program sessions offered in Toronto and Calgary include program materials, breakfast, and lunch; participants are responsible for accommodations and meals outside of program hours. Program fees are tax-exempt.
Applications must be submitted no later than 14 days before the start of the program.
FAQs
What funding resources are available?
When are new program dates announced?
How should I prepare before attending the program?
Our Program managers will contact all registered participants prior to the program start date with instructions to join our online Learning Management System. Once logged in, you can create a class profile, view other participants' profiles, and access a list of assigned pre-reading, cases, and activities. Plan to review and complete preparation work in advance of each class session.