Innovating for Digital Transformation
Accelerate digital transformation in your team, department, or organization. Harness innovation strategies, new technologies, and leadership skills to drive successful change.
Spring Session
$5,990 CAD
April 22 - April 24, 2024
In-Person
3 days
Toronto, Ontario, Canada
Program Overview
Leaders in a rapidly evolving technological landscape know adaptation is critical for organizational success. However, digital transformation initiatives can easily drift off-track. Especially for established companies in mature industries, aligning strategy and technology is exceptionally difficult — risking missed opportunities and competitive disadvantage.
Innovating for Digital Transformation is designed to help executives and managers overcome these challenges and successfully navigate change. Bringing an innovation lens to digital transformation, you'll learn to encourage a culture of creative experimentation and rally your team around a shared vision for the future. Working with top Ivey faculty and peers from across industries, you will develop a deep understanding of the trends, strategies, and best practices needed to successfully drive digital change, boost growth, and future-proof your organization for any new technology.
Understand the implications of digital change on your business model. Gain insights into the potentials and challenges of digital disruption. Build an action plan to tackle a real-world opportunity. Become a digitally-savvy leader and learn your way into the future with confidence.
Who Will Benefit
Innovating for Digital Transformation is designed for managers, directors, VPs, and C-suite executives in any industry who will play a role in driving digital change. The program is ideal for established leaders responsible for designing products and services, people leaders who manage change in technology and processes, and high-potential emerging leaders who will innovate new ways of doing business.
What You Learn
Advancing your tech knowledge
Elevate your understanding of the latest trends in technology and how they are transforming organizations.
Identify how digitalization transforms organizational functions, industries, business models, and the work landscape to forecast impacts on your organization.
Explore the link between digital transformation and innovation strategies.
Creating the conditions for change
Build effective habits to interrogate and rethink business processes with an innovation and technology lens.
Assess your organizational readiness for change — and plan strategies to prepare for success.
Define and measure key success factors in innovation. Map out–and predict–how successful products and services diffuse into the market.
Encourage a culture of innovation and experimentation within your team or organization.
Navigating pitfalls and resistors
Connect investments in technology to business strategy and clearly explain why innovation matters.
Recognize prime opportunities for digital innovation and anticipate challenges in implementation. Unlearn common management reflexes that impede sustainable change.
Balance long-term innovation with immediate operational priorities and business constraints.
Plan a strategy to solve innovation adoption problems in your organization.
Leading digital transformation with an innovation lens
Apply key concepts with an Action Learning Project specific to your role and organization.
Explore real-world examples of organizations that successfully (and unsuccessfully) integrated technology solutions into their products, services, and processes.
Simulate the digital transformation process and apply design thinking principles to challenges.
Manage the change process and build consensus among interest groups.
Ivey Digital Leader Certificate
Innovating for Digital Transformation is eligible for your Digital Leader Certificate pathway. Click here to learn more and view additional program options.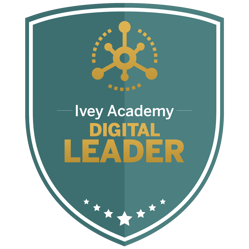 How You Learn
Innovating for Digital Transformation is deeply experiential, grounded in case research, and facilitated by expert faculty from Ivey Business School. Through peer discussion, real-time simulations, and action learning, you will prepare to lead successful digital transformation in your organization.
Learn more about the Ivey Experience
Return on Investment
Earn a certificate and digital credential from Ivey. Your Innovating for Digital Transformation badge is linked to a unique URL, allowing you to showcase your advanced proficiency in online profiles.
Form lifelong connections with your peers. The Ivey Academy alumni network is a long-term resource for participants to share business opportunities or seek advice on life and career challenges.
Explore new perspectives while taking time for mindfulness, reflection, and practice away from the demands of your day-to-day. Return to work with an open mind and increased confidence to be effective in your role.
Receive discounts on select programs, exclusive event invitations, and curated collections of thought leadership and research from Ivey Business School.
Gain insights from across various sectors, industries, and organizations, borrowing best practices and new perspectives from outside your organization to jump-start innovation.
Implement an Action Learning Project for your organization or team, applying your learning throughout the program to a real-world challenge or opportunity. This approach solves problems facing organizations and amplifies your return on investment.
Drive effective change management and innovation to keep your organization competitive and future-oriented.
Fees
$5,990 CAD
The program fee includes program materials, breakfast, and lunch; participants are responsible for accommodations and meals outside of program hours. Program fees are tax-exempt.
Applications must be submitted no later than 14 days before the start of the program.
FAQs
What funding resources are available?
Will the sessions be lecture-based?
At Ivey, we embrace learning as an interactive experience. Rather than lecturing, your faculty facilitators will guide the group through hands-on activities, discussions, cases, simulations, and more. To get the most value from your learning experience, you should expect to be present and engaged in class sessions. To learn more, click here to visit our Learning Experience page.
How should I prepare before attending the program?
Our Program Managers will contact all registered participants before the program start date with instructions to join our online Learning Management System. Once logged in, you can create a class profile, view other participants' profiles, and access a list of assigned pre-readings, cases, and activities. Plan to review and complete preparation work in advance of each class session.