Leading Through Stress in the Modern Workplace
Help your team members identify and implement essential resources to support long-term adaptability through evolving workplace stressors.
Winter Session
$1,190 CAD
Module 1: Wednesday, January 17, 2024; 12:00 PM - 2:00 PM EST
Online
2 hours
Live Virtual + Self-Paced Learning
Module 2: Wednesday, January 24, 2024; 12:00 PM - 2:00 PM EST
Online
2 hours
Live Virtual + Self-Paced Learning
Module 3: Wednesday, January 31, 2024; 12:00 PM - 2:00 PM EST
Online
2 hours
Live Virtual + Self-Paced Learning
Workshop Overview
Faced with increasing complexity and shifting employee expectations, many leaders struggle to identify workplace stressors and coach employees through stressful situations. Leading Through Stress in the Modern Workplace is an interactive virtual workshop that empowers leaders to help their employees navigate stress at work. This workshop aims to improve leaders' capability to recognize, manage, and resolve stressors in the workplace. Managing employee stress responses, identifying resources, and providing coping strategies will help maximize employee well-being and increase organizational resiliency.
This learning experience will focus on recognizing stressors in the workplace while also managing employee stress responses by identifying resources and providing coping strategies. By reflecting on your own stressors, discussing case examples, and practicing coaching skills in real-world scenarios, you'll develop the confidence to boost employee resilience and workplace morale. To nurture and sustain long-term employee engagement, you need to recognize the resources you can provide as a leader, identify new resources that aren't yet available, and support your employees' adaptability.
Who Will Benefit
Managing stress at work, both as an individual and a mentor, is critical for all leaders with people and project management responsibilities, especially in team environments. Ideal for established and emerging people leaders alike, the skills you learn in this workshop will help you improve work culture and collaboration at any level and in an organization of any size.
This learning experience is also vital for HR professionals, talent leaders, consultants, coaches, and frontline supervisors.
What You Learn
Advancing your knowledge of stressors
Understand the dynamic nature of stress in the workplace.
Learn the unique challenges leaders face trying to manage employee stress.
Explore the intersection between work and personal stressors.
Leading people as individuals
Recognize the diverse signals of stress to proactively manage crises before they worsen.
Develop your ability to adjust your leadership style to your followers' personal needs.
Balance your emotional energy and ensure you aren't taking on the stress of others.
Identifying critical resources
Broaden your awareness of the resources in your workplace and how they play a significant role in how employees – and leaders – manage stress.
Map out resources that may not be available and plan to implement them in your team, department, or organization.
Identify resources not available in the workplace that might help to manage employees' reactions to stress.
Practicing effective coaching
Practice building a trust-based relationship with your employees.
Receive feedback and advice to improve your 1-1 communication.
Find your voice as a coach to help you and your employees persevere through stressful situations.
This workshop's total learning time commitment is 6 hours of live instruction and 2 hours of independent work.
Advanced Impact Certificate
Leading Through Stress in the Modern Workplace is eligible for your Inclusive Leader Certificate pathway. Click here to learn more and view additional program options.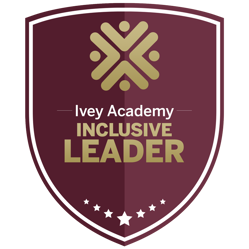 How You Learn
Leading Through Stress in the Modern Workplace offers a highly interactive learning experience featuring live case discussions, simulated coaching scenarios with professional actors, and an action learning project to create immediate value back at work.
Learn more about the Ivey Experience
Return on Investment
Earn a credential from Ivey Business School. Your Leading Through Stress in the Modern Workplace digital badge is linked to a unique URL, allowing you to showcase your advanced proficiency in online profiles.
Enhance your awareness to become a more effective, inclusive, emotionally intelligent leader.
Practice your leadership coaching behaviours to create a positive work environment and demonstrate your leadership capability.
Share new perspectives, frameworks, and research from Ivey with your team to build a greater sense of collaboration and cohesion.
Help your team and organization build awareness and best practices to navigate stress.
Fees
$1,190 CAD
The program fee covers all materials. Program fees are tax-exempt.
Applications must be submitted no later than 14 days before the start of the program.
FAQs
How are online programs delivered?
Online programs are delivered through a blend of live interactive virtual sessions with Ivey faculty facilitators and self-paced learning modules. Each module guides you through videos, cases, and exercises that help you prepare for and reflect on your learning. You'll then participate in a live online class to discuss and apply your new knowledge with peers and faculty. All components of virtual programs are required for participants.
What funding resources are available?
How should I prepare before attending the program?
Our Program Managers will contact all registered participants before the program start date with instructions to join our online Learning Management System. Once logged in, you can create a class profile, view other participants' profiles, and access a list of assigned preparation activities. Plan to review and complete preparation work in advance of each class session.