Neurodiversity and Belonging at Work
Learn essential strategies to unlock better communication, creativity, and performance. Lead people as individuals and empower your team through understanding and inclusion.
Winter Session
$790 CAD
Module 1: January 18, 2024; 12:00 PM - 2:00 PM EST
Online
2 hours
Live Virtual + Self-Paced Learning
Module 2: January 25, 2024; 12:00 PM - 2:00 PM EST
Online
2 hours
Live Virtual + Self-Paced Learning
Workshop Overview
Neurodiversity and Belonging at Work is a focused workshop designed to promote a greater understanding of neurodiversity within organizations. This highly interactive learning experience equips leaders with essential strategies to unlock better team communication, creativity, and performance by embracing differences among all individuals.
Drawing on original research from the Ivey Neurodiversity Employment Research Project, this workshop helps participants foster a more inclusive work environment and empower all employees to reach their full potential. Through live virtual sessions, participants connect with peers across various industries and sectors for real-world case discussion – sharing insights, best practices, and lived experiences to drive tangible change at work.
Who Will Benefit
Neurodiversity and Belonging at Work welcomes all participants across levels, functional areas, and lived experiences. The workshop is highly recommended for HR professionals, leaders with EDI-focused responsibilities, consultants, and coaches. Anyone working in a team or organizational context will benefit by improving their understanding of neurodiversity.
What You Learn
Building your understanding
Define key concepts and language around neurodiversity.
Address common misconceptions and stereotypes.
Linking diversity and performance
Re-frame your mindset on neurodiversity and recognize the importance of leading people as individuals.
Understand how diversity contributes to performance – and why 'fitting in' can hinder success.
Map the business case for neuro-inclusive policies and practices.
Coaching and supporting in a team environment
Assess the role of leaders (and team members) in promoting inclusion.
Find strategies to understand your team and peers better.
Develop critical behaviours and approaches to support neurodiverse individuals.
Encouraging inclusion at work
Attract and retain neurodivergent employees by empowering individuals for success.
Examine the value of individual accommodation and unpack the goals of universal design.
Apply insights on neurodiversity to enable more effective work for everyone.
The total learning time commitment for this workshop is 4 hours of instruction and 1-2 hours of independent work.
Ivey Advanced Impact Certificate
Neurodiversity and Belonging at Work is eligible for your Inclusive Leader Certificate pathway. Click here to learn more and view additional program options.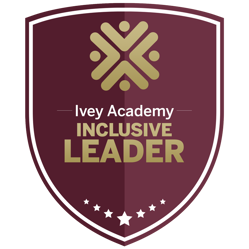 How You Learn
Neurodiversity and Belonging at Work is an intensive, focused workshop designed around interactive participation and group learning. You'll work with peers from across organizations to share insights, learn best practices, and plan key takeaways for your organization.
Learn more about the Ivey Experience
Return on Investment
Earn a credential from Ivey Business School. Your Neurodiversity and Belonging at Work digital badge is linked to a unique URL, allowing you to showcase your advanced proficiency in online profiles.
Enhance your awareness to become a more effective, inclusive, emotionally intelligent leader.
Receive exclusive event invitations and curated collections of thought leadership and research from Ivey Business School.
Nurture sustainable high-performance in your team to create a positive environment at work and demonstrate your capability as a leader.
Implement an Action Learning Project for your team or department, applying your learning throughout the program to real-world challenges and opportunities. This approach solves real problems facing organizations and amplifies your return on investment.
Share new perspectives, frameworks, and research from Ivey with your team to build a greater sense of collaboration and cohesion.
Help your team and organization build awareness and practice around neurodiversity at work.
Fees
$790 CAD
The program fee covers all materials. Program fees are tax-exempt.
Applications must be submitted no later than 14 days before the start of the program.
FAQs
How are online programs delivered?
Online programs are delivered through a blend of live interactive virtual sessions with Ivey faculty facilitators and self-paced learning modules. Each module guides you through videos, cases, and exercises that help you prepare for and reflect on your learning. You'll then participate in a live online class to discuss and apply your new knowledge with peers and faculty. All components of virtual programs are required for participants.
What funding resources are available?
How should I prepare before attending the program?
Our Program Managers will contact all registered participants before the program start date with instructions to join our online Learning Management System. Once logged in, you can create a class profile, view other participants' profiles, and access a list of assigned preparation activities. Plan to review and complete preparation work in advance of each class session.