Watch the full recorded broadcast above.
It's hard to believe that only two months ago stories began to emerge about a new virus originating in Wuhan, China. Since then, the COVID-19 virus has profoundly impacted economies in North America and around the world. It has resulted in steep declines in financial markets, economic activity, and employment.
On April 2, 2020, The Ivey Academy delivered a free webinar to share expertise and guidance to help leaders prepare for an uncertain future. Hosted by The Ivey Academy's Dr. Tony Frost, an expert in global strategy and international business, "Strategies for Leadership in an Uncertain Future" provided a snapshot of the current global crisis and its specific impacts on business. Additionally, Dr. Frost discussed ways we can all be more adaptable and resilient in facing uncertainty. 
Key webinar content
Core topics
Building a strategic perspective and cultivating an external view
The uncertainty surrounding the depth – and more importantly – the duration of the COVID-19 impact
How the current pandemic compares to other economic shocks, such as 9/11, the global financial crisis in 2008, World War II, and the great depression
The role of government intervention, specifically monetary and fiscal policy, in alleviating economic shock
A checklist of the different factors that can impact business as a result of macroeconomic shocks
A business resilience matrix to determine your organization's adaptability
Periodizing your strategy: balancing the present moment with an uncertain future and alternative scenario modeling
The key themes and priorities for leading during the current crisis period as determined by the audience
Giving your team room to breathe and recover
Leading counter-cyclically: capitalizing on strategic opportunities during economic downturn
Monitoring the progression of the pandemic globally and looking for signs of recovery
Memorable quote
"We will get out of this. Don't let the current crisis period be your only focus. You can't stop thinking about the future. For business leaders, you'll have to both manage the moment as well as position yourself for where you want to be going forward." – Dr. Tony Frost
Session materials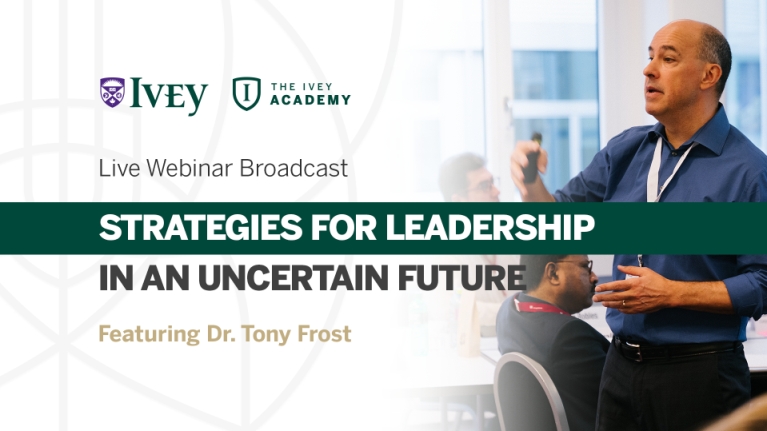 Click the above image to view slides, or download the slide deck presentation.
Additional reading
Understanding the Economic Shock of Coronavirus, HBR.org
Follow The Ivey Academy on LinkedIn, Twitter, Facebook, and Instagram for future virtual event announcements.
About The Ivey Academy at Ivey Business School
The Ivey Academy at Ivey Business School is the home for executive Learning and Development (L&D) in Canada. It is Canada's only full-service L&D house, blending Financial Times top-ranked university-based executive education with talent assessment, instructional design and strategy, and behaviour change sustainment. 
Rooted in Ivey Business School's real-world leadership approach, The Ivey Academy is a place where professionals come to get better, to break old habits and establish new ones, to practice, to change, to obtain coaching and support, and to join a powerful peer network. Follow The Ivey Academy on LinkedIn, Twitter, Facebook, and Instagram.