Watch the full recorded broadcast above.
We're in an unprecedented period of volatility, uncertainty, complexity, and ambiguity (VUCA). How is it that some organizations are able to weather VUCA storms so consistently and effectively, yet other organizations are unable to perform to expectations?
Resiliency is the skill and capacity to be steady and persistent under conditions of enormous stress and strain. A forward-thinking organization can take steps to embed resilient practices throughout its culture. Specifically, there are strategies and tactics that improve an organization's chances of thriving and surviving turbulence. 
To celebrate Global Ivey Day 2020, Ivey Academy professors David Loree and Martha Maznevski delivered a complimentary livestream focused on resiliency and supporting one another. Together they discussed potential and existing strategies that can increase an organization's overall resiliency to better prepare for shocks and stressors. They were joined by three prominent Ivey alumni, each representing a unique voice and perspective in our community, including Larissa Chaikowsky, MBA '04, Chief Operating Officer, US Wealth Management at BMO, Matthew Busbridge, MBA '09, Senior Strategic Engagement Leader, Public Sector at Amazon, and James Scongack, EMBA '17, Executive Vice-President, Corporate Affairs & Operational Services at Bruce Power.
Key webinar content
Core topics
Personal stories from Ivey alumni who are leading with resiliency right now:

Partnership efforts to urgently deliver personal protective equipment across Canada
Leadership principles that naturally support an organization in a time of crisis
What to look for when recruiting employees to support a culture of resiliency
The importance of a customer-centric mindset
Focusing both internally within the organization and externally within the community when implementing a crisis or business continuity plan
Prioritizing the well-being of employees a communicating a sense of purpose as a part of facilitating organizational resiliency
The "what-by-who-by-when" model of execution
The value of learning lessons from business challenges in other industries and sectors
Breaking down walls and mobilizing resources to operate at the speed required to meet the needs of the situation
Allowing organizational purpose to guide decisions
Using a crisis to question assumptions and innovate organizational practices quickly
Approaching negativity from a place of empathy

Core attributes demonstrated by resilient people
The three pillars of organizational resiliency
Session materials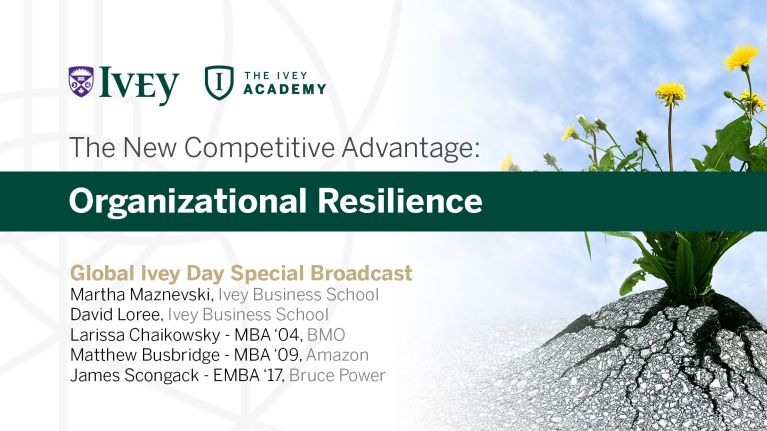 Click the above image to view slides, or download the slide deck presentation.
Memorable quotes
"Nobody ever outperformed for rational reasons. That kind of extraordinary performance takes emotion."
Additional reading
How resilience works, Harvard Business Review
Building a resilient organizational culture, Harvard Business Review


Follow The Ivey Academy on LinkedIn, Twitter, Facebook, and Instagram for future virtual event announcements.
About The Ivey Academy at Ivey Business School
The Ivey Academy at Ivey Business School is the home for executive Learning and Development (L&D) in Canada. It is Canada's only full-service L&D house, blending Financial Times top-ranked university-based executive education with talent assessment, instructional design and strategy, and behaviour change sustainment. 
Rooted in Ivey Business School's real-world leadership approach, The Ivey Academy is a place where professionals come to get better, to break old habits and establish new ones, to practice, to change, to obtain coaching and support, and to join a powerful peer network. Follow The Ivey Academy on LinkedIn, Twitter, Facebook, and Instagram.