Watch the full recorded broadcast above.
The COVID-19 pandemic has caused a global financial crisis and has severely disrupted the Canadian economy, the livelihoods and small businesses of Canadians, and consumer confidence. The Canadian economy has never been faced with such a unique challenge before. As parts of the economy begin to open across the country, economic policy-makers are working in unparalleled uncertainty.
On Wednesday, June 10, 2020 The Ivey Academy was joined by Craig Alexander, Chief Economist, Deloitte Canada, and The Honourable Pierre Pettigrew, Executive Advisor – International, Deloitte Canada. Together we discussed the current state of the Canadian economy and, views on what the shape of the recovery will look like, a general economic outlook, and how the pandemic has impacted Canada's trade and relations with other nations.
Key webinar content
Core topics
A current macro view of both the world and Canadian economies
Caution when interpreting economic data
The shape of the economic recovery in Canada
Trends that were in place before the pandemic that are still relevant today
Trends that have been accelerated by the pandemic
Trends that have emerged as a direct result of the pandemic
Political risks and the role of government in making decisions for businesses
The role of governments in crisis and the likelihood of government expansion
The decline of multilateralism
Canada's outlook should global trade move in a protectionist direction
The impact of the Canadian government's stimulus plan vis-à-vis the shape of the recovery
How border closings effect trade and geopolitics
Making sense of the current stock market
Session materials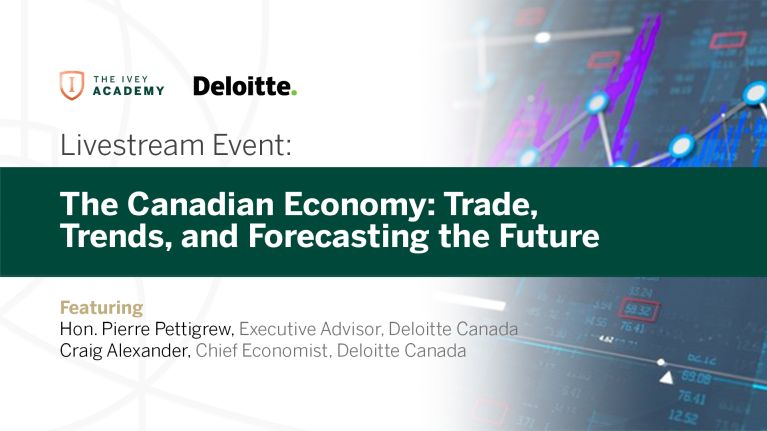 Click the above image to view slides, or download the slide deck presentation.
Memorable quotes
"We are in a world where multilateralism is not coming back … you will see the government playing a much bigger role in trade negotiations. As a Canadian, I'm quite pleased with that starting point. We are the only G7 country that has a trade agreement with every other G7 economy." – Pierre Pettigrew
"I would say the (stock) market is pretty much priced for the perfect recovery right now. I don't think the market fully appreciates how difficult this reopening could be." – Craig Alexander
Additional reading
Economic recovery dashboard, Deloitte
Follow The Ivey Academy on LinkedIn, Twitter, Facebook, and Instagram for future virtual event announcements.
About The Ivey Academy at Ivey Business School
The Ivey Academy at Ivey Business School is the home for executive Learning and Development (L&D) in Canada. It is Canada's only full-service L&D house, blending Financial Times top-ranked university-based executive education with talent assessment, instructional design and strategy, and behaviour change sustainment. 
Rooted in Ivey Business School's real-world leadership approach, The Ivey Academy is a place where professionals come to get better, to break old habits and establish new ones, to practice, to change, to obtain coaching and support, and to join a powerful peer network. Follow The Ivey Academy on LinkedIn, Twitter, Facebook, and Instagram.