Watch the full recorded broadcast above.
As most of the world begins to enter the recovery phase of the pandemic, we looked back at some of the views we expressed in earlier livestreams and check in on the current state of the Canadian economy.
On Thursday, September 10, 2020 our Tony Frost returned along with Kevin O'Brien, HBA '93, President and GM of WW Canada, and Larissa Chaikowsky, MBA '04, Chief Operating Officer, US Wealth Management, BMO to revisit some of the key issues presented at the outset of the pandemic. The panel examined the depth and duration of the economic shock caused by COVID-19, the government's response, lasting changes and shifting attitudes, the shape of the recovery in Canada, leadership lessons learned, and where we go from here.
Key webinar content
Core topics
Three themes for September 2020: A variety of experiences, policy responses, and outcomes; the potential for a second wave; and what the overall impact of the pandemic might look like for the longer term
Current economic and unemployment data, and forecasting the shape of each recovery
Is a second lockdown on its way?
The confluence of five turbulent events and factors in the United States that could create a "perfect storm"
Normalizing a very turbulent environment
The challenges of reopening
Shifting attitudes related to working from home and managing the polarity of employees wanting to both work in the office and work from home
The difficulty in making longer-term business decisions based on an incomplete pandemic-related data set
Will a vaccine allow a return to "normal"?
Ways to think about government debt
The role of banks in keeping the economy going
Is the current environment right to launch a start-up?
Memorable quotes
"What will make us and our clients successful in the future? Getting out ahead and trying to predict what's to come. Thinking about restructuring early, not waiting until companies and clients are in distress. Having those conversations now. We're not back to normal, but what we're trying to do is normalize a very turbulent environment." – Larissa Chaikowsky, MBA '04
"If there's a silver lining – in a more macro sense – of what we've been going through, I think it's that there is a heightened awareness of the importance of having good health … The data is quite clear, the WHO will show you that morbidity rates are seven times as high for people that are obese if they get COVID. The starkness of that has woken people up and given people an appetite to – no pun intended – do something more positive for themselves." – Kevin O'Brien, HBA '93
"I think we're going to see the "AND syndrome" all over the place. People are going to want to be able to work from the office AND they're going to want to be able to work from home. They're going to want to go to the movie theatre AND they want to rent the newest release and watch it from home. Trying to manage that polarity is going to be the next challenge for corporate America and others need to figure out because it's actually an expensive model to try to maintain." – Larissa Chaikowsky, MBA '04
"…if half the marketing team was home and half the marketing team was in the office, my concern is we would have discussions going on between the people sitting next to each other and they would forget to invite the people who were not there. I actually quite like the scenario we have right now (with all staff working from home) where we're on a level playing field. Not being on that level playing field makes me nervous." – Kevin O'Brien, HBA '93
"Data sucks right now. What I mean by that is I don't know what a post COVID-19 world looks like. I don't know what a vaccine means. I don't know when that's going to happen. And I don't know how people are actually going to behave from now until then because there's a lot of unpredictable factors." – Kevin O'Brien, HBA '93
"There are so many unknowns regarding the vaccine … the efficacy, the uptake, the distribution and so on … It's one of those things where a vaccine would drive confidence but I don't think we're going to get there even with a vaccine. I still think it's going to take a long time (before we get back to normal)." – Tony Frost
Session materials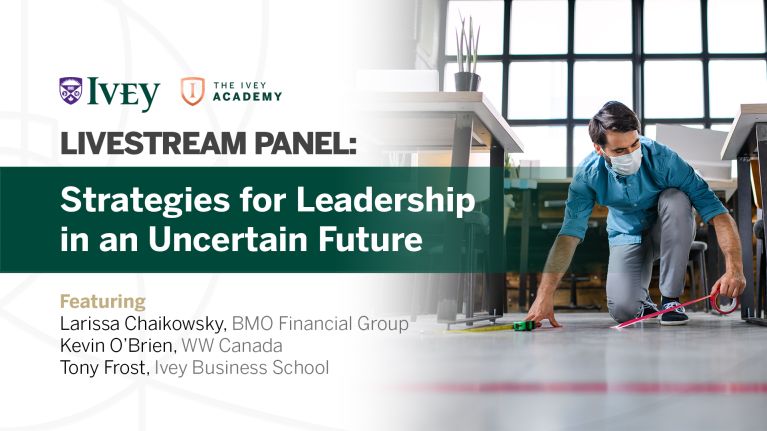 Click the above image to view slides, or download the slide deck presentation.
Additional reading
How the Pandemic Has Changed Us Already, The Atlantic
Market Insight: The Long-Run Impact of the Recession, TD Economics
Office work could be changed forever by COVID-19. Here's why that matters, CBC
Follow The Ivey Academy on LinkedIn, Twitter, Facebook, and Instagram for future virtual event announcements.
About The Ivey Academy at Ivey Business School
The Ivey Academy at Ivey Business School is the home for executive Learning and Development (L&D) in Canada. It is Canada's only full-service L&D house, blending Financial Times top-ranked university-based executive education with talent assessment, instructional design and strategy, and behaviour change sustainment. 
Rooted in Ivey Business School's real-world leadership approach, The Ivey Academy is a place where professionals come to get better, to break old habits and establish new ones, to practice, to change, to obtain coaching and support, and to join a powerful peer network. Follow The Ivey Academy on LinkedIn, Twitter, Facebook, and Instagram.