COVID-19 case numbers continue to climb, and in many parts of Canada, records for new cases are set daily. While the second wave of the pandemic is here in earnest, it's easy to be lulled into a false sense of normalcy. Restrictions have gradually eased over the last few months – gyms and restaurants have reopened, children are back in school, and some organizations have allowed employees to return to the workplace. Many workers are asking themselves why they still feel like they're struggling when it seems like things are getting back to normal – at least on the surface. Yet Labour Force Survey data released by Statistics Canada shows that 70 per cent of the 3.4 million Canadians who began working from home at the start of the crisis are still working remotely. Societally, current events are anything but normal. The word "doomscrolling" has now been incorporated into the North American lexicon to describe the unrelenting succession of stressful events that have accompanied the pandemic. These stressors include social unrest, natural disasters, and a divisive election in the United States. 
The pandemic has presented workers with the unfamiliar challenge of learning to accept how little control they have over their daily lives. The ever-present threat of tighter restrictions, accompanied by the prolonged uncertainty of not knowing when life may return to a more relaxed state, can be a considerable source of anxiety for employees. It's important for leaders to remain attentive; the same stressors, challenges, and worries that resulted from the onset of the pandemic are still affecting the mental health of Canadian workers today.
The current state of mental health among Canadian workers
Although the pandemic is a shared societal experience, each individual has been impacted differently. A report by Hays Canada indicates that 49 per cent of Canadian employees are "seriously considering leaving" their job. The reason? A whopping 43 per cent of employees believe their organizations have failed to implement adequate measures to support their well-being throughout the pandemic.
Morneau Shepell's Mental Health Index for October – a measure of the mental health of working Canadians – has sunk to nearly the lowest point seen since the beginning of the pandemic. The report shows that the working population of Canada is now as distressed as the most distressed one per cent of Canadians surveyed before the onset of the pandemic. And these are Canadians who are fortunate enough to still be employed.
Prioritizing the health and safety of workers goes beyond providing a safe, sanitized work environment and personal protective equipment. Mental health issues such as anxiety, depression, loneliness, and burnout that have come to afflict employees throughout the pandemic must also be addressed.
An organization is only as resilient as its people. As a leader, it's your responsibility to make sure your employees feel supported to be able to do their jobs effectively. The following strategies will help your team members maintain their mental health and feel supported enough to withstand the unique challenges presented by the pandemic.
Cultivate a culture of trust, empathy, and understanding
At the outside of the pandemic, the Canadian federal public service distributed an email communication to all employees: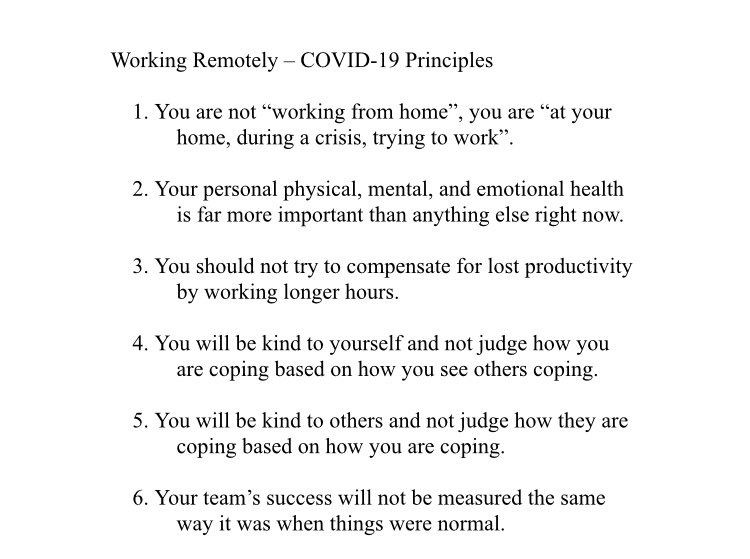 This communication set clear expectations and helped to make employees feel supported and understood. While it's been more than eight months since most organizations have transitioned to remote work, these remote working principles remain the same. It's important to set clear expectations and communicate understanding and empathy to your employees to lessen their anxieties.
Communicate, communicate, communicate
The prolonged uncertainty associated with the pandemic may cause your direct reports to experience feelings they've never felt before and they may not know how to process them. As a leader, the proximity you have to your direct reports puts you in the unique position to spot behavioural changes. Like any injury or ailment, mental health should be treated with the same importance. If a staff member appeared to be in physical pain, you would ask how they're feeling and how you could help. Yet research shows that nearly 40 per cent of employees aren't asked how well they are coping during the current crisis.
Even if employees are asked how they're doing, they may not be forthcoming. Your team members don't want to be perceived as unreliable, weak, incompetent, or unfairly earn a reputation of being difficult to manage. They may be worried that if they open up about their mental health issues, it could prevent them from being fairly considered for a promotion or it could lessen the likelihood they will receive a positive employment reference in the future. In fact, 40 per cent of people with anxiety or depression don't seek medical help because of the stigma associated with mental health issues.
Great leaders regularly check in on their staff and encourage open lines of communication. By having difficult conversations and regularly communicating about mental health, you can create an environment in which employees feel comfortable sharing personal struggles with one another.
Look for signs and create an action plan together
The difficulty with mental health issues is that they aren't always readily apparent. When working with a remote team, the importance of communication is amplified – it's difficult to notice non-verbal cues and gauge individual moods. Having intentional check-ins with your team members will allow you assess how people are coping. Additionally, you can encourage team members to have their cameras on during virtual team meetings to help you see how they're doing.
Many symptoms of poor mental health can present themselves before it's clear that someone is suffering. Look for the following signs:
Lack of motivation
Fatigue
Irritability 
Uncharacteristic mistakes
Inconsistent work output
Emotional outbursts
Higher absenteeism
Withdrawal from others
Not taking care of their appearance
Forgetfulness and impaired focus
Unchecked, these behaviours can lead to burnout, the overwhelming feeling of mental and physical exhaustion.
Before escalating an apparent mental health situation to HR, it's a good idea to talk to your employee yourself. Your employee may be feeling vulnerable, so it's important to communicate in a supportive and understanding way so they may feel at ease to speak freely. Suggest that you speak in an environment where they feel most comfortable, provide reassurance that the conversation will remain confidential, and ask simple, non-judgmental questions. Often it is the employees themselves who are best suited to identify the causes of – and solutions to – stressors in the workplace. To be a great communicator, you need to be a great listener: allow them to explain how their mental health problems are affecting them, the triggers that cause them, and how their performance may be impacted.
Once the employee has disclosed their struggles, discuss possible solutions that could meet their needs and develop an action plan together. In addition, you should provide the different support services that are available to the employee. If your organization has an Employee Assistance Program (EAP), offer to explain the services provided and how to access them. In the absence of an EAP, suggest that they speak further with their primary care physician who will be able to refer them to the appropriate supports. Reiterate that you're always available to talk and periodically check in on how the employee is managing.
Know your team's limits and focus on what matters
COVID-19 has drastically changed how we work and the associated stress is taking a toll on productivity. Canadian work productivity in October fell to levels not seen since April and May. Additionally, most Canadian workers are feeling overworked: 41 per cent say they are putting in more effort now than before the pandemic. Prolonged overwork to maintain productivity is a key predictor of burnout.
Part of creating a culture of trust, empathy, and understanding is being aware of what your team can handle and being mindful that they're not overwhelmed by their workload. During your periodic check-ins, discuss how they're coping with their workload. If it's too much for them, discuss solutions together. Possible solutions include the reallocation of certain tasks or changes to their duties, reduction of workload, redeployment to a less demanding role, additional training, or support and secondments from other departments. Help them to prioritize their official duties and focus on what needs to get done. Give your team the permission to say no to assignments or additional duties.
Be flexible and creative
Canadian workers are going through many different challenges and almost no two are the same. Some of your employees may be parents who are concerned about the safety of their children, while others have chosen to home school and are struggling to balance work and home life. Some employees may be immunocompromised and have socioeconomic anxiety for their friends and family. In short: each employee has unique needs and it's important to do what you can to support them individually.
Research suggests as many as 98 per cent of people would like the option to continue to work remotely for the rest of their careers. Many workers have reported being more productive working from home, and appreciate the flexibility that remote work offers. If possible, continue to offer flexibility to those that want it and consider non-traditional workday arrangements. Provide flexibility for homeschooling or other personal requirements that do not burn into vacation or paid time off. Be creative with different strategies. Try periodically rewarding employees with home food delivery or other gifts. Determine one day a week for employees to catch up on work. For example, establish "No Meeting Fridays" to allow your team to focus on accomplishing core tasks. Or, consider the switching to a flexible four-day workweek of 10 hours each day. It is likely many remote employees are already putting in 10 hours a day – or more – at home anyway.
"In most cases, being a good boss means hiring talented people and then getting out of their way." – Tina Fey
Encourage time off and adherence to boundaries
While most vacations will be taken as "staycations" for the foreseeable future, it's important to encourage your employees to take a break from the endless cycle of work. Studies have shown that taking time away from the job can have both physical and psychological health benefits. Vacations can lower stress, lessen the risk of heart disease, and gives returning employees more motivation to achieve goals.
It's important for employees to be able to disconnect. Request that emails be sent only during business hours and allow after-hours emails for emergencies only.
Take care of yourself
It's a common trait among leaders to mentally push through tasks instead of taking a break – especially during a crisis. This habit can lead to emotional exhaustion, cynicism or detachment, and a loss of satisfaction
As a leader, your mental health is just as important as your team's. If you don't prioritize your own mental health, you won't be able to support your team in the way they need you to.
Make space for self-care and follow the same strategies for yourself as you would for your team members. Take stock of toxic habits and coping mechanisms you might have developed, such as stress-eating, ruminating, forgoing exercise, and compromising adequate sleep. Make a list of the things you enjoy doing and make you feel energized in a positive way, such as connecting with friends and family, being in nature, or having a nutritious meal. We tend to neglect those things during times of crisis because our brain tells us we need to be focused on managing the newest threat. If you intentionally replace your toxic habits and coping mechanisms with energizing activities, you'll recharge your emotional and physical batteries. When you prioritize your own mental health, you're better prepared to tackle disruptive threats over the long run.
Do the best you can
Some of these strategies may not be applicable to your unique situation, the current state of your organization, and the resources available to you. All you can do is put forth your best effort. Be gentle with yourself. Remind yourself that none of what is going on in the world right now is your fault and you don't deserve to shoulder the blame. You don't have to be perfect, and recognizing that fact will help you tap into your inner strength. If your situation allows for it, use this time to reset, strengthen relationships, and build a resilient foundation for the long-term success of you and your team.
"The Chinese use two brush strokes to write the word 'crisis.' One brush stroke stands for danger; the other for opportunity. In a crisis, be aware of the danger – but recognize the opportunity." ― John F. Kennedy
About The Ivey Academy at Ivey Business School
The Ivey Academy at Ivey Business School is the home for executive Learning and Development (L&D) in Canada. It is Canada's only full-service L&D house, blending Financial Times top-ranked university-based executive education with talent assessment, instructional design and strategy, and behaviour change sustainment. 
Rooted in Ivey Business School's real-world leadership approach, The Ivey Academy is a place where professionals come to get better, to break old habits and establish new ones, to practice, to change, to obtain coaching and support, and to join a powerful peer network. Follow The Ivey Academy on LinkedIn, Twitter, Facebook, and Instagram.