An organization's reputation can be thrust unexpectedly into the spotlight by badly behaving employees, disappointing business results, a slip of the tongue by the CEO, or bad leadership at the Board level. Reputation risk has a material impact on a company's performance and position in its industry. Crises handled poorly can lead to immediate loss of sales, loss of market capitalization, the loss of talented employees, and more. As a result, managing reputation risk is now a core competency for any leader in the public, private, and not-for-profit sector.
To prepare senior executives and communications leaders to withstand reputation-defining situations, The Ivey Academy partnered with Navigator Ltd., Canada's leading high-stakes communication firm, to deliver an executive education program focused on protecting corporate reputation during a crisis. "In 20 years of working with Canada's top corporations and CEOs, we have never seen as many business leaders and board directors identifying reputation risk as a leading business challenge," said Jaime Watt, Executive Chairman of Navigator.
Crisis preparation rooted in practice
Held last month in Toronto, 15 executives and communications professionals took part in Ivey's inaugural Crisis Preparation & Damage Control program. "This program provides a ground-breaking approach to preparing executives for those major moments when their organization's reputation is on the line," said Gerard Seijts, Faculty Director. "We go beyond the typical classroom setting and put executives on the front lines of managing risk in a real-time, immersive setting."
The Crisis Preparation & Damage Control program features case studies, simulations, and roundtable discussions in which participants engage in the planning, response, and recovery during a situation where reputation is threatened. By blending Ivey's academic content and experiential frameworks with Navigator's deep expertise and experience in communications in high-stakes situations, this program equips participants with the confidence to manage reputation-defining moments and build trust with the stakeholders that matter most.
Real-world applicability
Preparedness from a reputational standpoint forces organizations, in advance, to consider where they have reputational risk. Crisis preparedness is essential because it preserves decision-making capacity in the heat of a crisis, allowing teams to address the substantive issues, without having to create a decision-making process on-the-fly. Neil Hrab, program participant and corporate communications professional, found immediate applicability in the program's content. "Crisis response is one of those aspects of communications where you want to be prepared in advance, to the most realistic degree possible — not scrambling in the moment as events unfold. The knowledge you gain in Crisis Preparation & Damage Control allows you to return to your regular job and do just that — start thinking about your most critical issues with fresh eyes, with some sense of how you can proactively organize your efforts, your colleagues, and your resources to ensure success," said Hrab.
The program is designed not only for communications professionals, but leaders at any stage of their career — including the C-Suite. Leaders tend to not think about the likelihood of a crisis occurring because it has never happened to them before. Yet anyone in a leadership position can be confronted with a reputation management situation. "At Ivey, we pride ourselves on real-world leadership and the Crisis Preparation & Damage Control program is undeniably a leadership program. I get excited about helping to improve the practice of leadership. Crisis preparation and reputation recovery is something we don't pay a lot of attention to in leadership or organizational behaviour, but we see its relevance every day when we open a newspaper, watch television, or get our news from social media. It's an important leadership topic," added Seijts.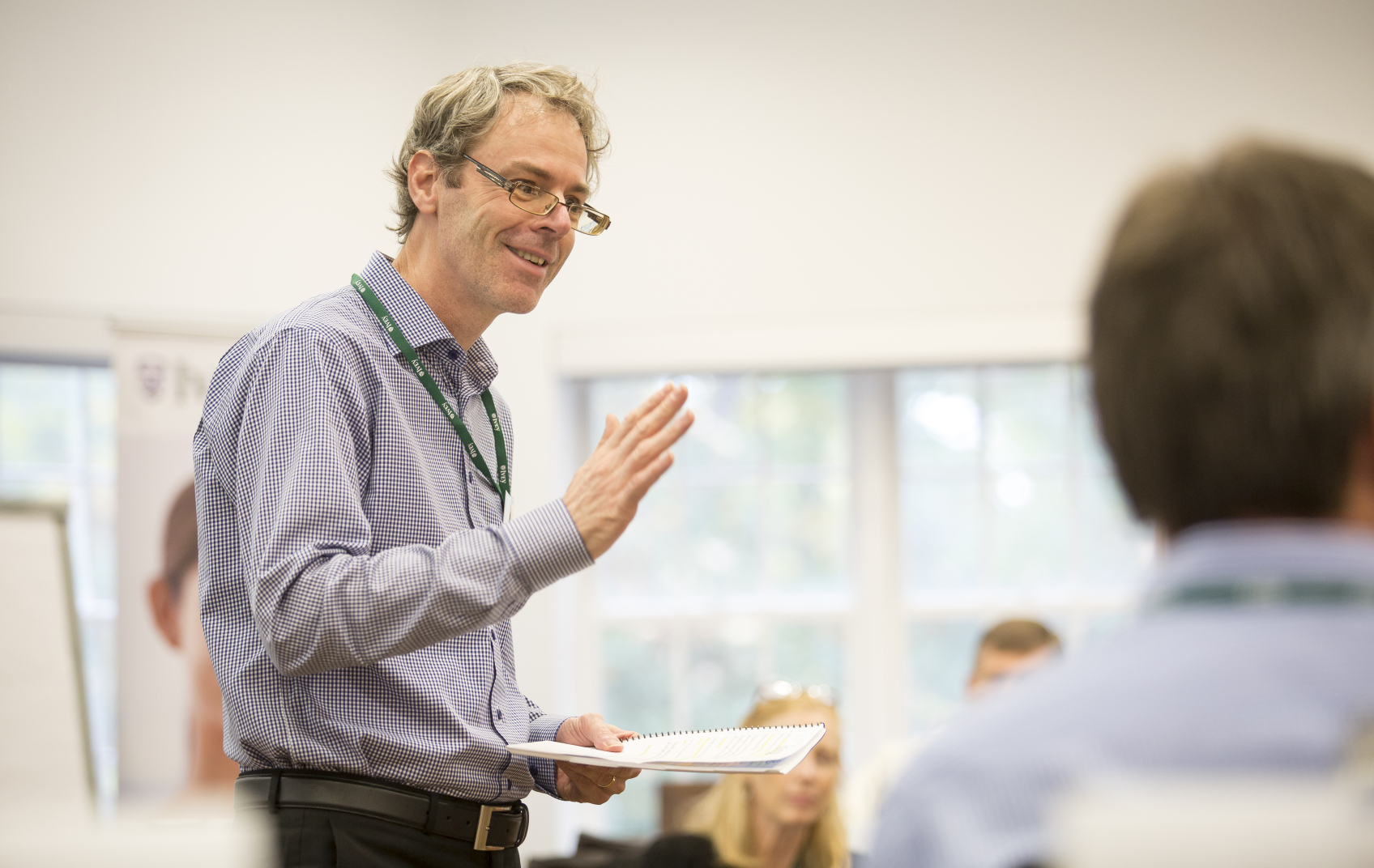 Stay current
One of the core simulations of the program was a media training workshop facilitated by Navigator. Said Seijts, "We had participants in the program that teach the relevant skills, but they still were stretched when having to go through the workshop themselves. This exercise drives home the importance of acquiring, understanding, and working on our skills — it's always important to consider if you're still hitting the mark with changing expectations within the media and society in general. Hands-on learning is essential and this was a great example."
Neil Hrab agreed. "It's not exactly common for a single, relatively short course, to provide insights from so many top experts in the field — but that's exactly what Crisis Preparation & Damage Control delivered. Thank you to Ivey and Navigator for collaborating so effectively to deliver such a high quality program. Everyone can benefit from it!"
For more information on the next session of the Crisis Preparation & Damage Control program, download the program brochure.
About The Ivey Academy at Ivey Business School
The Ivey Academy at Ivey Business School is the home for executive Learning and Development in Canada. It is Canada's only full-service L&D house, blending Financial Times top-ranked university-based executive education with talent assessment, instructional design and strategy, and behaviour change sustainment.
Rooted in Ivey Business School's real-world leadership approach, The Ivey Academy is a place where professionals come to get better, to break old habits and establish new ones, to practice, to change, to obtain coaching and support, and to join a powerful peer network.