Strategic Facilitation and Team Coaching
As an integrated partner, The Ivey Academy offers advanced strategic facilitation and team coaching for senior leadership teams navigating transformational change. We integrate facilitation, coaching, and executive education to maximize impact.
Draw on Ivey Insights
The pace of change is accelerating. Profound disruption and uncertainty have made it more challenging–and increasingly important–for senior leaders to build a clear vision of the future. At Ivey, we help leadership teams take ownership and long-term accountability for developing and implementing critical strategic goals.
Get one-to-one advice from our team
Our Learning and Development advisors are here to help you reach the next level of your leadership journey. Book a meeting to discuss program selection, applications, funding resources, upcoming dates, and more.
An Integrative Approach
Our facilitation team offers a unique experience for senior leadership teams by combining facilitation, coaching, and executive education. This integrative approach ensures that teams have the capabilities and insights to take ownership of strategic outcomes. Go beyond planning and drive impact for your organization.
Facilitation
We bring your team together to guide creative decision-making and action planning.
Coaching
We help nurture aligned, collaborative, high-performing teams at any level.
Education
We build advanced knowledge and awareness of critical leadership and business challenges.

"It went beyond my expectations. Since working with Ivey, we have seen a significant shift in how the finance team approaches the business — balancing finance, data, and understanding. We are truly acting as a partner to the business units that depend on us, and our leaders have taken ownership of that goal. We're receiving positive feedback and seeing improved collaboration with our counterparts."
Stephanie Dussault, CPA, MBA
Vice-Présidente Finances et Administration, Cascades
Sample Scenarios
From analyzing performance and developing a strategy to building alignment and encouraging collaboration, Ivey strategic facilitation can help your organization tackle critical business challenges.
Practicing an innovation mindset
A leadership team needs a strategy to revitalize the company's growth mindset in the wake of industry disruption and new competitive forces.
Creating organizational alignment
A senior leadership team just completed development of a new strategy and needs to align the company's senior management around an execution plan.
Developing a growth strategy
A senior leadership team needs to develop a revenue growth strategy targeted to select lighthouse customers and prospects.
Encouraging collaborative teamwork
An organization has grown significantly through a merger or acquisition and needs to develop an approach to integrate and bond a new leadership team.
Prioritizing people and culture
A leadership team must find creative ways to nurture a more collaborative and trusting culture at all levels of the organization.
Our Facilitation Team
Each engagement is designed in collaboration with you. It's more than slides and frameworks — you'll work directly with a curated group of Ivey-certified Executive Coaches and top Ivey faculty members to co-create an approach to facilitation that fits your unique context. Draw on contemporary research from nine Ivey centres and institutes including sustainability, entrepreneurship, public policy, and leadership.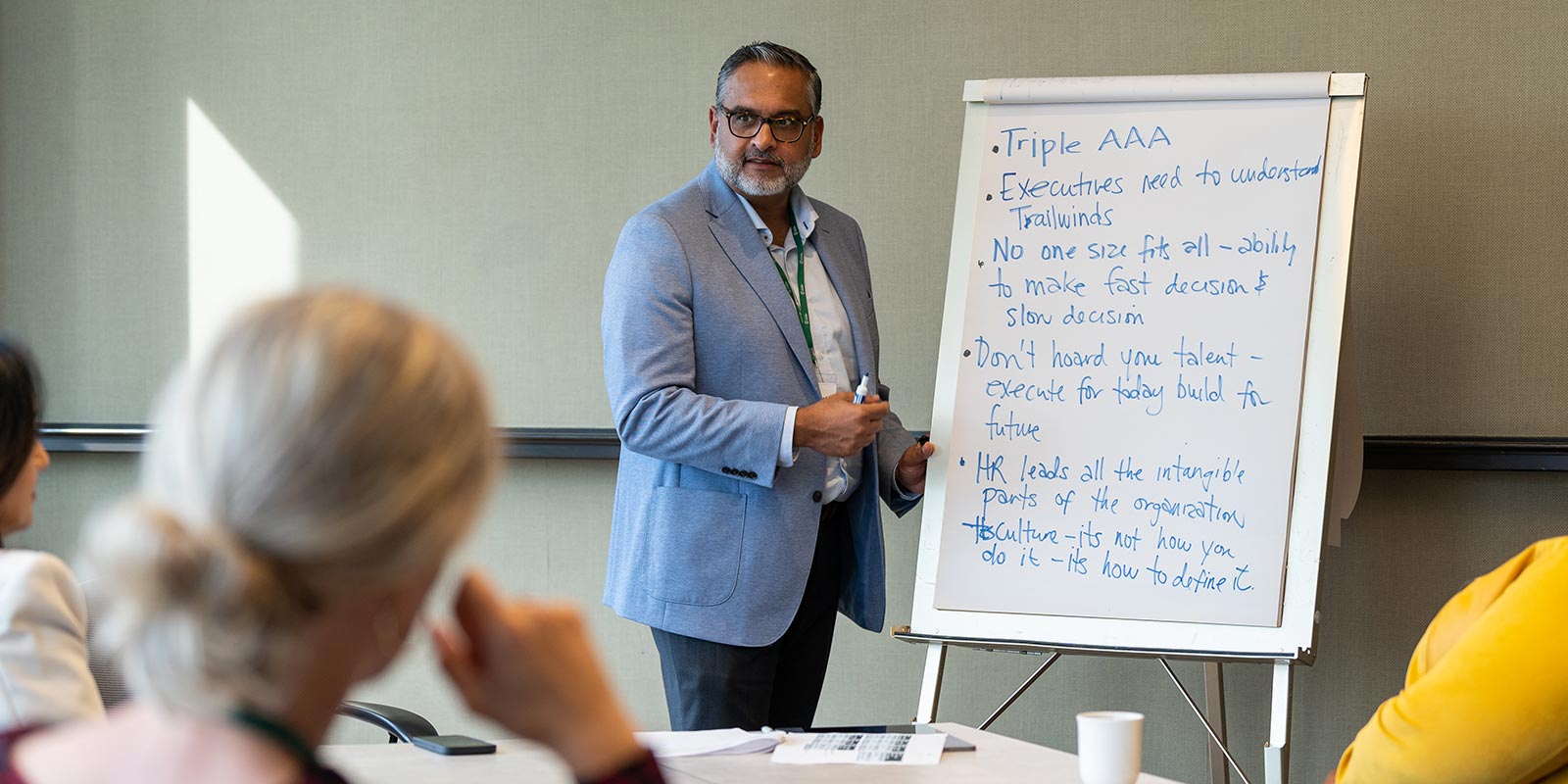 Ivey Executive Coaches
Through a rigorous certification process, Ivey coaches master our unique approach to experiential learning and stay connected with leading-edge business trends. Building on diverse backgrounds across the private sector, government, and non-profit organizations, they deliver firsthand insights into leadership.
Start the discovery process
Our advisors are ready to help accelerate your team's strategic planning, collaboration, and alignment. Book a meeting to learn more about our expertise in strategic facilitation and team coaching.