Who we are
Founded in 2010 by Prof. Paul Beamish, the 39 Country Initiative is housed in the International Business Institute at the Ivey Business School. The initiative supports the world's poorest 39 countries, as defined by a per capita income of less than $2,000 USD annually. It leverages Ivey Publishing's vast collection of cases and teaching materials and has built a global network of schools supporting its key activities.
Our vision
To increase economic activity in the 39 lowest income countries through improving the business manager's capacity for: decision making, critical thinking and problem solving.
Our mission
To provide current, relevant teaching materials and pedagogical skills development to higher educators with a view to improving management education in the world's 39 lowest income countries.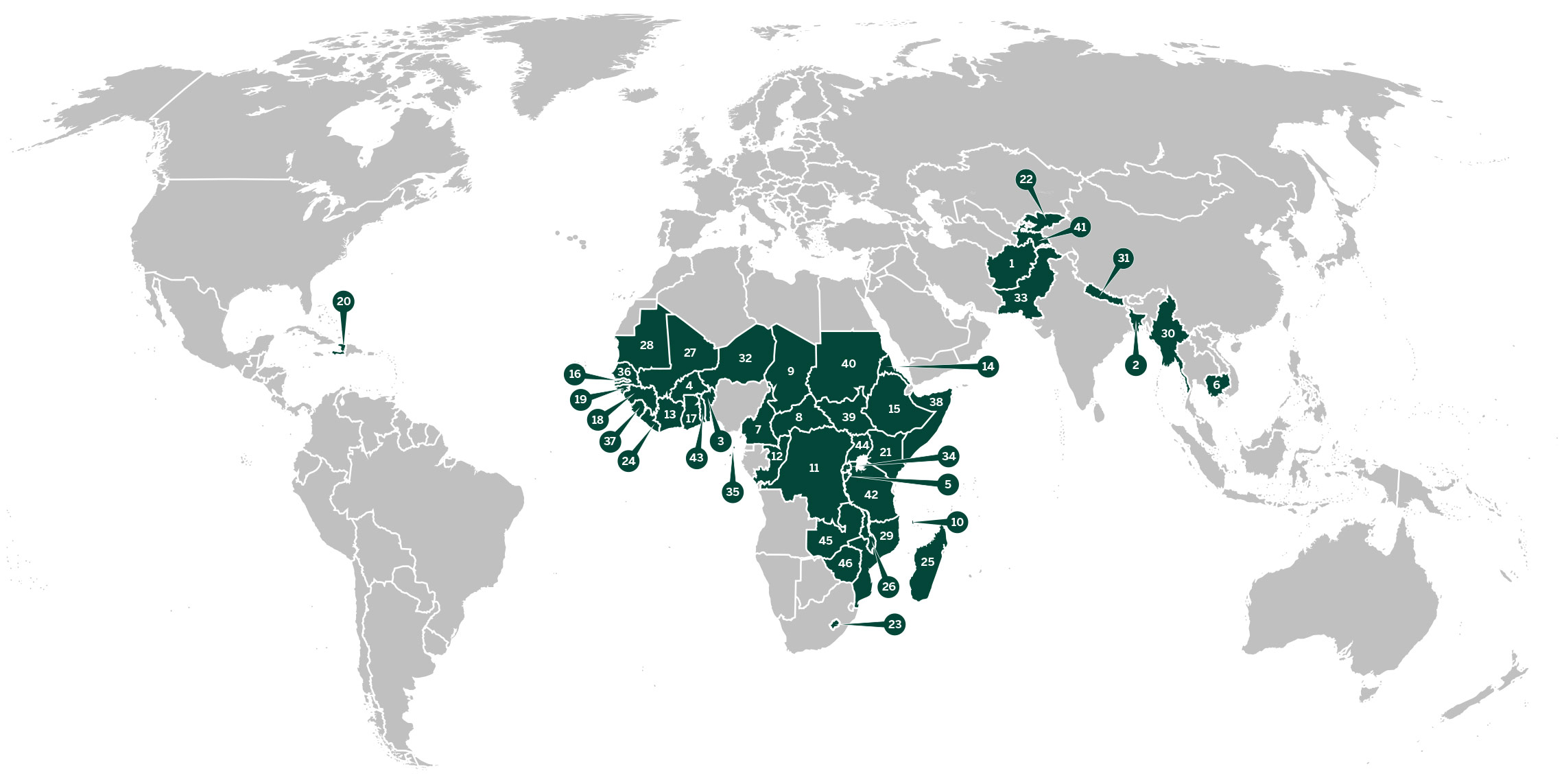 What we do
The 39 Country Initiative identifies three key activities that support its mission:
Provide free access to Ivey Publishing case studies for faculty in the 39 countries
Collect and ship printed books, journals, and business case studies to higher education institutions in the 39 countries
Provide pedagogical skill development through case teaching workshops in the 39 countries
Our impact
Some of our key successes to-date include:
Registering 2,000 professors in the 39 countries for access to cases
Shipping approximately 50,000 books, journals and cases to schools in the 39 countries reaching over 100,000 students
Organizing a global network of 22 collection nodes at universities around the world
What our beneficiaries are saying about our work
Dr. Admasu Tsegaye
President, Addis Ababa University, Ethiopia
"It gives me great pleasure to write this letter acknowledging the receipt of more than 10,000 educational materials that you have donated to our University. I believe your donation will help in enhancing the quality of teaching and learning at the School through improving access to up-to-date teaching materials for faculty and students. This, I hope will also contribute to the efforts we are making to promote staff and student development".
Alfandega Estevao Manjoro
Dean, Faculty of Economics and Management, Catholic University of Mozambique
"We are really interested in the case studies that your University is offering for free to countries such as ours. We greatly appreciate this gesture by your institution which will benefit immensely students from underdeveloped countries."
Professor Abel Kinoti
Professor Abel Kinoti, Dean, Riara School of Business, Riara University, Kenya
"This donation has doubled the books stock in our Library."
Bernard Ombati
Bernard Ombati, Academic Affairs, Research and Extension, Moi University, Kenya
"We are happy to receive such a big consignment of textbooks from our academic partners. The books will go a long way in equipping our library resources and help boost the university's as well as the students' researches."
Dr. Sheikh Mohamed
President, Somaliland University of Technology, Somalia
"I am really pleased to get access to all this valuable information which will certainly help our faculty and students. It is the first time that such information was made available to the black continent free of charge."
Ivan Collinson
Director for Academic Affairs, Eduardo Mondlane University, Mozambique
"Let me congratulate you and your institution for this wonderful contribution you're giving to our universities."
Our strategy
Management education in Africa, particularly in the poorest countries, suffers from the greatest resource constraints of any continent on earth. Three major challenges exist:
Lack of current teaching material
Very expensive books/photocopies so insufficient quantity of materials available
Too few qualified faculty
The 39 Country Initiative has established a three-pronged strategy which aims to improve management education in the world's poorest countries by addressing each of these major challenges. View Paul W. Beamish's presentation from August 2022 to learn more about the strategy behind the 39 Country Initiative.
The 39 Country Initiative is a collaboration between Ivey's International Business Institute and Ivey Publishing. For more information on gaining access to Ivey cases and why cases are an important teaching tool view our Access Cases page. To learn more about Ivey cases view the Ivey Publishing home page.    
One the 39 Country Initiative's major programs is the collection and shipment of large quantities of used books, journals, and business case studies to higher education institutions in the 39 countries. To collect large quantities of material the initiative has organized a global network of collection nodes. The nodes work together to collect, organize and ship the material to one of the 39 countries.  To learn more about starting a book collection node view our Start a Collection page. To learn more about the shipments we have completed so far, view our Shipments to Date page.