Blogs
Soar: The third annual WIM Conference
Edwina Liu and Rebecca Guan
|
Nov 22, 2018
Edwina Liu and Rebecca Guan are 2019 HBA candidates currently enrolled in HBA2. Liu is the Co-Chair and Guan is the External Delegate Coordinator for the 2018 Women in Management (WIM) Conference. In their blog below, they share their experiences organizing the conference.
In 2018, addressing issues such as the lack of female leadership or female representation on boards, and the trend of overqualification among women is at the forefront of corporations' priorities. Progress and changes are rapidly occurring and awareness of the lack of female diversity is at unprecedented levels.
The organizing team for the WIM Conference believes conversations must persist for women to continue to push limits, achieve goals, and set new ones. These ideas were the basis for this year's conference theme: Soar: Reach New Heights, building on the organization's continuing vision of empowering young female leaders. The 2018 edition marked the first year the conference took place over two days and invitations were extended to delegates from universities across Canada. In total, the conference drew 155 delegates from eight schools.
Key lessons
A roster of sponsors and speakers from a diverse set of industries shared their unique stories in building confidence, finding mentors, and embracing their differences. Keynote speakers included:
Maria Mavroyannis, Deputy Assistant Commissioner of Canada Revenue Agency's Ontario Region;
Samra Zafar, an international speaker, human rights activist, scholar, author, and social entrepreneur who came to Canada as a child bride in a forced marriage; and,
Sandra Henderson, Chief Operating Officer of BMO Wealth Management (U.S.).
Sponsor workshops spanned the sales, marketing, finance, consulting, real estate, and engineering industries, showing delegates their goals were attainable regardless of their career interests.
Inspiring stories from the conference included raising funds for a company male investors did not resonate with, and escaping an abusive, arranged marriage.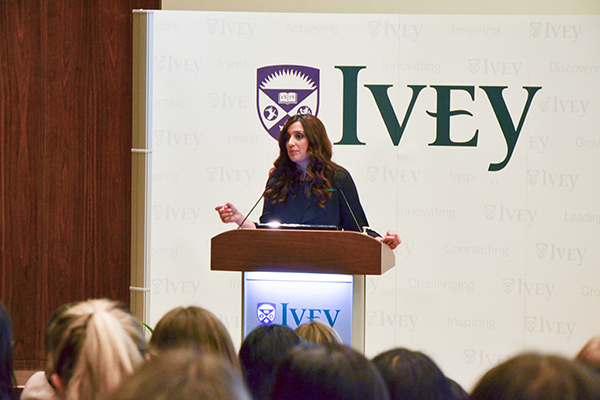 Samra Zafar shared her story of being a child bride. Photo by Steven Lou, HBA '19 candidate.
Such stories opened the platform for delegates to share their own experiences, be vulnerable, and create an empowered community.
Here's what they had to say:
"'If you want something you've never had, you must be willing to do something you've never done.'" This was one of the key messages I took away from Soar 2018. You do not have to have all the skills in a job description, all you need is to be able to trust yourself enough to figure it out and learn. Manage your energy instead of your time and protect yourself with self-care. Work hard, but don't be hard on yourself. These are some of the pieces that will carry me through the HBA."
– Jasmyn Dossa, HBA 2020 Conference Delegate
"The students, speakers, and companies were so friendly and created a really positive, warm environment. The keynote speakers allowed me to embrace the qualities that make me different and use them as my strengths instead of looking at them as something I need to change."
– Anudeep Sultania, HBA 2020 Conference Delegate
Moving forward
The conference expansion was a success, despite the first year in this format. Similar to the theme of the conference, the organizing team learned to set goals beyond the status quo. We are proud of the insightful discussion that was spurred over this weekend.
"Aspiring female leaders should be confident and feel inclined to advocate for one another. This support system should develop early on in school – and include women from across Canada, not just within Ivey," said Edwina Liu and Natasha Crombie, both WIM Co-Chairs and HBA '19 candidates. "The WIM Conference is incredibly proud to be leading the movement."
The 2018 WIM Conference organizing team: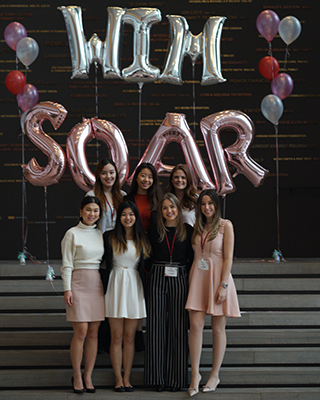 (Top row, left to right)
Grace Lu, HBA '19, Sponsorship Coordinator; Betty Wang, HBA '20, Logistics Coordinator; and Shannon McGarrell, HBA '19, Sponsorship Coordinator.
(Bottom row, left to right)
Rebecca Guan, HBA '19, External Delegate Coordinator; Edwina Liu, HBA '19, Co-Chair; Natasha Crombie, HBA '19, Co-Chair; and Lexy Weinberg, HBA '19, Speakers Coordinator.
(Missing) Amaara Dhanji, HBA '19, VP Communications.
Photo by Joy Ma