Blogs
Paving my path from student to educator: Africa Service Learning Trip
Deshna Kanesalingam
|
Aug 11, 2022
Deshna Kanesalingam, HBA/Computer Science '22, is a recent graduate with a passion for education and digital transformation. Her background lies in management consulting and product management where she has previously worked on a digital skills talent strategy for Ontario and developed go-to-market strategies for children's educational products. In her blog below, Kanesalingam reflects on her experience teaching in Kenya through Ivey's Africa Service Learning study trip.
As someone who has always been passionate about education and teaching, I thought the best way to end my undergraduate journey was by participating in the Africa Service Learning study trip. Being a student is one thing, but being an educator would allow me to utilize the skills I learned at Ivey to create impact. For three weeks in May, I had the pleasure of facilitating a course in Kenya with my best friend, Rachel Duan, HBA '21. Together, we taught a case-based business course to more than 150 students at the Jomo Kenyatta University of Agriculture and Technology (JKUAT). 
Bringing the case method to life in the classroom
Duan and I prepared 12 cases throughout the course, each based on a unique business situation within Africa. Every morning, I walked into class and reminded the students that my role was not a teacher, but rather a facilitator. They knew best about the external environment in Kenya. I was there to guide them on how to apply the right business tools to make decisions with confidence. Whether debating on public versus private education or analyzing the startup landscape in Kenya, the students brought their full selves to these case discussions and their insights were incredible.
We started off teaching the basic PESTLE and quantitative analysis frameworks and, within three weeks, the students were taking initiative and pitching their solutions before their peers. Case-method worked best when overlaying the Kenyan landscape because students often discussed and reflected on how these lessons could easily be transferred back to their own businesses and communities. Duan and I designed the series of cases to build upon the centric Kenyan virtue of Ubuntu, meaning connectedness to one another. The students worked in groups to derive solutions together and we always centred discussions on how compassion and humanity have roles in business decision-making. As a result of student interest, Duan and I created additional classes and skill-based workshops around professional development and Excel basics. 
At the end of the course, we hosted a very special and emotional graduation ceremony. As Duan and I presented the certificates to the students, I teared up thinking about how much these students had learned and grown in such a short timeframe. They grew, not just as business students, but as ambitious and compassionate student leaders who I know will go on to do incredible things in the world.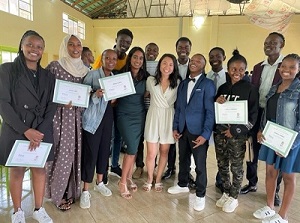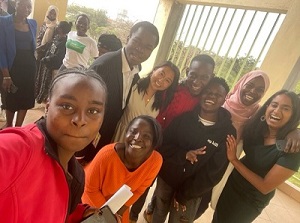 Celebrating with our proud graduates
Creating memories in Kenya
The people I met at JKUAT were not just my students, they were my friends. We share some great memories. These include evening chess matches, singing karaoke, cooking our favourite African foods (Omena, Ugali, Chapati, and Ndengu) for dinner parties, and outdoor adventures, such as hiking up Mount Longonot or biking to the waterfalls in Gatundu. It was such a privilege to be let into the students' worlds and to experience their day-to-day lives.

Having fun together outside the classroom
New beginnings
Leaving Kenya, I still remember Duan and I rushing through the baggage check-in at the airport while our students waited outside so that we could then spend our last moments in Kenya hanging out with our students in the airport parking lot. We ate ice cream and exchanged memories until it was time for the flight to depart. Even though this was the end of our time in Kenya, it was just the beginning of beautiful friendships and connections. It was also the start of my new journey pursuing a career in education.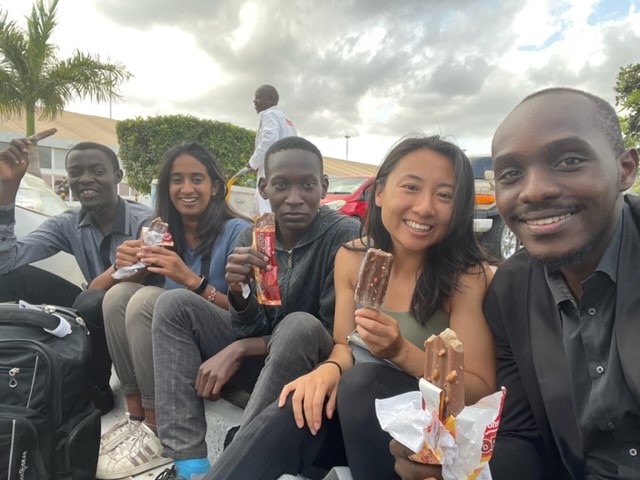 Me (second from left) and Rachel (fourth from left) eating ice cream with our Kenyan friends before departing for Canada
Going to Kenya changed my life. I made life-long friends and learned my true calling: education. The classroom is my happy place. It's where I excel as an Ivey alumni. It's where I connect with others the best. And, most importantly, it's where I find the most meaning. 
Education will always be a large part of my journey no matter where my career takes me. I would like to thank those involved in creating Ivey's Africa Service Learning for giving me the opportunity to share my learnings from Ivey as a student and to empower others as an educator. It was the best possible ending to my undergraduate experience.