Blogs
Welcome to Belgrade | LEADER Project
Danial Agha
|
Aug 12, 2022
The LEADER Project provides current and aspiring entrepreneurs with the analytical tools, thought processes, and decision-making skills to tackle complex business challenges. LEADER instructors (Ivey HBA and MBA students and alumni) deliver a two-week intensive program of cases, lectures, and coaching. LEADER is celebrating its 30th anniversary in 2022. As part of the celebration, Danial Agha, MBA '21 (and alumni volunteer), wrote about his experience teaching in Belgrade, Serbia. 
While I was preparing for my trip to Serbia, I came across this quote from the famous Serbian poet, painter, and novelist, Momo Kapor: "Belgrade, in fact, is not a city – it's a metaphor, a way of life, a way of thinking."
At first, I didn't quite understand it until I boarded my return flight from Belgrade, Serbia to Zurich, Switzerland.
As I took my seat on the Air Serbia Airbus A320, the lady seated beside me turned, and before I could even greet her, offered me a treat from the bag she prepared for this trip. She insisted by gesturing her hand, so I politely indulged her request. At this moment, I knew I would miss the hospitality I had become so accustomed to in Serbia. This was part of the Belgrade way of life.
Rewind a few weeks prior to when I first arrived in Belgrade. I had no idea what to expect. The conflict that once surrounded this region was before my time. All I knew when I agreed to join as an alumni instructor was that Belgrade was passionate about entrepreneurship and business development. 
It was interesting experiencing Europe for the first time through Belgrade. On one hand, there is vibrant street life filled with cafés, bistros, and local residents striking up conversations. On the other hand, you heard of people struggling with low wages, a lack of jobs, and untapped economic potential; the latter of which was my reason for being there.
Ivey experience in emerging markets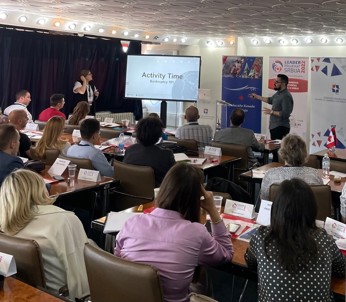 Every summer for more than 30 years, Ivey students and alumni have been scattered around the globe in a student-led effort to support entrepreneurs in emerging markets with a world-class curriculum designed to teach business fundamentals. The objective is to help local managers and business owners build and scale their ideas and drive economic growth.
Last year, I had the honour of leading a team in Sarajevo, Bosnia as site captain in a fully virtual environment. This year, the team invited me to go to one of six sites to join more than a dozen HBA and MBA candidates in delivering an in-person LEADER Project experience. This was an incredible opportunity to showcase what I had learned throughout my MBA, and to speak about my experience in the workforce after going through Ivey's rigorous case-method learning – from theory to practice.
The Ivey team members bring their backgrounds in marketing, strategy, and finance and, in exchange, we learned a new perspective on business from our Serbian participants. Every morning, nearly 50 Serbian participants spanning all ages would eagerly join a lively discussion and challenge us with their years of experience in fields such as mining, law, education, and trade.
The LEADER Project impact
The entire experience had a built-in feedback mechanism of budding entrepreneurs, owners, and managers all willing to learn, push back, and ask difficult questions. The LEADER team saw first-hand the core concerns surrounding the region, from bureaucratic red tape to limited access to capital. But the opportunities were there for the right founding team to redevelop industries impacted by lingering unrest or bring domestic product offerings to international markets.
Over the better part of a month, our site partner and the participants wanted us to explore all that Serbia had to offer. We visited a leading private university and a startup incubator, as well as discovered neighbouring regions and cuisines. Every night, we were invited to explore the Serbian way of life.
I cannot think of a better way to put your knowledge to the test and develop an understanding of an emerging market than through The LEADER Project. For the two weeks we all spent in Belgrade, there was never a dull moment in the Chamber of Commerce and Industry of Serbia.