Sophie Tong is an MBA '24 candidate who recently attended a presentation from WorldCom whistleblower Cynthia Cooper called Business Ethics in the 21st Century: From WorldCom to FTX. The event was hosted by Ivey's MBA and HBA programs and the CPA Ontario Centre for Accounting and the Public Interest for Accounting Education. In her blog below, Tong writes about Cooper's inspiring message on the importance of defining your values and practicing your courage in small matters to build the foundation of your character as a leader.
On March 22, Cynthia Cooper, the renowned whistleblower who exposed WorldCom's $3.8-billion accounting fraud, visited Ivey to speak to MBA and HBA students. Following her speech, I had the privilege of conducting a follow-up interview with her. During our conversation, I was struck by Cooper's infectious character, dedication to promoting ethical leadership, and insightful reflections on her experiences.
It was truly mind-blowing to learn how Cooper transformed her painful memories at WorldCom into a powerful tool for empowering future leaders. Hearing her firsthand experience not only brought the WorldCom fraud case that we had read for class to life, but also inspired us to revisit our own beliefs and values, highlighting the vital role of character development. Below are some of the takeaways that I believe are applicable to our journey at Ivey and in our future careers.
Courage comes from practicing
Cooper's response to the frequently-asked question, "How did you gather the courage to be a whistleblower?," offers a practical action plan for everyone. Many of us assume that bravery is a trait forged at the crossroads of life, but Cooper reminded us of the importance of daily practice. She told us that courage does not magically materialize itself in THE defining moment – it is developed through everyday decisions.
"Nobody wakes up and says, 'Hey, I want to become a criminal today.' That's not the way it happens," said Cooper. "It's a slippery slope and people go down that slope one step at a time. So the decisions that we make every day matter."
As emerging leaders, we can begin to strengthen our "muscles" by standing up for our beliefs and speaking up when it comes to smaller decisions. Through such "exercises," we can prepare ourselves for the stressful, ambiguous, and complicated situations that leaders inevitably face. This approach aligns with Ivey's "learning by doing" methodology for leadership development. Personally speaking, the first month in the MBA program already convinced me that character can be developed.
Cynthia Cooper shares how to find your courage (below).
Do the right thing, diplomatically
Cooper also shared how she managed tensions in work relationships as an internal auditor. In a position where she had to deliver bad news at times, communicating in an honest and transparent manner was key.
Before coming to Ivey, I was an in-house strategy consultant and found myself easily being perceived as the "bad guy" when my job was to single out low performers or to push up team performance. I strongly relate to Cooper's emphasis on connecting with people genuinely, understanding their concerns and needs, and demonstrating a willingness to help. From my experience, building trusting relationships is equally important as delivering reliable outcomes and reinforcing corporate strategies. However, resolving confrontation and overcoming preconceived bias can be daunting or even intimidating. Cooper's advice is to get comfortable with being uncomfortable, and keep practicing!
Be assertive, not aggressive
Women face a dilemma in the workplace: we are often perceived as avoiding confrontation, while those who speak up may be labelled as aggressive in a negative way. However, voicing opinions, even if they are unpopular, is a must-have skill for all leaders. Cooper offered insights on how female leaders can find and utilize their voices effectively. Rather than restating clichés such as "leaning in" or "sitting at the table," Cooper put the emphasis on developing a personal communication style that is rooted in an understanding of one's strengths and values.
Furthermore, women's competencies in empathy, emotional intelligence, and willingness to share personal feelings can be advantageous. By opening up to others, we can take a step back and view situations more objectively. This is especially helpful in high-pressure environments where individuals tend to "shut down" and rationalize their decisions without consulting others, limiting their ability to consider all available options. Cooper's experience bears further proof of the value of openness.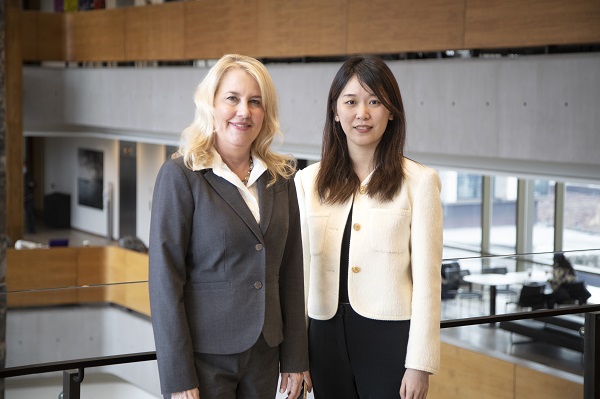 Cynthia Cooper with Sophie Tong
Building the infrastructure for whistleblowers
Although whistleblowers are a last line of defense, Cooper said they are a very important line of defense, especially in today's environment where the rapid pace of change could lead to gaps in regulatory oversight. Thus, simply relying on individual level courage is not enough – creating a support system for whistleblowers is at the heart.
Cooper noted that bounty programs that regulatory bodies such as the U.S. Securities and Exchange Commission and the Commodity Futures Trading Commission have implemented are a real "gamechanger" and have increased tips from whistleblowers.
She also stressed that organizations also need to build a workplace culture where speaking up is encouraged.
"You want to have a culture where speaking up is common and people feel comfortable speaking up without being retaliated against. And you want to identify a problem at the beginning because problems don't get better, they get worse," she said. "Whistleblowers are even more important today. None of these frauds happen in a vacuum – there are people who know."
Cooper's visit left a profound impact on us as future leaders, inspiring us to reflect on how we can foster corporate cultures that encourage speaking up, from the smallest to the most significant matters. In nutshell, through Cooper's valuable insights, we not only gained the confidence to follow our moral compass, but also learned how to cultivate the courage and establish the necessary systems to achieve this objective.
Cynthia Cooper discusses why whistleblowers are important (below).