Blogs
Student conference explores ways to equalize access to health care
Sarah Zhang
|
Feb 27, 2023
Sarah Zhang is an HBA '23 candidate and Co-President of the Ivey Health Sector Club. In her blog below, she shares highlights from the club's annual conference, called EQUALIZE, on February 12. The event gave students the opportunity to solve a complex health-care dilemma, network with health-care firms, and gain valuable knowledge on the high-growth health sector, especially insights on the importance of advancing health equity.
Advancing medicine isn't the only way to help people live longer and healthier lives. Addressing the broader systemic barriers that limit access to health care or create a narrow lens is critical for building a healthier future. That's why this year's Healthcare Innovation and Leadership Conference, hosted by the Ivey Health Sector Club (IHSC), was fittingly called EQUALIZE and exposed students to the health inequities faced by populations around the world today.
Featuring a career panel, networking opportunities, and a keynote speaker, the goal of the event was to showcase career opportunities in the health sector and provide insights on important global health-care issues. The students even had a chance to participate in a mini-case competition where they were challenged to develop solutions for a specific country's health-care system.
The health equity challenge
Darlene Sagolili, Senior Manager at Shoppers Drug Mart PC Health, was the keynote speaker for the event. Sagolili spoke about her career journey and how her varied roles in health care helped her to better understand the patient experience from different perspectives, similarly to how travel can widen your understanding of how people live and think. She encouraged the students to embrace opportunities to gain experience in different organizations, industries, and countries.
"Don't be in such a rush to climb the corporate ladder and don't chase titles," she said. "Chase the diversity of experiences instead and I promise that you will not only have greater insight to innovate and solve problems, but you will stand out as a unicorn amongst your peers."
Sagolili discussed how technological advances, such as the Shoppers Drug Mart PC Health app, have extended health care's reach by giving people access to a network of health-care providers and health and wellness activities and resources. But she said access to health care alone isn't enough, health equity also involves making sure health-care providers, services, and educational materials all take into account patients' diverse backgrounds and experiences.
"The more complex the product or service, the more team members need to come together, each with a different view. And not just with differences culturally, but with differences in age or generation, financial and socio-economic circumstances, religious beliefs, sexual and gender identity, political views, and physical abilities," she said. "Once you have that, each one of those members needs to be empowered to have a voice."
Showcasing careers in health care
A diverse group of panellists working in different areas of the health sector also shared their perspectives on working at the intersection of health care and business and what health equity means to them. The career panel included Sagolili as well as Christina Liu, Healthcare Consultant at KPMG, and Jin Su Joo, VP Strategy and Social Science at Throughline. Following the panel, students were able to network with firm representatives and learn more about their individual experiences.
HBA1 student Juliana Edgett said the career panel introduced her to new considerations for internships.
"It can be challenging to navigate or even discover career opportunities within health care and business," she said.
Analyzing health-care dilemmas
The case competition was another opportunity for the students to explore creative solutions within health care. Working in groups of three or four, they brainstormed ideas to present to upper-year student judges. The top four teams went on to present to the conference sponsors in the final round.
The event concluded with an exclusive networking dinner for guests from Shoppers Drug Mart and students on the top two winning teams of the case competition.
Thank you to the event sponsors
Overall, the Ivey Health Sector Club's EQUALIZE conference was a tremendous success.
On behalf of the club and the conference organizers, thank you to the sponsors – Shoppers
Drug Mart, IQVIA, KPMG Healthcare, Throughline Strategy, Life Labs, HealthHub, and Freddie – who made this conference possible. IHSC looks forward to inspiring more students about the health sector!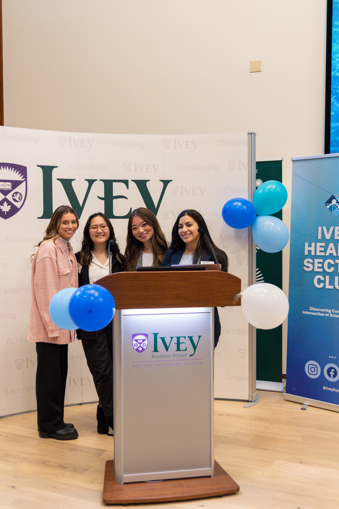 The conference organizers. Photo taken by Giselle Saldanha, HBA '23 candidate