In the following blog post, Arthur Bronzim and Nihal Nishadul, both MBA '24, reflect on their recent experience at Ivey's The Future We See Symposium. Leading up to the event, students were invited to participate in The Future We See Symposium Student Paper Competition. Five competitions took place, each tackling a different critical issue and judged by faculty members from various departments and institutes. The winning teams or individuals received $3,000 and the opportunity to attend the Symposium, where they led discussions around their paper topics during the event's concurrent sessions on Ivey's critical issues.
---
Insights, inspiration, and empowering ideas filled our return to London after Ivey's The Future We See Symposium. The event provided a unique blend of networking and keynotes, allowing us to engage with accomplished industry professionals and absorb ideas and visions for addressing critical challenges. Additionally, the Symposium honoured us with a platform to present our insights taken from our winning student paper on the essential qualities future leaders must embody.
A few weeks earlier, we gathered to explore a significant theme for the Ivey Future We See Student Paper Competition. Among various topic options, we found ourselves drawn to the question, "What leadership qualities and cultural attributes will be imperative for Canada in 2050?" Our resonance with this topic stems from the transformative journey we've undergone through the Ivey program – a journey that has not only deepened our understanding of leadership and self-awareness, but has also broadened our perspective on the profound impact we, as individuals, can have beyond the confines of our workplaces. This reflection extends to our role in shaping the societies we inhabit and the future we will leave behind for the succeeding generation. In essence, our paper delved into the qualities we aspire to embody as we enter the industry, such as being accountable and collaborative to tackle critical issues of the future.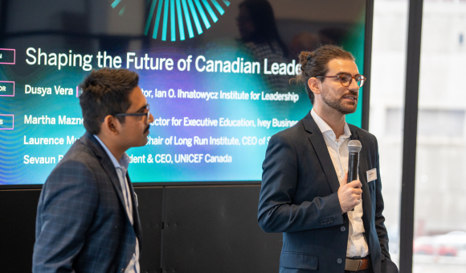 Going on to win the competition with our paper provided more than just a victory; it served as a validation that our thoughts align with the forward-thinking ethos of the thought leaders and secured our invitation to the Symposium. Of all the learnings from the day, we highlight three key themes:
Bold risk-taking for Canada's renaissance
Setting a compelling tone for the inaugural panel discussion, Dean Sharon Hodgson questioned how we can reignite Canada's greatness, and the response that echoed during the day was clear: be brave to take risks that will change our future.
Jeffrey Orr, President and CEO of Power Corporation, framed it as the courage to advocate for political leaders to boldly take risks and pioneer groundbreaking policies that defy the status quo. Instead of adhering to safe, poll-driven approaches, Orr urged a departure toward visionary strategies that push boundaries.
Finally, Sevaun Pelvetzian, President and CEO of UNICEF Canada, spotlighted risk from an interesting angle when she emphasized that within any organization, every individual functions as a Chief Risk Officer. Pelvetzian underscored the collective responsibility to proactively manage risks, plan for extreme scenarios, and cultivate foresight for propelling Canada forward.
Cultivating curiosity is key to leaders aiming solutions for critical issues
More than being bold when thinking of solutions, leaders must keep themselves curious. As Walter Isaacson astutely highlighted, pure curiosity is a shared trait among world-changers like Einstein, Leonardo Da Vinci, and Elon Musk. With a more academic lens, Professor Martha Maznevski also echoed this sentiment, emphasizing experiential learning as a means for students to navigate uncontrolled real-life scenarios and offering limitless learning opportunities.
Similarly, Rahaf Harfoush, utilizing her digital anthropological eyes, fostered a sense of curiosity when she delved into the vast possibilities – and risks – associated with AI. She underscored, however, that responsible AI usage demands leaders capable of discussing all the ethical limitations of advanced technologies and setting boundaries and rules when needed.
Collectiveness and partnering for a better future
As pointed out in our paper, working collectively is crucial when handling structural problems, since it avoids overloading while fostering plural solutions. During the event, however, the importance of acting together was not just highlighted, but also expanded. Pelvetzian, for instance, made it clear that when engaging with partners either from our organization or other sectors, we need to be meaningful and purposeful.
Finally, David McKay, President & Chief Executive Officer of RBC, and Linda Hasenfratz, CEO of Linamar Corporation, partnered up to stress how important it is to have society, education institutions, and government aligned to create feasible and realistic plans for the future.
100 years strong: Ivey's Symposium marks a milestone, ignites the future
As Ivey celebrates its centennial, the occasion served as a glimpse into the institution's forward-thinking vision for the next century. This Symposium, a crucial element of Ivey's strategic planning, underscored our commitment to shaping the future we aspire to see. Ivey's ongoing dedication to impactful research investments and its proven ability to cultivate visionary leaders reaffirm its pivotal role in forging the path to a promising future. Here's to another century of excellence and leadership at Ivey.