News@Ivey
Global Ivey Day links alumni worldwide
Communications
|
Nov 21, 2014
"Why do you celebrate?"
Darren Johnson, MBA '99: "A degree, an education, a business network, lifelong friendships, a wife and three amazing children!"
Laurie-Anne King, HBA '10: "Because the "work hard, play hard" mentality at Ivey prepared me brilliantly for a stimulating and fun international career."
Matthew Busbridge, MBA '09: "Ivey changed the path of my life; some of my most memorable experiences and best friends came out of my time there."
Global Ivey Day was created in 2009 as an opportunity for Ivey alumni to put time aside from their busy and demanding schedules to celebrate their Ivey experience. Unlike Homecoming, Global Ivey Day can happen anywhere. Global Ivey Day isn't about where you went to school; it's about the Ivey connections.
Five years later: With more than 2,100 alumni celebrating at 59 events in 34 cities, Ivey grads had a lot to celebrate, and catch up on, around the world for the fifth annual Global Ivey Day.
Check out the map below for the 34 cities where alumni celebrated this year: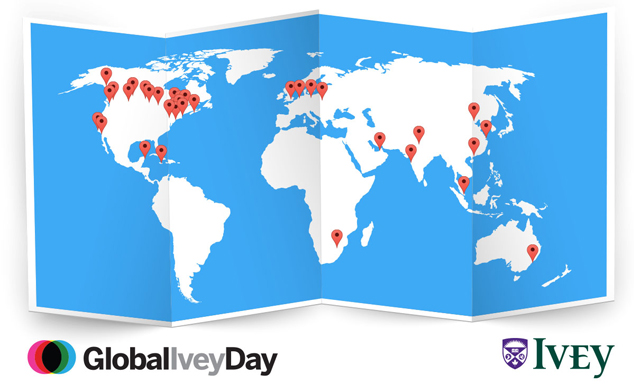 Global Ivey Day highlights
Toronto alumni were the largest group to celebrate together, with 663 guests at the Toronto celebration at Andrew Richard Designs as well as 17 other events across the GTA.
Alumni in the Yukon Territory celebrated their second straight year of 100 per cent attendance with four attendees. They were also proud to recognize they were the coldest celebration of all, with a temperature of -15 degrees Celsius on November 13.
Most alumni celebrated in true Ivey Thursday night tradition, hosting Global Ivey Day dinners and cocktail parties in their respective cities. Many corporate and industry events also featured Ivey faculty lectures to reconnect alumni with the Ivey spirit.
In London, HBA1 students were tasked with a 48-hour report to celebrate Global Ivey Day. In total, 1114 current students participated in Global Ivey Day events.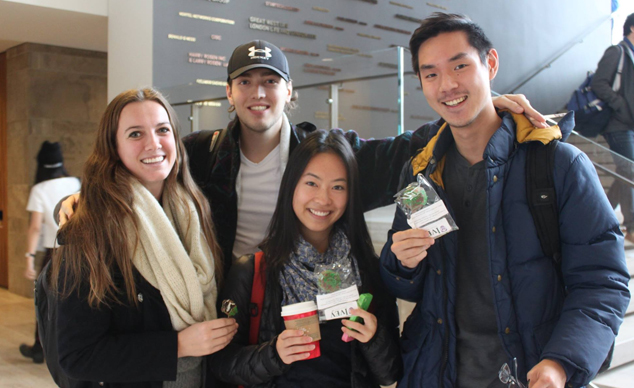 HBA students start their 48-hour report with sweet treats courtesy of the Ivey Alumni Association
In San Francisco, Bay Area alumni celebrated over a highly competitive few rounds of bowling at Lucky Strike.
In Los Angeles and Singapore, alumni celebrated alongside their local sports teams, watching the LA Clippers and Singapore Slingers respectively.
Who we celebrated: The 2014 Emerging Leaders Awards
As always on Global Ivey Day, the Ivey Alumni Association recognized the 2014 Emerging Leader Award winners. You can read each of their bios on the Global Ivey Day website:
Anuj Ranjan, MBA 2006: Corporate Development Award
Ankur Bansal, HBA 2009: Entrepreneurship, Award
Jason Inch, MBA 2004: Community Advancement Award
Amanda Armstrong, HBA 2010: Global Impact Award
Alexander Palkovsky, HBA 2015 Candidate: Student Leadership Award
Professor Jean-Philippe Vergne: Academic Leadership Award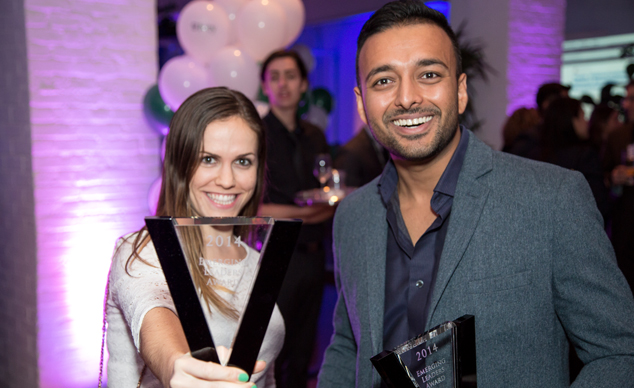 Amanda Armstrong and Ankur Bansal accept their Emerging Leaders Awards in Toronto.
Special Thanks
Global Ivey Day would not have been possible without 201 incredible volunteers and the more than 2,100 alumni who attended fifty-nine events. It also would not have been possible without our global sponsors: Deloitte, Merrill Datasite, RBC, Manulife, Medisys, and Sun Life.