News@Ivey
In firefighting or business, if it can go wrong – it will
Communications
|
Sep 18, 2014
"Anything that can go wrong in firefighting can go wrong in business."
-- Allan Braatz, Senior Captain, City of London Fire Department, London, Ontario
Allan Braatz, a Senior Captain with the City of London Fire Department, brought his 28 years of experience as a fire fighter to the challenges of business for HBA students in the BMO Financial Group Auditorium.
The Sept. 11, 2014 event was hosted by Professor Alison Konrad, Corus Entertainment Chair in Women in Management, who noted the parallels between firefighting and business.
"Things are going to go wrong," she said. "The question is: What plans do we have in place to take care of the problems when they happen, because they will happen. This is something that business can learning from firefighting."
Braatz used actual firefighting experiences to highlight the lessons that students could bring forward into their business careers. Here are some of the highlights of the presentation:
Breakdown in communication
With constantly changing circumstances in firefighting and business, clear processes are required to ensure successful communications.
Freelancing
When a member of an organization does something on their own, rather than sticking to the plan, it can result in a host of problems. Keeping your team on-plan enhances strategic outcomes.
Complacency
Don't assume the leader will handle every situation. Take ownership of problems and don't expect others to handle them.
Unclear Leadership
Clear leadership is a key to success. Otherwise, others may rush in to fill the vacuum, resulting in confusion and misalignment around goals.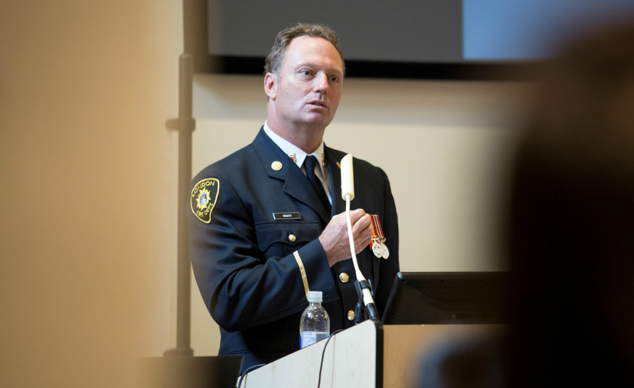 Allan Braatz, Senior Captain, City of London Fire Department, London, Ontario