News@Ivey
Making the case for wellness programs
Communications
|
Dec 14, 2015
Ground-breaking study demonstrates the benefits of keeping your employees happy and healthy. 
Organizations that want happier and more productive employees should look to the outcome of a two-year study on the effects of workplace wellness programs on employees and organizations by a team of Ivey researchers.
The rigorous, first-of-its-kind study in Canada highlights dramatic improvements in physical activity and nutrition habits; increases in employee engagement and corporate culture; and, a reduction in stress levels and alcohol and tobacco use as just a few of the benefits of wellness programs.
The study, Phase 2 of the Sun Life-Ivey Canadian Wellness ROI Study with additional support of a MITACS Accelerate grant, involved treatment and control groups at six organizations (28 sites) across Canada, reflective of Canadian organizations as a whole, said Professor Michael Rouse. 
"The purpose of the study was to understand both the business case and the health case of the value of wellness programs in the workplace," said Rouse. "Our findings demonstrate both. When employees have more energy and are physically fit, they're obviously more productive and engaged in the organization. At the same time, better knowledge of health and nutrition, cardiovascular screening etc., can reduce the incidence of heart attack. That's something organizations should take a keen interest in."
Some of the findings reported:
22-per-cent became physically active, while more than half (53 per cent) reported an increase in the current level of their physical activity;
23-per-cent reported increased energy; and
51 per cent reported improvements in their nutrition.
As well, respondents noted improved communication with others, more restful sleep, weight loss and better stress management.
Participants were clustered into three (Control one, Control two, or Treatment) groups. Control group one took part in a wellness survey; control group two took part in a wellness survey and a biometric health screening clinic; while participants in the treatment group took part in a wide range of activities, including biometric health screening clinics, wellness surveys, one-on-one coaching and education sessions, a lifestyle modification program and had access to a wellness website.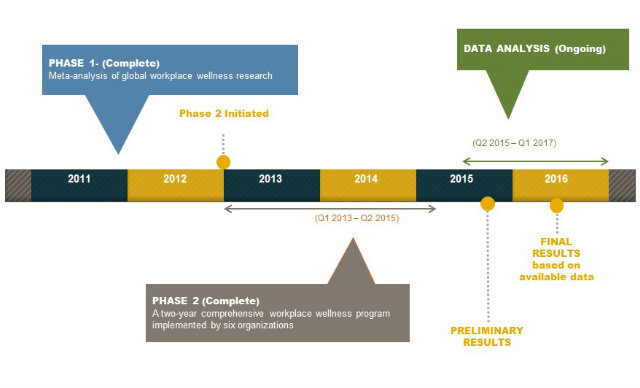 Sun Life-Ivey Canadian Wellness ROI Study timeline
These recent findings were the second phase of a two-step approach. In Phase 1, Rouse and his team undertook a meta-analysis of global workplace wellness research (excluding the US). The overall results showed absenteeism ranges from 4.7 to 11.2 days and that wellness programs save 1.5 to 1.7 days of absenteeism.
"There is plenty of work to do on the data gathered from the two-year study," said Rouse. "As part of our next steps, we are analyzing the data to develop an ROI measure for wellness programs to determine the business case for organizations."