When it comes to energy development in Canada, the future looks positive.
At a recent conference called Positive Energy: Building a Path to Social Acceptance and Support of Energy Development in Canada, results from a new national survey commissioned for the event suggest there is strong public support for growth of the oil and gas sector in Canada and a sense this growth can occur without hurting the environment.
Organized jointly by the Ivey Energy Policy and Management Centre and the University of Ottawa, the conference was held in Ottawa March 4-5. It brought together a variety of energy sector stakeholders to discuss key issues around social acceptance and support of energy sector development; and identify areas of importance for future academic research. A key component of the event was the release of a public opinion survey on energy and the environment that gauged Canadians' support, priorities, and needs for energy development.
"We hope that conference discussions will contribute to a deeper collective understanding of the key issues around social acceptance and support of energy sector development, an area of considerable complexity," said Associate Professor Guy Holburn, Director of the Ivey Energy Policy and Management Centre and holder of the Suncor Chair in Energy Policy. "Ultimately, with an improved appreciation of the underlying factors that shape social acceptance and support, we will be better positioned to identify practical policies and solutions for making progress."
Trends in public opinion on energy and the environment
During the conference, Nik Nanos, Chairman of Nanos Research Corporation, presented the results of the public opinion survey. The poll of 1,000 Canadians revealed that, while many respondents support energy development, protecting the environment trumps job creation. The majority also said they believe energy development can proceed in a manner that won't damage the environment. Additionally the survey participants called for the federal government to drive pipeline projects and greenhouse gas emissions policies.
"The results are very encouraging," said Holburn. "There's a sense that we can foster responsible development of the energy sector."
The conference also included presentations and panel sessions with high-profile thought leaders and experts in the energy sector on topics such as energy literacy, Aboriginal participation in energy development, and federal-provincial government relations. Participants included Steve Williams, President and CEO, Suncor Energy; The Honourable Doug Black, Senator, Alberta; Nancy Southern, Chair, President and CEO, ATCO Ltd.; Peter Watson, Chair and CEO, National Energy Board; and Ellis Ross, Chief Councillor, Haisla Nation.
Three things you need to know about energy development in Canada
Here are three key findings that were discussed.
Canada needs a comprehensive strategic revision for the energy sector as well as leadership from the federal and provincial governments on energy issues – The governments must bring together different stakeholders and take a leadership role in forging consensus;
Canada faces three major issues that impede development of energy resources: market access, environmental performance, and Aboriginal engagement – Developing policies that address each of these issues and recognize the inter-dependencies is critical for fostering future growth and investment; and
Hydrocarbon production, such as oil, gas, and coal, will continue to be an important part of the world's energy portfolio for a long time while alternative forms of energy and energy efficiency measures are expanded – There is strong demand for hydrocarbons from both developing and developed economies, and projections are forecasted to increase in the next few decades.
Holburn said the conference was timely given the critical issues facing Canada's energy sector.
"This is all occurring at a time when the energy sector is facing challenges in terms of its economic prospects. We have been reaching pipeline capacity restrictions on our ability to export oil to the U.S.," he said. "There is an increasingly urgent need to develop new infrastructure that gets Canadian natural resources out to global markets other than the U.S."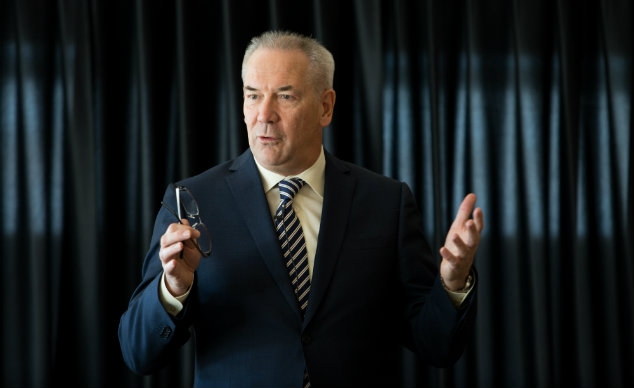 Steve Williams, President and CEO of Suncor Energy, delivered a keynote address at the Positive Energy conference.