News@Ivey
Three ways to solve the energy crisis
Communications
|
Oct 21, 2016
The numbers tell the story:
Four – The number of years people's lives in parts of China are reduced due to air pollution from local coal combustion;
37 – The projected percentage of global cumulative GHG emissions from China and India by 2100 as they increase their energy production, compared to just 12 per cent in the U.S.; and,
20 – The number of years it will take to replace the current on-road vehicle fleet with new, lower emissions vehicles.
And they all add up to an impact on the way we live.
At an Ivey Idea Forum in Toronto on Oct. 6 called The Global Energy Outlook: The Future of Fossil Fuels, two experts shared insights on what the future might hold for Canada's fossil fuel sector. Michael Greenstone, the Milton Friedman Professor in Economics at the University of Chicago and Director of the Energy Policy Institute of Chicago, gave a keynote address explaining the difficult balance between energy and growth. Then Steve Carlisle, President and Managing Director of General Motors Canada, discussed automobile innovation and environmental energy issues. The event was organized by the Ivey Energy Policy and Management Centre and moderated by Ivey Associate Professor Guy Holburn, Suncor Chair in Energy Policy.
Here are some highlights.
Michael Greenstone: Fossil fuels cost more than we think
Drawing from his recent paper, "Will we ever stop using fossil fuels?," which was published in the Journal of Economic Perspectives, Greenstone explained the global energy challenge: How do we ensure people around the world have access to the cheap, reliable energy needed for economic growth and human development without putting the environment, climate, or security at risk? That's because the same fossil fuels that are powering growth in developing countries are also creating air pollution and climate change. And even carbon pricing and other public policies to limit GHGs may not be enough to offset this.
Greenstone said energy demand will increase by one-third in developing countries, such as China and India, by 2035 and fossil fuels will be used to meet the demand because they are the most cost-effective energy sources today.
However, his research shows that coal and other fossil fuels are increasing air pollution and causing climate change, which both shorten lives. For instance, in China's Huai River area where air particulate pollution from coal combustion is 50-per-cent higher north of the river than south, the life expectancy is four years shorter in the north. Likewise, in India, where climate change has increased the number of days with temperatures higher than 32C (90F), the mortality rate has also increased.
"There are many parts of the world where people are leading shorter and sicker lives due to exposure to high levels of pollution from the combustion of fossil fuels," he said.
Solutions ahead
Greenstone also outlined three potential solutions to the global energy challenge:
Price energy at its full social cost – Fossil fuels appear inexpensive, but those are only the
private costs to produce it. We don't factor in the health and climate change costs associated with fossil fuels.
"Just because we don't pay attention to the social costs, doesn't mean we are not paying them. We're paying them, just in indirect ways," he said. "If you had a system where all this was recognized in prices, it could lead to very different choices."
Invest in innovation – While we've already seen costs for solar and lithium-ion batteries decline, there have also been innovations related to fossil fuels. For instance, hydraulic fracturing and horizontal drilling have unleashed massive oil and natural gas resources in the U.S.
"There has been a lot of innovation in renewables, but the low-carbon or cleaner technologies don't just have to get better, they have to get better than the other guys," he said. "The other guys are fossil fuels and they keep getting cheaper and cheaper."
Advance critical research to increase our understanding of problems and solutions – More research needs to be done to assess the social costs of increased carbon emissions, such as changes in net agricultural productivity, the effects on human health, and property damages associated with increased flood risk. Greenstone leads the Climate Impact Lab at the Energy Policy Institute, which uses historical climate data to learn what the future costs of climate change might be.
"We need to find a way to have access to inexpensive reliable energy for people all over the world, but how do we do that without having undesirable health and other problems associated with the consumption and production of fossil fuels?," he said. "And how do we have this without unleashing disruptive climate change? I think that's at the heart of what we have to resolve." 
Steve Carlisle – Disruption is coming to the automotive industry
Carlisle said the automotive industry is ripe for disruption due to non-traditional players, such as Google, Apple, and Uber, moving into it. As a result, the industry is focused on two areas: improving the fuel economy of internal combustion engines, and electric vehicle production.
"Innovation is no longer about just what's going on under the hood and inside the car, but the interaction of the car with the ecosystem and the infrastructure within which it operates," he said. "It's best to disrupt ourselves rather than wait and be disrupted."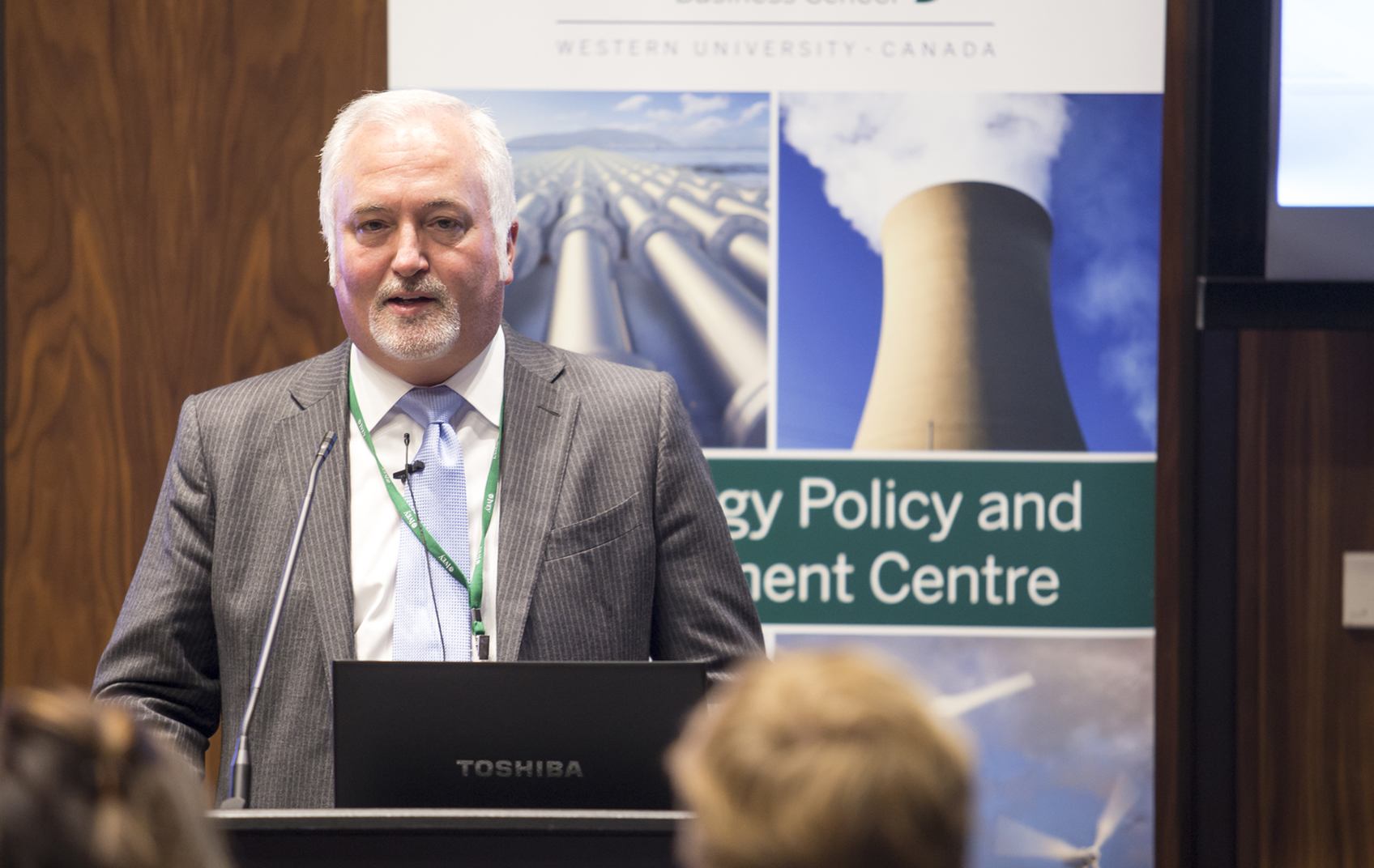 Steve Carlisle from General Motors Canada
New technologies on the rise
For instance, General Motors launched the Chevrolet Volt, a plug-in hybrid, in 2010, and in 2016 launched its second edition. It also recently announced the Chevrolet Bolt EV, an electric car that will be for sale early in 2017.
Although electric vehicles have come a long way since the launch of the first-generation Volt, Carlisle said there are still some limitations with batteries related to range – particularly in cold weather – and the wait time to recharge. Hydrogen fuel cell vehicles might offer an advantage because hydrogen is a light fuel that can be refueled quickly, and the industry is looking into that as a viable alternative. General Motors already launched a limited number of hydrogen-powered Chevrolet Equinox vehicles and is now working on the cost curves and infrastructure needs.
And while consumers are becoming accustomed to these new technologies, he said they still have concerns about range times, recharging, and the price as compared to gas vehicles, so consumers shouldn't be forced to drive electric vehicles though zero-emissions mandates.
"There are a number of issues out there and we can't unsolve these, which speaks to the fact that, from a policy point of view, we need some time and support for what we call cycles of learning," he said. "Consumers should drive the electric vehicle market; we shouldn't force the consumer behaviour."
Since gas vehicles are still the norm, Carlisle said GHGs can be reduced by replacing old vehicles with new ones. Thanks to improved standards, new vehicles produce 30 per cent less GHGs than those 11 years or older.
"The way we can improve the situation most quickly is to get older vehicles off the road. If we can work together on policies in that area, that's a good thing," he said.