News@Ivey
Time to embrace the fintech revolution: Ray Sharma, HBA '96
Communications
|
Jun 23, 2016
When it comes to the future of financial technology (fintech), the numbers speak for themselves.
Out of 400 Canadians surveyed by Extreme Venture Partners, a venture capital firm investing in fintech startups, 27 per cent overall and 40 per cent of millennials (those aged 18-34) would consider a branchless bank. Additionally, 62 per cent of the millennials surveyed already use a fintech product and 79 per cent plan to become a fintech customer within the next year. Of those using fintech, 53 per cent trust their fintech providers more than banks.
"This is significant," said Ray Sharma, HBA '96, Executive Managing Partner of Extreme Venture Partners. "Fintech is overhyped, but the sheer level of investment, combined with the market opportunity, means the hype is worthy of our consideration."
Sharma released partial results of the survey at the inaugural Scotiabank Speaker Series in Digital Transformation in Banking in Toronto on May 19, which was the first event by the Scotiabank Digital Banking Lab at the Ivey Business School. Funded by Scotiabank, the lab provides research, education, and outreach on digital disruption and fintech innovation. 
Sharma's sold-out talk explored the opportunities and threats from fintech startups. He walked participants through a history of human innovation, from the advent of controlled fire in 400,000 BCE to the potential for an artificial intelligence (the simulation of human intelligence processes by machines) era to begin in 2040, which he called the ultimate innovation. Sharma said artificial intelligence is a natural fit for fintech.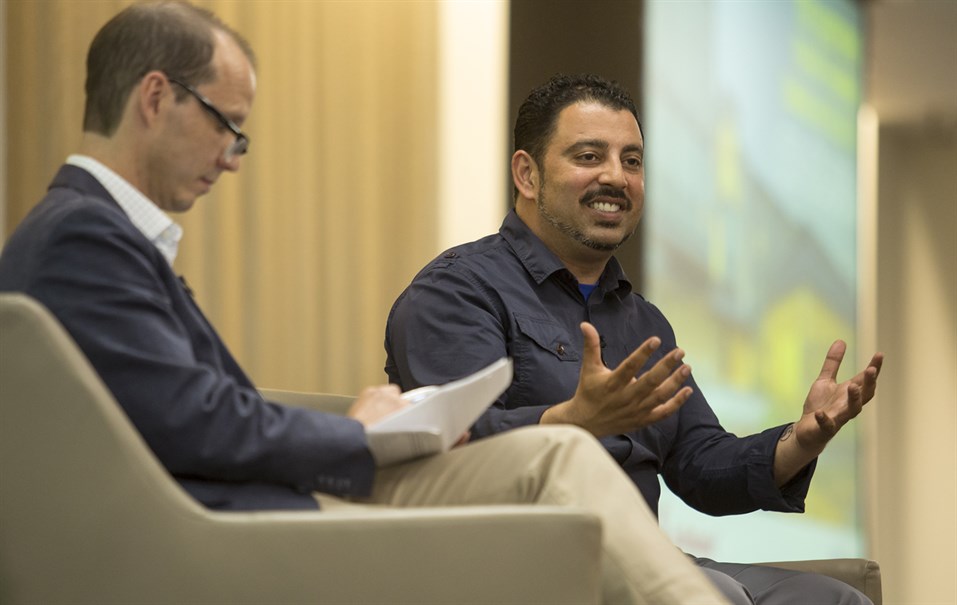 Ivey Associate Professor Michael King, co-director of the Scotiabank Digital Banking Lab at Ivey Business School, moderates the Q&A with Ray Sharma
 
"Artificial intelligence is a big deal and will manifest very quickly within fintech," he said. "The nature of finance and artificial intelligence being numeric makes fintech an area where artificial intelligence will flourish and it's on the horizon."
Sharma said it's human nature to respect innovation and evolution and that includes the current disruptions in financial services due to today's fintech revolution.