This month, two HBA students traded in their backpacks for briefcases and spent a day job-shadowing two of Canada's top CEOs.
Gabi Foss and Josh Reding, HBA '19 candidates, participated in this year's Odgers Berndtson CEOx1Day program. The students underwent a five-month application process, along with hundreds of other candidates in Ontario, before being selected as two of the 18 finalists. Foss was paired with Lisa Kimmel, President and CEO of Edelman Canada, and Reding with Pat D'Eramo, President and CEO of Martinrea International.
Foss spent the day in the Toronto Edelman office, where she sat in on meetings, met with other Edelman employees and executives, and learned how the team transforms abstract ideas into compelling marketing campaigns.
"My highlight from the day was engaging in a client meeting, and seeing how my learnings from Marketing and Strategy applied to the real world," Foss said. "I gained an appreciation for how target market research informs a company's strategic decisions, and how innovations impact business."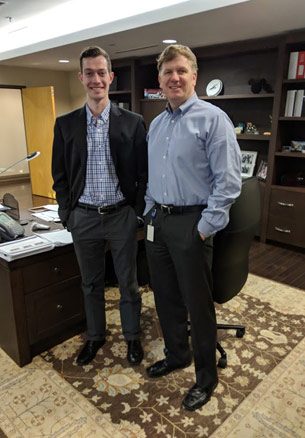 Josh Reding (left) with Pat D'Eramo
Reding, who is completing a dual degree with engineering, visited both the Martinrea International corporate office in Vaughan and Martinrea's manufacturing plant. He spent time with CEO D'Eramo and Rob Wildeboer, a co-founder and the Executive Chairman, as well as other employees working in different areas across Martinrea.
A highlight for Reding was seeing D'Eramo's and Wildeboer's different styles of leadership, and how the company as a whole worked together.
"It was great getting a better perspective on their distinct leadership styles, and also seeing the way the leaders interacted with the team," Reding said. "Pat is the CEO, but you could clearly see the company's success was thanks to the entire team. It's not just about one person – it's the whole team that works so well together. There was a really good dynamic in the team. Even if people challenged each other's opinions, it was done respectfully."
Lessons learned
For Foss, a big realization was that CEOs aren't always separated from their team members. Edelman Canada is an open-concept office, where everyone – including Kimmel – has desks instead of closed off offices.
"The biggest lesson I learned was how effective leaders must build genuine relationships with their team," Foss said. "Throughout the day, Lisa chatted with everyone she encountered about their work and personal lives. Furthermore, in the meetings I sat in on, she wasn't dictating those around her but instead guiding the conversation with thoughtful questions. I believe her interpersonal skills set her apart as she pursued her current position, since she both challenges and motivates those around her. I hope to express these same qualities as a leader."
Reding pointed out that despite Martinrea International being fairly young, the company had a mountain of success. Speaking directly with the executives gave him a better perspective on how they built and maintained success.
"Pat told me that a lot of companies have a strategy plan," Reding said. "That's one thing, but having the execution part… having that part broken down is where the magic really happens. That was one of the biggest lessons I learned."
"Pat's leadership style was inspiring," he continued. "He would ask everyone for their opinion, because he knew there were unique perspectives on the team. Someone who has been working at the company for 20 years would have a different opinion than someone else, and he embraced that."
Gabi Foss (left) with Lisa Kimmel