News@Ivey
Cryptoeconomics and the future of the web
Communications
|
Jun 11, 2018
The implications of one of the most compelling innovations ever created in Canada will be felt across the web and in almost every industry.
"The emergence of cryptoeconomics and blockchain 2.0 started right here in Toronto, and we should be very proud of that as Canadians," said Ryan Zurrer, HBA '06 and Principal and Venture Partner at Polychain Capital, in reference to the Ontarian origins of Ethereum, the world's most compelling blockchain to date. He spoke at the third annual Scotiabank Speakers Series in Digital Transformation in Banking in Toronto.
"Ethereum is probably one of the most compelling innovations that has been created by our country, certainly in a generation," he said.
Zurrer defined cryptoeconomics as:
The study of how we use digital incentivization to drive specific resources and behaviours among self-interested agents on decentralized networks, thereby inherently delivering security and accelerating network effects.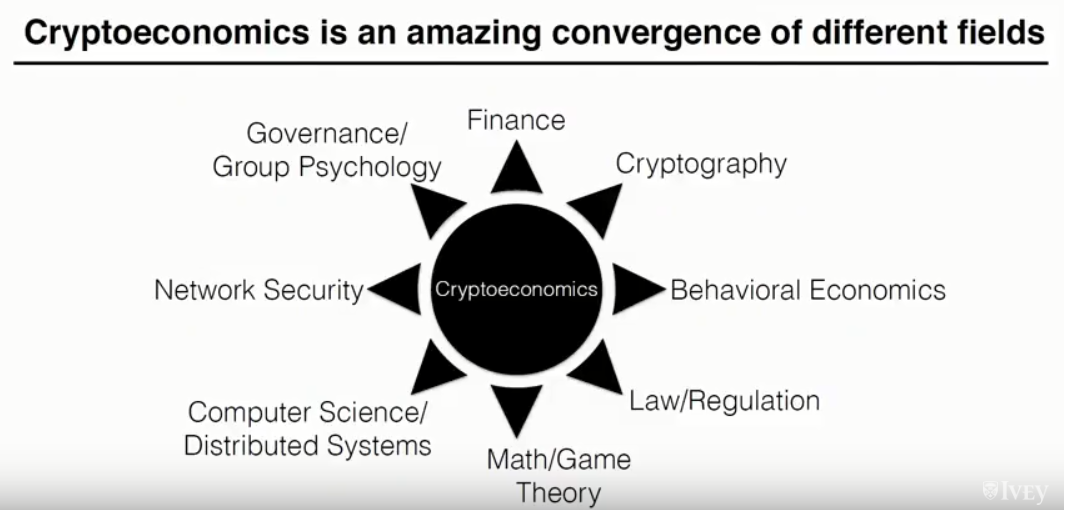 The emerging academic field of cryptoeconomics is the amazing convergence of these many disparate fields that had never really touched each other until now.
This is why Zurrer refers to the study in this field as jamming.
"I know no one on the planet that has these skills… in today's generation we need to bring together different people with different skills in order to come up with these systems," he said.
Highlights:
Zurrer reviewed a number of other projects, challenges, and opportunities that are outlined in his presentation slides. The link is below.
Governance – the hot topic of 2018:
While governance is hard work, networks that have governance, that have a way for the different constituents in those layers to signal to one another what matters to them, will allow (these) networks to evolve faster. The recent Facebook scandal showed the limitations of networks with poor data governance.
Improving fan engagement:
Zurrer outlined one opportunity of taking a privately held sports team and tokenizing the ownership. In this concept, fans contribute to decision-making (such as scouting, drafting or line-ups) and are penalized or rewarded based on how good their input was. This may improve decision-making in a sports franchise and improve fan engagement.
Zurrer concluded with these words of advice for participants:
"All we're doing here is trying to change the fabric of commerce and law, and the way society functions and politics and the very nature of the organization. We don't have to take ourselves so seriously about it. Have fun, enjoy this process even if you're not technical, it doesn't mean you can't get involved in cryptoeconomic systems."