High school students from across Canada discovered what it means to be an Ivey student in the Ivey Summer Leadership Program (SLP). The program, which ran from August 6-15, gave students a taste of Ivey's undergraduate business program – the Ivey HBA – through fast-paced learning and development with Ivey faculty, speakers, and team projects.
Students were involved in an ambitious curriculum of academics, collaborative projects, and recreational activities, including a two-day Digital Bootcamp hosted by Deloitte Canada. Based on a scenario presented by Tennis Canada, students were tasked to find ways to tap into the growing e-sport space, and propose solutions on how to encourage Gen Z viewers to shift from e-sports back to tennis.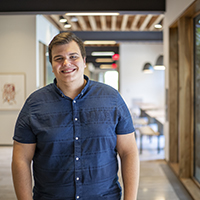 Austin Teshuba, an AEO2 student studying Engineering, and a Business Technology Analyst summer intern at Deloitte Canada, helped run the Digital Bootcamp this year. Teshuba has been involved with the SLP ever since he participated as a high school student two years ago.
"Representing Deloitte in the Summer Leadership Program is completely a full circle for me," said Teshuba. "It's good to see that the spirit hasn't went away, that everyone is still eager and just trying to learn. They're here because they want to learn something and they want to hear what we have to say, and you can really tell that. You can see them buzzing over the activities and trying to immerse themselves in the problem that we've given them."
Teshuba is a true believer that the SLP is a great stepping stone for students looking to go into any field.
"The program is really good because everyone's going to take something different away from it, and it's going to be vastly different than the experience you're going to have from the person sitting next to you because it's all dependent on your background. At the end of the day, it's going to help you be a better person, whether it's as a business professional, a technologist, a doctor, or a lawyer. Ivey doesn't just give you business knowledge and say you should be in business – they give you business knowledge so you can understand the world better."
Some of the other SLP events included a 24-hour case competition, in-class lectures, trips to Western University, and interactive outings to the Rogers Cup in Toronto and The Factory in London. 
About our SLP students: 
Number of students: 46
High schools represented: 40+
Provinces/states represented: Ontario, Alberta, British Columbia, Massachusetts
Follow us on Instagram to experience the SLP with our guests!