News@Ivey
Ivey volunteers rise to the challenge of COVID-19
Dawn Milne
|
Apr 24, 2020
In times of crisis, communities come together and volunteers rally to help those in need. And although the COVID-19 crisis might have limited some of the traditional face-to-face volunteer opportunities, there has been no shortage of people who have stepped up to help during the global pandemic – including Ivey alumni and students. For National Volunteer Week 2020, we are recognizing some of the innovative ways in which members of the Ivey Community are making a difference. 
Grocery delivery to frontline heroes "a no-brainer"
Who: Luca De Blasis, MSc '17, Co-founder of GroceryHero Canada. He's also Strategy Practitioner at Monitor Deloitte and Project Specialist at the World Economic Forum.
What: GroceryHero Canada. The goal of this not-for-profit organization is to connect frontline health-care workers who need groceries with volunteer shoppers. Volunteers are matched with each medical professional via their postal codes. GroceryHero Canada will arrange for the volunteer to pick up and deliver the groceries. The medical professional reimburses the volunteer for the cost of the goods only.
Making an impact: Since launching three weeks ago, GroceryHero Canada has made more than 1,200 matches from coast to coast.
Learn more or volunteer: https://www.getgroceryhero.com/
The motivation behind it
De Blasis and four of his friends – Elliott Charbonneau, Max Seltzer, Matthew Lombardi, and Hemanth Soni – created GroceryHero Canada after hearing from the medical professionals in their network that getting groceries was a huge issue. Grocery delivery services are oversubscribed and frontline health-care workers don't want to risk potentially exposing the general public to the virus while shopping themselves. The group came up with the idea while connecting on a Zoom chat and built the platform within 48 hours to get it to market quickly. It took off immediately and the response has been overwhelming. De Blasis said the real heroes in the crisis are the medical professionals and volunteers.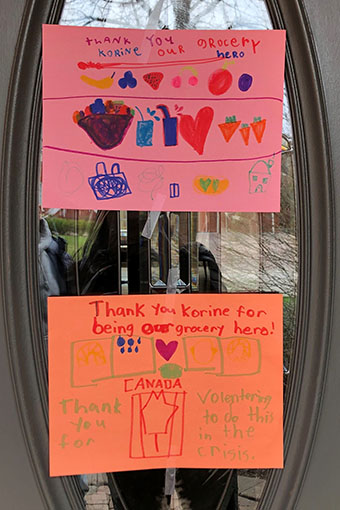 Luca De Blasis: "The Canadian spirit is all about helping your neighbour and supporting your community in times of need, so, since the beginning of this crisis, I've felt compelled to look for opportunities to use the skills I have to give back. I have an immense respect for the selflessness and bravery of those on the front lines of this battle. When the opportunity arose to develop something to help them, it was a no-brainer."
De Blasis said this sign was hanging on a doctor's house to thank one of GroceryHero Canada's volunteer shoppers
Gift card program provides relief to restaurants and small businesses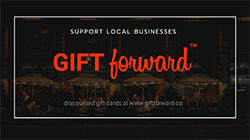 Who: A team of HBA students, including Ryley Mehta, Angela Du, Lisa Chen, Melissa Shang, Saad Afroz, Lillie Sun, Zoe Yang, Jasmine Yang, Teddy Kassa, Teimur Siddiqui, Saksham Chaudhry, and Selina Yang.
What: GIFTforward. The goal of this social tech venture is to provide cash flow to restaurants and small businesses in Toronto during the coronavirus shutdown by selling discounted gift cards online for use after they reopen. One of the businesses receiving support is MOS MOS Coffee, which is co-owned by Armin Yassaie and Tahir Rhemtulla, both HBA '13.
Making an impact: Since launching in late March, GIFTforward has sold more than $30,000-worth of gift cards, which has helped more than 60 businesses currently on the platform. There are plans to have restaurants from other locations join the platform as well.
Learn more or buy a gift card: https://www.giftforward.co/
The motivation behind it
When HBA2 student Ryley Mehta learned about GIFTforward from a friend, he immediately wanted to get involved. He knew how the COVID-19-induced closures were affecting the restaurant and hospitality industry because his girlfriend's parents had to close their restaurant during a previous street closure outside their business, which made it clear that a full-scale shutdown would have a tremendous impact on the whole small business community.
He contacted Rahim Noormohamed, one of the founders of GIFTforward, and asked to volunteer. On top of that, he rallied a group of HBA students to help. Their volunteer work has included bringing restaurants onto the platform, promoting the initiative online, and contacting news organizations for promotion. Mehta said he's pleased to be putting his skills to use to help some of the businesses that have been hardest hit during the crisis.
Ryley Mehta: "The coronavirus shutdown is impacting everyone, but it has affected specific groups in particular, such as small businesses. Working with GIFTforward to support this community through the crisis was a great opportunity to apply what I learned at Ivey for a social purpose."
Supporting local restaurants and feeding frontline health-care workers

Who: Katie Chen, Edwina Liu, and Victor Lal, all HBA '19 and consultants at McKinsey & Company.
What: Feed the Frontlines TO. The goal of this Toronto-based volunteer group is to keep local restaurant employees employed and provide delicious meals to health-care and social services teams across the city. 
Making an impact: In just three weeks, Feed the Frontlines TO has raised $167,000 and delivered more than 3,000 meals to a variety of hospitals and social services agencies, including Mount Sinai Hospital, Sunnybrook Health Sciences Centre, the Fred Victor Centre, and Covenant House Toronto. The group has also received an outpouring of appreciation from the restaurant owners and employees and health-care and social services workers.
Learn more or donate: https://www.feedthefrontlinesto.org/buy-meals
The motivation behind it
It's a perfect example of great minds think alike. Katie Chen, Edwina Liu, and Victor Lal, all HBA '19, and a colleague of theirs had an idea to raise money to buy meals from local restaurants for frontline health-care workers when they learned that Torontonian Adair Roberts had already launched Feed the Frontlines TO. They decided to join forces and have been running full steam ahead ever since. In addition to onboarding restaurant partners, Chen, Liu, and Lal are working mostly on the fundraising side – on social media outreach, website management, and community partnerships – all while juggling their work as consultants at McKinsey & Company. All of the volunteer work is done outside of work hours, early in the morning, at night, or on weekends.
"We couldn't bear the thought of just sitting at home when there was so much we could do to help," said Chen. "It's probably a bit of our HBA education coming through. Ivey emphasizes leadership in difficult times, how to think about being a global citizen, and creating meaningful impact."
Knowing they're making an impact is personally rewarding. Here's what they have to say:
Katie Chen: "I'm not medically trained to save lives, but at least I can play a supporting role for those who can. You hear the news – the cases rising every day – and it's easy to get bogged down with fear and helplessness. Being part of Feed the Frontlines has given me a sense of purpose."
Edwina Liu: "I began to see more and more news articles about COVID-19 and felt so restless. It truly felt like the world was crumbling around me and there was nothing I could do to help, but that is absolutely not true! We may not be able to serve on the frontline, but every member of our community has something to contribute."
Victor Lal: "This crisis has shown us who our true heroes are – the people who go to work when we all stay home, who risk their health and safety to help others, and who do so without asking to be thanked. Feed the Frontlines is a small initiative, but it's about showing frontline workers that we care and that we're thinking of them."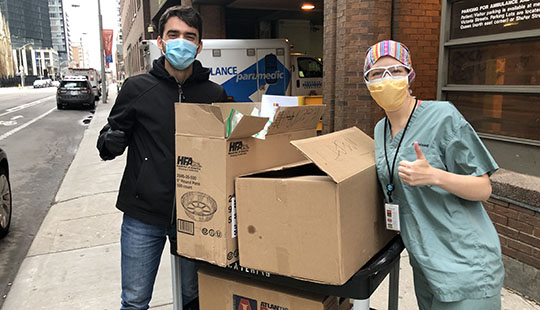 Victor Lal making a delivery