News@Ivey
Volunteer team brings comfort to front-line workers
Cam Buchan
|
May 12, 2020
With just $4 worth of materials, Melissa Marcelissen and Headbands with Heart are making an invaluable difference in the lives of health-care workers.
Together with her sister, Loretta, and her mother, Maureen, Marcelissen, EMBA '20, provides headbands at no cost to front-line workers by collecting support from sponsors. Each headband costs $4 in raw materials to build. Her sister and mom make each headband, a team of volunteers sews the buttons on either side, and another volunteer delivers the headbands to front-line workers.
"We have seen countless pictures of sore, dry and even bleeding ears because of how tight the masks need to be, and the many long hours our health-care workers have to wear them," Marcelissen writes in a LinkedIn blog post. "We discussed how we could put the headbands to use and decided that if we added buttons to the sides of the headbands, front-line workers could use them to secure their face masks instead of behind their ears."
By the end of their first week, Headbands with Heart delivered approximately 1,000 units to local care centres in Stratford, Ontario, as well as locations across Canada and parts of the U.S. – as far as California. Sponsors are notified where their headbands have gone, and can even choose a location if they know of a workplace in need.
Expectations were small when the initiative began. Marcelissen thought they would send out a few hundred headbands to local care workers. However, the response has completely overwhelmed their team.
"The purpose we have all found in this project has been incredible," said Marcelissen, an HR Business Partner with Economical Insurance. "The teams who receive our bands have been so grateful, some even telling us they've been brought to tears by our generous support. But what has been equally incredible is the sense of purpose this small offering has provided to so many. Our volunteer sewers, our sponsors, drivers, and group members have shared just how much doing something good right now means to them."
Recent donations from Scotiabank employees will help develop almost 2,500 more headbands bringing the total number of sponsored headbands over 4,000.
"For me, this little project has provided a renewed sense of purpose, finally feeling like there is a way for me to show support and contribute, even in a small way, to the well-being of our bravest through this epidemic," Marcelissen said.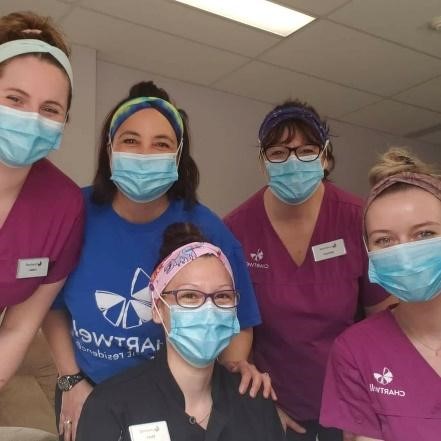 Health-care workers at Chartwell Anne Hathaway Retirement Home wearing headbands from Headbands with Heart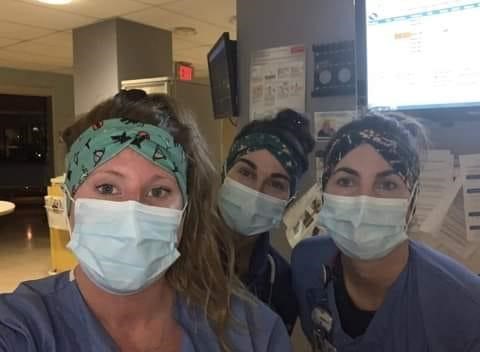 Health-care workers at Southlake Regional Hospital in the Cardiac ICU wearing headbands from Headbands with Heart