News@Ivey
Ivey grad providing hands-on help to Ukrainian refugees
Communications
|
Apr 25, 2022
Even though he has helped hundreds of refugees through three separate crises, Victor Lal still isn't used to one common scenario. It's the sight of a mother and her young child fleeing their home with only the tiniest bag of belongings. It's a sight that motivates him to spring into action no matter how exhausted he is.
"A lot of moments have been extremely emotional. I've gotten used to seeing a lot of things. But there is something about seeing a mother and her child carrying little bags when you know that is all they can take," said Lal. "They leave everything behind without knowing if they'll be back. It's a terrifying thought and it's a true scenario for many refugees. But every time I see something like that, it just breaks my heart."
Fundraising for Ukraine
Lal, HBA '19, founded HandsOnForUkraine, an initiative to raise money for those affected by the war in Ukraine. He was doing a master's program in public policy at Oxford University when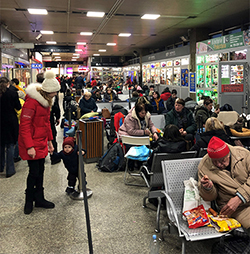 Russia invaded Ukraine on February 24 and immediately booked a flight to Poland to help Ukrainians seeking shelter there. After walking along the border talking to refugees, Lal determined there was a need for supplies and HandsOnForUkraine was born.
"I thought of the name, HandsOnForUkraine, and put together a crowdfunding page. I knew that if I could tell the story right, people would donate," he said. "The way I framed it is there are a lot of organizations that can help, but there is a gap in community-level support and people slip through the cracks. The idea was if you are in Canada or the U.K. or elsewhere and you wanted to help, this was a way to provide grassroots support."
On-the-ground support
Already the initiative has raised approximately $47,000, allowing it to provide 950 nights of accommodation to 164 Ukrainian refugees as well as supplies and other necessities. So far, Lal has helped refugees find shelter in Warsaw, Poland, but he said the city is filling up so finding safe accommodation elsewhere is a priority – "safe" being the operative word.
"A lot of the time, a mother with a child will take any offer to have a place to sleep at night, even in a country she has never been to. This can lead to dangerous situations. It's scary to see that, not only is there a risk from the war, but even in their journey to find safety, these women and children are encountering very real risks," he said. "We're helping to ensure they are not put in harm's way due to unsafe accommodation as well as helping them to figure out what's next."
A personal story of inspiration
Lal said he's drawn to the cause because his own parents fled Poland years ago to escape a communist regime and met while filling out visa applications to Canada. Hearing their stories inspired him to help refugees. In May 2017, he founded Canadians for Syria, a non-profit organization that has sponsored 17 Syrian refugees and raised more than $90,000 to date. Lal's fundraising efforts for Syria included biking from Toronto to St. John's, Newfoundland in 2017 and swimming 52 kilometres across Lake Ontario in 2018, all while completing his HBA at Ivey. He credits his education at Ivey for helping him to identify a clear need, develop creative solutions, and rally an audience around the cause.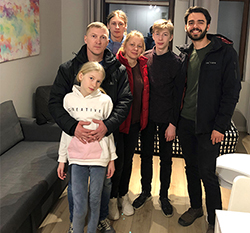 After graduating from Ivey, Lal worked both as a business analyst at McKinsey & Company and as a consultant to the refugee-focused non-governmental organization (NGO), International Rescue Committee (IRC), before enrolling at Oxford. He has also previously supported humanitarian projects related to the Palestine refugee crisis.
Through these experiences, he has seen different stages of refugee crises, but the Ukraine crisis is the first he has seen evolve since day one and he said he worries about what might come next.
"Right now, people are paying a lot of attention, which is amazing, but already, after talking to Ukrainian NGOs, I know donations are down. It's starting – this idea that attention is slipping away to other things," he said.
Keeping the momentum going
His next step is to find ways to keep people caring and helping.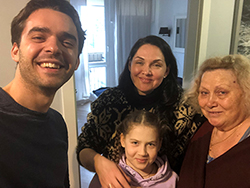 "It's completely understandable that if something is in the news and you feel powerless to stop it, you focus on other things because who can live with that constant shock and sadness? But there needs to be a way for people to feel they can do something to help out," he said.
Lal said he is exhausted and has struggled to complete his studies while also helping refugees. But he regains lost motivation every time he sees an uptick in donations or interacts with a Ukrainian family. He says the refugees' resilience is inspiring.
"Every time I speak to one of these families, that exhaustion washes away. I'm just happy I was able to do something," he said.
There's something about migration and forced movement that shows the best in people. It shows resilience, courage, and bravery. There is a resilience that's admirable."
If you are interested in donating to HandsOnForUkraine, 100 per cent of your donation will be used to provide accommodation for refugee families and send needed supplies into Ukraine.