The 33rd annual Scotiabank International Case Competition (SICC) brought bright, ambitious students from all over the world to Ivey for a four-day action-packed case competition – held in-person for the first time since 2019.
Predominantly organized and executed by Ivey students, the competition took place from March 22-25. SICC is known to attract students globally because of its unique combination of international networking, real-world case experience, and fun social activities that embody the event's "Work Hard, Play Hard" motto – Naturally, students attended a London Knights hockey game Friday evening, giving them a true Canadian cultural experience.
Presented and sponsored by Ivey's Scotiabank Digital Banking Lab and its key partner, Scotiabank, SICC exposes students to different cultures and provides an unmatched opportunity to get real experience with international business.
The international experience
Rasmus Siggard Frederiksen and his team from Aarhus University, Denmark arrived in Toronto on Tuesday and, before heading to London, decided to take a quick detour to see Niagara Falls. Frederiksen admired the SICC executive team's kindness, stressing how helpful it is to have country ambassadors guiding them at each stage of the week. "We almost forget to think for ourselves outside of working on the case," he teased.
The opportunity to meet new people from around the world stood out as a highlight for Frederiksen. "We're used to solving cases, but to travel internationally for a case competition and be part of something together with other people creates a common ground."
Lucrezia Lualdi from Georgetown University, Washington DC, could not agree more.
"I love to meet people from new countries and get exposure to new cultures and traditions," said Lualdi, who is originally from Milan, Italy. "I came to the United States for school, so I am already studying abroad, but I take advantage of these opportunities to be able to meet more people from around the world and learn how their business school is structured, how their team is structured, and hear fun facts about their countries. We actually find out that we have so much more in common than we thought."
Lualdi and her teammates, who are in Canada for the first time, were especially excited for the opportunity to attend SICC because of this year's in-person aspect. Now in her last year of university, Lualdi's case competition experience had been solely via Zoom due to COVID. "It's been so fun and such a great experience," she said.
This year, Ivey welcomed 12 teams from 10 countries, in addition to a 13th team of Ivey students:
Australia - University of Technology Sydney
Canada - Sobey School of Business, Saint Mary's University
Denmark - Aarhus University
Germany - Münster School of Business and Economics
Hong Kong - HKU Business School, University of Hong Kong
Mexico - Universidad Panamericana
Netherlands - Rotterdam School of Management
Norway - Norwegian School of Economics (NHH)
South Korea - Korea University Business School
United States of America - Florida State University
United States of America - Georgetown University
United States of America - Haas School of Business, UC Berkeley
Expertise on NFTs
Financial tech company Scarcity Labs presented a case on using Non-Fungible Tokens – better known as NFTs – to empower artists, who typically struggle to market their creations. Students were tasked with developing a business model for Scarcity Labs, assessing how NFTs could benefit the artist community and collectors, and assessing implementation and financial viability.
Congratulations to the winning teams
The team from the University of Hong Kong, made up of Regan Fung, Harikirate Kaur Kirti, Karine Pangestu, and May Xu, took home the first-place prize. Finalists included the Rotterdam School of Management who took home second place, and the Norwegian School of Economics (NHH) placed third.  
The Norwegian School of Economics (NHH) also won the coveted Spirit Cup for their enthusiasm and participation in various events and challenges.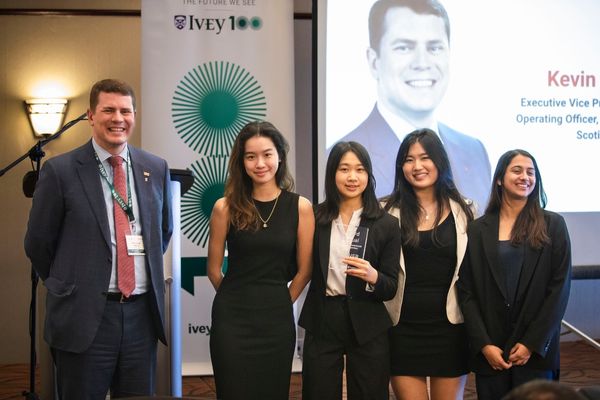 Ivey alumnus and SICC judge Kevin Teslyk, MBA '01, EVP & COO at Scotiabank, addressed the participants at the closing ceremony, providing the group with a few pieces of advice as they embark on their own professional journeys.
"A key element of this competition that will play a critical role in your ongoing success is to recognize the power of partnerships," said Teslyk. "Through this experience, you have had to rely on each other; you have learned from each other; complemented and challenged each other. You've established new relationships and formed new partnerships. I encourage you all to continuously seek out, invest in, nurture, and leverage those partnerships, starting with all the peers you've had the opportunity to collaborate with this week."
Thank you to the judges
William Burnfield, MBA '84 - Managing Director, Great Village International Consultants
Eric Gu - Founder & CEO, ViewFin
Darren Jack, HBA '88, MBA '92 - Associate Partner, EY Caymen Limited, Cayman Islands and Co-Founder, Impact 360
James R. Cantre Morales - CEO, Scarcity Labs
Nelson Moutinho Vice President Design & Product - Digital Platforms, Scotiabank
Khurram (Kai) Shehzad Vice President Design & Product - Digital Service, Scotiabank
Carrie Song - EVP and Founder, ViewFin
Steve Sparkes - CISO & SVP Information Security & Control, Scotiabank
Kevin Teslyk, MBA '01 - Executive Vice President & Chief Operating Officer, Scotiabank
Daniel Warelis - Director, Government Affairs Scotiabank
Stephanie Zee, MBA '06 - VP & Global Head, Enterprise Payments Risk, Financial Crimes Risk Management Scotiabank