November 15 marks National Philanthropy Day and is a special opportunity to recognize those who generously contribute to their communities and are committed to making positive change. Today, Ivey celebrates its alumni for their remarkable generosity and commitment to change.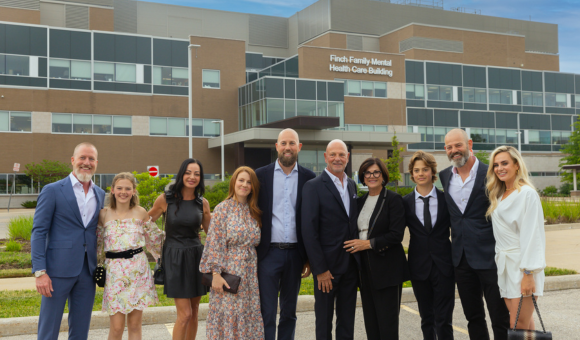 In June 2023, Ryan Finch, HBA '97, President of Finch Auto Group, donated $5 million to St. Joseph's Health Care London – the largest gift of its kind to support mental health research. Finch's landmark gift will support a new research chair in mental health system transformation, as well as fund projects to improve the mental health system. It will also help expand St. Joseph's research project, the Mental Health INcubator for Disruptive Solutions (MINDS) of London-Middlesex that develops innovative mental health solutions for youth. 
Entrepreneur, investor, and CEO of Xero, Sukhinder Singh Cassidy, HBA '92, has supported three organizations consistently over the last several years, including Jobtrain, the Center for Reproductive Rights, and the Education Foundation of Niagara. Additionally, Singh Cassidy considers her work with theBoardlist to be another area of her life where she's been predominantly focused on social impact.  She founded theBoardlist, a purpose-driven for-profit company, to help diverse candidates get recommended and discovered for the boardroom.
Chris Tambakis, HBA '86, Chief Executive Officer of Adgar Canada, is an Ivey Advisory Board member and an active entrepreneur and investor in several business ventures. Tambakis supports a variety of causes and organizations in his community, including the Heart & Stroke Foundation, the Scarborough General Hospital Foundation, the Santa Claus Parade, and the Ontario Science Centre, among others.
To celebrate National Philanthropy Day and the many ways our alumni support diverse causes, we asked Finch, Singh Cassidy, and Tambakis to share their motivations for creating community impact.
What attracted you to these causes in particular?
Finch: Community giving has always been a cornerstone of our business model, but over the years, the mental health crisis really hit home. My company has an awesome resource that helps our staff and immediate family members 24/7 with mental health challenges. Watching that plan in action over the years and observing the mental health struggles around London, it was obvious to me where I should make this donation. 
Singh Cassidy: I think there are two major areas where I have passion for change, and my philanthropic giving reflects those themes. I care deeply about gender equity and rights, and both theBoardlist and the Center for Reproductive Rights seek to impact in different ways on the rights and opportunities for women. Secondly, I care deeply about finding solutions that can drive economic empowerment and mobility in local communities. Jobtrain does that here in the Bay area, and the Education Foundation of Niagara does that where I grew up in St. Catharines, Ontario.
Tambakis: In my life, I have tried to be supportive of organizations across many areas of need. I established three pillars of focus: community, health care, and education. These are clearly broad areas of need, with wonderful opportunities to make a difference. Over time, I became more focused and committed to specific organizations that resonated with my family and me personally, and where I felt I could have a meaningful impact through my involvement with my time and resources.
What do you hope to accomplish through your philanthropy?
Finch: I made this donation for several reasons. I wanted to address the tailwinds and good fortune I have had in my life, I wanted to inspire my kids and teammates, and I wanted to encourage others who have more than they need to consider helping. A business can thrive financially but also be firmly connected to positive change.
Singh Cassidy: I hope that through philanthropy I can both contribute to solutions but also grow my own empathy, knowledge, and connection to community and causes I care about. I have tried to support several organizations consistently over time, and use effort – not just money – to help. Whether this is participating on a local board or hosting a fundraising event, I think it's important that philanthropy is not just a check, but an action.
Tambakis: I have been very fortunate in my life. Through my philanthropic work, I have tried to give back in a meaningful and impactful way that hopefully helps change the course of others' lives for the better. While I have been able to contribute with financial support, one of the most valuable gifts you can give is your time. I try to lead by example in hope that colleagues, friends, and family do the same.
Do you have a message to share around the significance of giving back?
Finch: A hearse never stops at a bank! I feel it's up to the private sector to get involved and push at these pervasive issues. Giving your money to a worthy cause is incredibly rewarding. Try it!
Singh Cassidy: I think it matters less whether you give a lot or a little, whether you give locally or globally. What matters most is that whatever you have to give, you give it. Both the receiver of your acts of care and you will be better for it.
Tambakis: Giving back is an essential part of my life. That said, I don't look at it as giving back, I look at it as investing in the community for the greater good. My philanthropic work has enriched my life – I have truly benefited as a person from my involvement in philanthropy. The impact on my life and those around me has been profound. I am proud that I got involved at a young age and encourage others to do the same. We will all be 'richer' for giving back to community and causes that resonate with us.