When Melissa Marcelissen, EMBA '20, took a course five years ago, they were asked a question that changed their life: What would you do if you weren't afraid?
It's a question that prompted reflection on what might be holding them back. One of the first things on that list was to pursue Ivey's Executive MBA program, which they began one year after this impactful question was posed. Citing that fear often prevents people from reaching their full potential, Marcelissen encouraged a group of young mentees in the Girls E-Mentorship (GEM) program to identify their fears and lean into what makes them stand out. GEM pairs high school girls facing socioeconomic barriers with professional women for mentorship focused on developing skills and achieving academic and career potential.
Marcelissen, who is the Relationship Manager of Ivey's EMBA and AMBA programs and a second-year GEM mentor, led a recent GEM session called How to Fascinate that was co-sponsored and co-hosted by Ivey's EMBA and HBA programs. The event, held at the Donald K. Johnson Centre in Toronto, was a kickoff to the GEM mentorship year and brought together 40 mentors and 45 mentees in person with an additional 80 mentors and mentees participating virtually.
Kim Randall, Associate Director of Ivey EMBA Recruitment and Admissions and a GEM mentor, said the GEM program is a perfect match with Ivey because it brings together smart and ambitious women.
"Ivey is invested in supporting and elevating women in business (and beyond) and knows how impactful its programs are in accelerating careers," she said. "GEM girls are ideal HBA candidates given their drive, focus, and dynamic personalities. And after years of mentoring with GEM, I know that GEM mentors are ideal EMBA candidates thanks to their impressive careers and strong character and commitment to elevating others. Partnering with GEM was an exciting opportunity for Ivey and we can't wait to welcome GEM alumni and mentors to Ivey in the coming years."
A key part of the event was a chance for the participants to learn how to distinguish themselves and build a personal brand. Marcelissen helped them to interpret their personalized results from the How to Fascinate system developed by award-winning advertising executive Sally Hogshead. The How to Fascinate Test helps people to understand what kind of impression they're making when they communicate so they can leverage their defining qualities and allow themselves to shine. Marcelissen leads the career management curriculum for Ivey's EMBA and AMBA programs where How to Fascinate workshops and coaching are an impactful part of the program.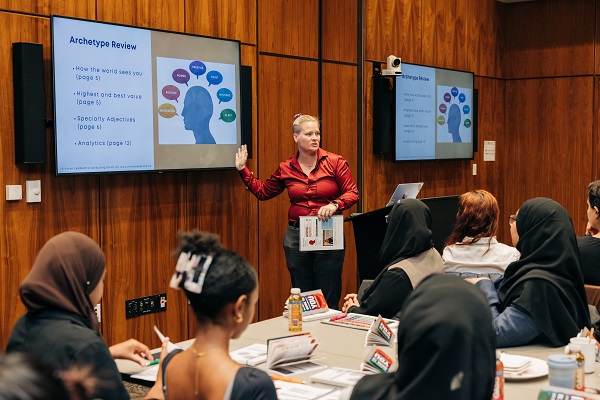 Melissa Marcelissen leading the How to Fascinate workshop
Participants at the GEM event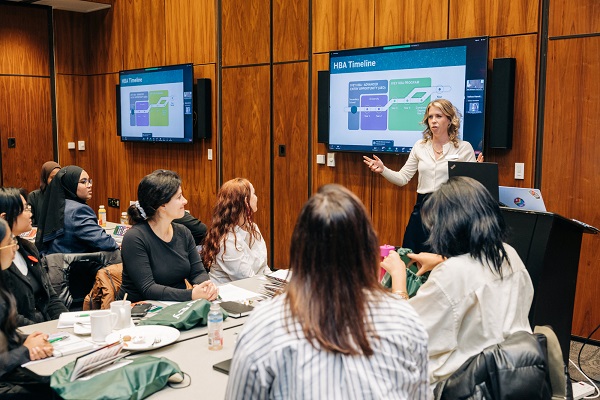 Kate Schieman, Ivey's HBA Recruiting Manager, led a session on the HBA program
Embrace your awesomeness
Marcelissen said the premise behind How to Fascinate is not to change, but to become more of who you are. Marcelissen told of their own journey to break out of their comfort zone and discover who they are and where they are uniquely suited to excel.
"We're not going to talk a whole lot about what you need to do differently, or how we're going to fix you. You don't need to be fixed, you just need to understand who you are and really lean into that," they said. "If you can really define what it is that you bring to the table that's different, then you're not competing anymore. You're being really exceptional at the thing that you do … And no one can beat you at that. Different is better than better."
The event also showcased some of the GEM mentors and mentees. One was Michelle Eaton, EMBA '19, who attended the event and said she's excited to mentor Sarah Hobbs, a grade 12 student at Richview Collegiate Institute in Etobicoke.
"I have no doubt she will go far and it's an honour to support her journey," said Eaton, who is Vice President of Public Affairs with the Ontario Chamber of Commerce.
The power of mentorship
Although this is Eaton's first year with GEM, she said she has volunteered as a mentor with other organizations and finds it incredibly rewarding. Eaton credits her Ivey experience for helping her to develop a deep understanding of the importance of diversity and inclusion in leadership roles as well as inspiring her to drive impactful change.
"Part of that impact for me is mentoring and coaching the next generation of leaders, which is why joining GEM as a mentor was so important to me," she said. "Mentorship programs like GEM are vital for fostering gender equity and inclusivity, which is why I got involved – to contribute to shaping a more equitable future and to support the professional growth of young women."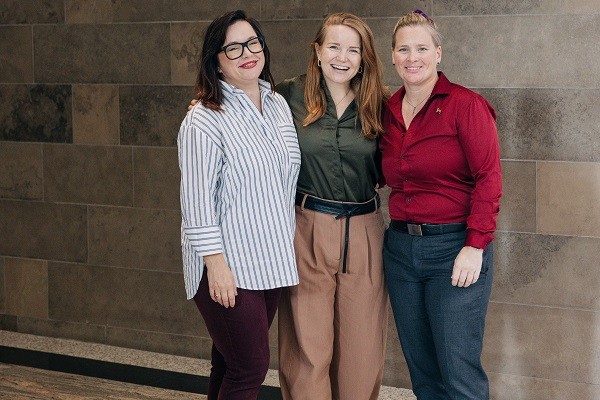 GEM mentors Michelle Eaton, Kim Randall, and Melissa Marcelissen
Personal and professional growth
Isabelle Gan, a second-year Western University student, knows firsthand that such mentorship programs make a difference. She is a proud alum of GEM's 2020-21 cohort of mentees and the recipient of a GEM scholarship.
Gan said she grew significantly from her mentor-mentee relationship and GEM workshops and also met inspiring female role models across the Greater Toronto Area.
"My mentor and I shared similar backgrounds and interests, and we hit it off right away. I enjoyed every conversation we had; we talked about women in leadership, finding fulfillment in our work, pursuing personal growth, maximizing productivity, and more," she said. "Through this mentorship, I became a stronger person and leader."
Interested in a career combining business and technology, Gan said she appreciated the chance to connect with organizations – including Google, LinkedIn, RBC, Relay Ventures, and Burgundy Asset Management Ltd. – through GEM events. Gan has Advanced Entry Opportunity (AEO) status to Ivey's HBA program and hopes to join the program next fall.
"Those hands-on learning opportunities bridged the gap and connected me with professionals in the industry, or directly taught me about the skills relevant to those fields," she said. "GEM has provided me with numerous opportunities for professional development and personal growth, and as a 2020-21 GEM Scholar, GEM has continued to support me after I graduated from the program."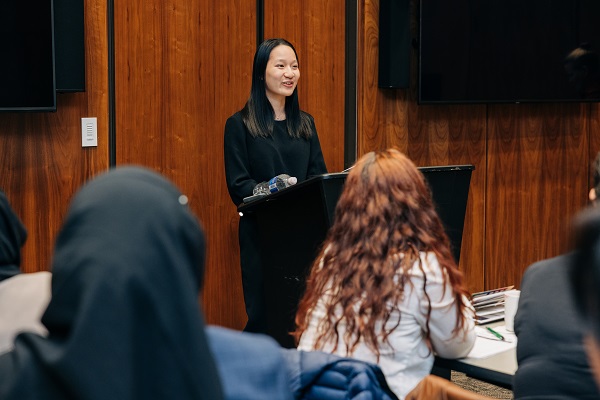 From my time with GEM, I grew professionally and personally. I stepped out of the GEM program ready to embark on my post-secondary journey and progress towards my future career."
– Isabelle Gan, 2020-21 GEM Scholar
All photos are courtesy of Shlomi Amiga, Shop Street Photography Prints.