It was a day to celebrate Ivey's graduates as they go out into the world – as well as some who have already started to explore what the world has to offer. Among the 239 Ivey graduates at Western University's fall convocation on October 20, were 90 HBAs who went on exchange at an international partner school, 23 of them receiving an additional Global and Intercultural Engagement Honour (GIEH) certificate.
The GIEH recognizes that they are global-ready graduates with the global and intercultural skills needed to succeed in an increasingly interconnected world. In addition to going on exchange, students complete special courses, intercultural engagement and training, and language proficiency to receive the certificate. A goal of the School's Ivey Next strategy is to create global citizens and Solomon Galindo, Ivey's Exchange & International Learning Coordinator, Student Experience, said the number of students who received the GIEH is proof that can be achieved at Ivey.
"I'm hoping to have the number of Ivey HBA graduates who achieved this honour increase going forward as we promote this as an option for our students to show they are global citizen-ready," he said.
Business and cultural learning
HBA graduate Katerina Petrou is one of Ivey's GIEH recipients. She studied abroad at the University of New South Wales (UNSW) in Sydney, Australia during the winter term this past year. While at UNSW, she took business courses as well as two Australian culture courses, one on Marine Sciences and one on Indigenous Australia. Petrou said those courses abroad complemented her Ivey courses focused on international business. At Ivey, she took an elective course on climate change in policy, where she learned how different countries politically approach the climate change crisis. She said the class even held a mini mock United Nations conference.
Petrou said her Ivey courses broadened her understanding of global economic policies and the potential for businesses to prioritize sustainability while her studies abroad provided insights into varied professional landscapes.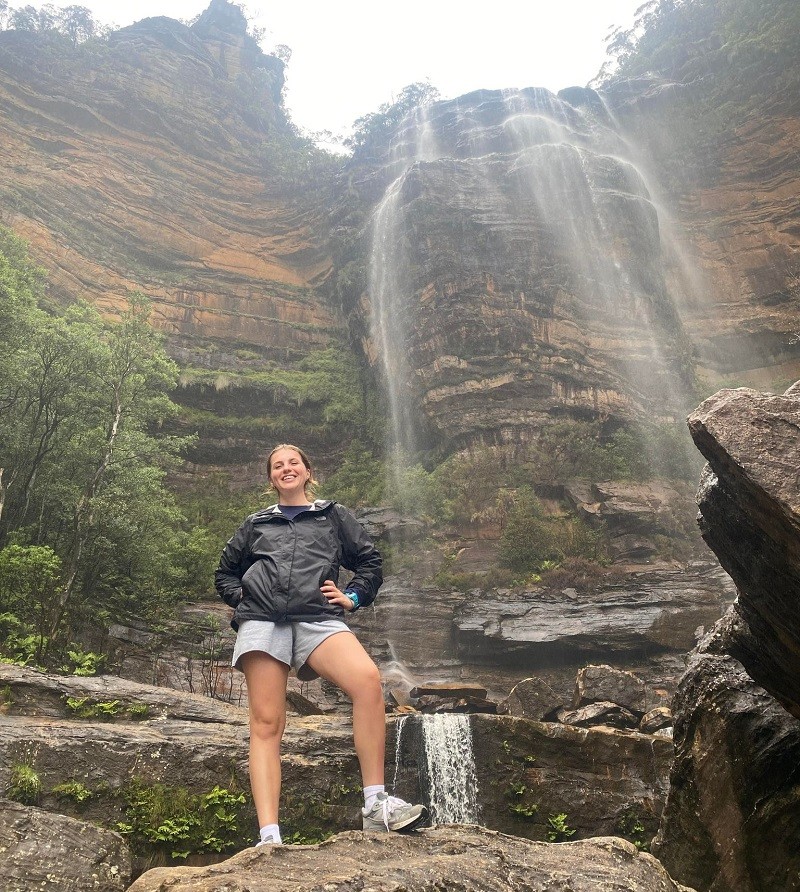 "Through my GIEH journey, I met my expectations and pushed my boundaries, especially when studying abroad. This experience tested my resilience, teaching me the value of independence and the richness of solo adventures," she said. "The challenges I faced there (Australia), from adjusting without my usual support system to navigating a new cultural landscape, honed my resilience and independence. This immersive experience coupled with in-depth courses on Australian culture at UNSW, deepened my global understanding and was significantly differentiating."
Through GEIH, Petrou received bilingual certification in French, which she says has already unlocked opportunities to work in the public sector and/or with public-sector clients.
"Receiving this honour highlights my unique experiences and challenges while studying abroad in Australia and enrolling in international-focused courses," she said. "GIEH allowed me to define my intentions and then reflect on how I achieved my goals. It is rewarding to be recognized for the challenges and experiences that shaped my GIEH journey."
Photo above: Katerina Petrou in Sydney, Australia
Watch the video above where HBA graduates Vippy Chau, Alvina Lin, Annie Liu, Kaly Long, Alex Mastromarini, Mark Sedrak, Catherine Tang, and Donna Xue discuss what their global exchange experience meant to them. 
Congratulations to Ivey's graduates
Congratulations to the 106 HBAs, 51 Executive MBAs, 41 Master of Management in Analytics participants (MM-A), 35 MScs, and six PhDs who graduated at fall convocation, took the Ivey Pledge, and are now part of the Ivey Alumni Network. And a special congratulations to Ivey's GIEH recipients (list below):
Natasha Abayomi
Marlee Adler
Jacklyn Betts
Vippy Chau
Amanda Graff
Madeeha Hafeez
Hanna Ke
Niloufer Khan
Olivia Li
Annie Liu
Guoyao (Jack) Ma
Alexander Meffe
Lauren Mooney
Amy Pavelick
Emily Peng
Katerina Petrou
Madelaine Shoemaker
Flora Wang
Jonathan Wong
Jieru Yang
Richard Yilun Yang
Ivy Yu
Rebecca Zuker