Watch the full recorded broadcast above.
As a leader, you must overcome fear and panic and drive towards excellence during a crisis. You have to think differently about how to approach managing your business, while finding a balance between the present and the future. Without a clear blueprint to follow, It's easier said than done.

In this complimentary livestream, Ivey Academy operations professor David Wood shared six critical steps leaders must take to manage effectively during a crisis from an operational perspective, and focused on the core three: taking ownership, implementing your plan, and going on the offensive. David was joined by Brian Boulanger, HBA '97, President & Director of ARC Financial Corp., and Devi Rajani, Senior Managing Director, Corporate Finance & Restructuring at FTI Consulting. Together they discussed implementation during rapid change, measuring progress, communicating with stakeholders, investing for growth, leading by example, and operational best practices.
Key webinar content
Core topics
The six steps to take when operating in a crisis
The business resiliency matrix
The importance of owning a crisis situation whether you're at fault or not
COVID-19's impact on the energy sector
How various organizations are responding to the crisis
Defining success
Communicating with creditors and maintaining credibility
Ways to generate cash
Implementing your plan and generating buy-in
Employee engagement during a crisis
Growing market share in tough times
What does post-crisis operations look like?
Future trends post-COVID-19
Session materials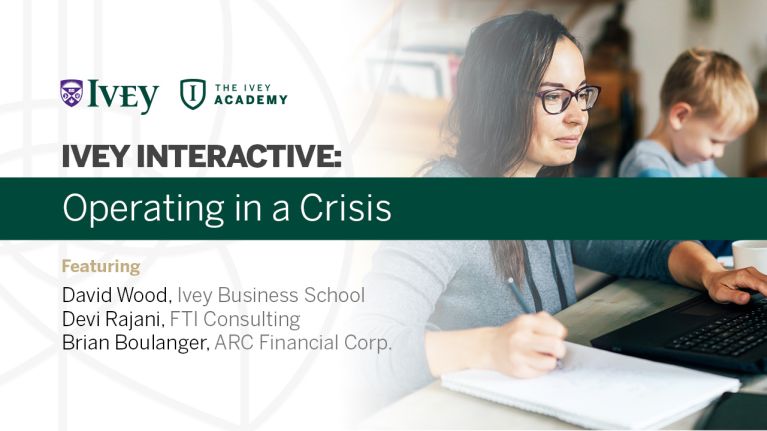 Click the above image to view slides, or download the slide deck presentation.
Memorable quotes
"By owning the problem, you give your team the freedom to start focusing on solutions." – David Wood
Additional reading
How to talk to your team when the future is uncertain, Harvard Business Review
It's not too early to prepare for the next pandemic, Harvard Business Review
Follow The Ivey Academy on LinkedIn, Twitter, Facebook, and Instagram for future virtual event announcements.
About The Ivey Academy at Ivey Business School
The Ivey Academy at Ivey Business School is the home for executive Learning and Development (L&D) in Canada. It is Canada's only full-service L&D house, blending Financial Times top-ranked university-based executive education with talent assessment, instructional design and strategy, and behaviour change sustainment. 
Rooted in Ivey Business School's real-world leadership approach, The Ivey Academy is a place where professionals come to get better, to break old habits and establish new ones, to practice, to change, to obtain coaching and support, and to join a powerful peer network. Follow The Ivey Academy on LinkedIn, Twitter, Facebook, and Instagram.