Watch the full recorded broadcast above.
The devastation of COVID-19 requires leaders to demonstrate strength of character to help navigate this treacherous time. COVID-19 has challenged every model of disruption and reveals that when we activate our character, we can do the impossible and imagine the previously unimaginable.
On May 21, 2020 The Ivey Academy hosted a complimentary livestream to examine how to harness the dimensions of leader character to cope – and thrive – during these stressful and isolating times. Featuring Ivey Academy professor Mary Crossan, a leader character expert, and Steve Virgin, Director, Character Based Leadership, Canada Revenue Agency, we discussed how you can develop your own character, how teams can work together cohesively, what organizations can do to activate collective character, and how to use leader character to continue to address the many pressing problems that had previously seemed intractable.
Key webinar content
Core topics
The foundation of leader character research
The current state of leader character research
An introduction to leader character dimensions
What we're learning about leader character during the crisis
The diminishing of humility and empathy the further a leader is distanced from the frontline
Addressing a lack of self-awareness among leaders
The gap between intention and behaviour
Improving team dynamics with leader character
Examples of extraordinary leader character and lessons learned
Staying motivated as the crisis drags on
What leaders should focus on 
Selection bias and the progression of women in leadership roles
The relationship between organizational culture and leader character
Implementing the leader character framework individually
Session materials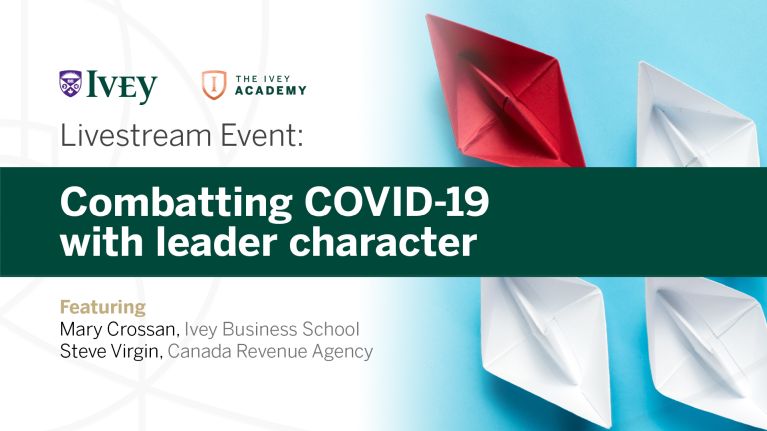 Click the above image to view slides, or download the slide deck presentation.
Memorable quotes
"Crisis reveals character for better or for worse. It's a humbling moment. Crisis either builds or erodes character. It really is a moment for all of us to consider." – Mary Crossan
"Culture eats strategy for breakfast, I say character eats culture." – Steve Virgin
Additional reading
Leader character framework, Ivey Institute for Leadership
Developing leadership character, Ivey Institute for Leadership
Leader character insight assessment, The Ivey Academy
Elevating leader character alongside competence in selection: A case study of Canada Revenue Agency,Organizational Dynamics
Why fighting COVID-19 requires character, Ivey Institute for Leadership
Addressing culture and its associated risks in financial institutions, Global Risk Institute
Music and character, Ivey Featured Research
For more information on Leader Character, visit the Ivey Institute for Leadership website, follow @iveyleadership on Twitter or LinkedIn, or contact the institute at leadership@ivey.ca.
Leader character dimensions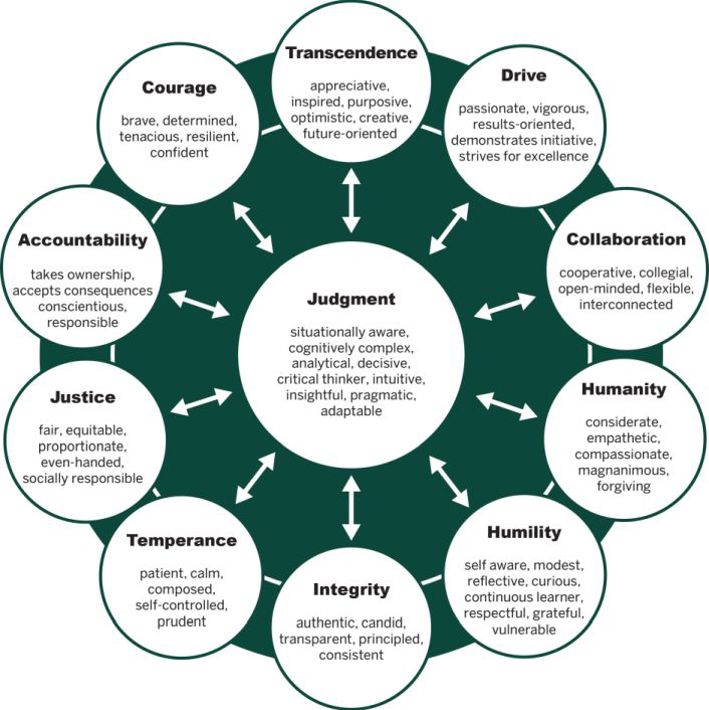 Post-livestream Q&A
How do we distinguish between character, values, behaviours and traits? Often it feels like these are intertwined.
All behaviours associated with character adhere to a set of criteria that establish them as virtuous. A few of these behaviours can be viewed as values, such as valuing fairness (a behaviour under Justice). However, even with values, the focus on character is that you develop the behaviour to support something you value. Only a few of the character behaviours are associated with the Big Five Personality traits, which have a tendency to be more innate and are semi-stable. Here again, it is only personality traits which meet the criteria established for virtues. For example, extroversion/introversion is one of the Big Five but it is not part of the character framework. The criteria established by Peterson and Seligman (2004) are as follows: fulfilling; intrinsically valuable; non-rivalrous; not the opposite of a desirable trait; trait-like or habitual patterns that are relatively stable over time; not a combination of the other character strengths; personified by people made famous through story, song, etc.; absent in some individuals; and nurtured by societal norms and institutions.
As we describe in the article about the CRA elevating character alongside competence in selection, organizations often have values such as integrity and competencies such as collaboration, and our advice is that you need not disentangle these ideas but understand that to exercise the competence of collaboration or to act on the value of integrity, a person needs the strength of character to do so. Essentially, character underpins competence, values, culture etc.
How does an organization keep character-based leadership in mind when they're in survival mode?
Essentially, an organization needs to double-down on character when in survival mode. Character isn't something that is nice to have, but rather it is critical to exercise judgment in crisis, when time and other resources are scarce and the future appears to be bleak. Just imagine someone with strong versus weak character in survival mode and you can quickly imagine different responses. Someone who is weak in character may not have the courage, drive or transcendence to imagine possibilities, or the temperance to remain calm in the crisis. To keep leader character at the forefront is to exemplify it in behaviour and notice when it is present or absent in yourself or others. Ideally, you are exercising character on a daily basis the same way you have your physical exercise program.
Senior leaders have access to many different models of effective leadership. What distinguishes the character model from the many other models that are being promoted? Why choose this model?
Most leadership models focus on style – what leaders do and how they do it. Character focuses on who the leader is, and so it tends to be the foundation to explain what leaders do and how they do it. Also, most leadership models are contingent – i.e. certain leaders for certain situations. Leader character defines a set of virtues that matter to individual well-being and sustained excellence, regardless of the level of the organization, sector or country culture. It is Judgment, or what Aristotle refereed to as "practical wisdom" that prompts the activation of the various dimensions of character as the situation requires – whether in crisis or calm. Also, most leadership models focus on leadership of others, whereas the starting point of leader character is leadership of self. The premise is that without developing your own character, it is difficult to inspire and motivate others or guide the organization. Finally, there are many leadership models that focus on only one or two dimensions of leader character, whether it be grit, courageous leadership, authentic leadership, or servant leadership. There is something called the "Goldilocks problem" or the "too much of a good thing problem" meaning that many studies are finding a curvilinear relationship in leadership theories – to little or too much not good – moderate amount best. However, this is likely the wrong conclusion and can be explained by the fact that focusing on only a few of the dimensions of leader character can take what could be a virtue, and have it operating like a vice. The advice should not be to tone down a dimension of character but rather to elevate another dimension to support it (see response to the next question). Because leader character applies to all individuals in all organizations, both personally and professionally, it has very widespread appeal and application.
I admittedly struggle with temperance. I feel like I often mistake my occasional lack of temperance for "passion." What habits or exercises can I use (say in a board meeting), to remind myself in real time of temperance being needed?
The dynamic you describe is one many of us can relate to. Think about the fine line between passion as a virtue and passion as a vice. It becomes a vice when we lack the Temperance, Humility, Humanity, and Collaboration to support it. Others will certainly recognize when your passion is a vice because you are discounting other points of view, or demonstrating impatience that others aren't getting your point of view, for example. There are "tricks" that people use to try to activate their temperance such as waiting to speak before others have had a chance to voice their views; deep breathing to control your heart rate variability which calms your physiology; sometimes counting – taking a pause – before your respond, and even responding more slowly and methodically than you normally would. However, consider that the tricks work as a stop gap for under-investing in the development of Temperance. For me, investing in Temperance has meant investing in a daily yoga practice with particular focus on breathing. It is important to recognize that many other dimensions, such as Humanity are also implicated. Often Temperance is overloaded because we are impatient with other people. Once you begin focus on developing Temperance you will learn how the other dimensions are implicated.
One personal comment for the meeting board room situation I use: does it need to be said, does it need to be said right now, does it need to be said by ME right now?
Did you say only 10% of us are self-aware? Can you explain what is the reason for low self awareness in general?
Yes, 85% of people believe they are self-aware and only 10% are (check out Tasha Eurich's research in Harvard Business Review in 2018). Note that self-awareness is one of the critical behaviours associated with Humility so even the development of character targets this critical area of learning and development. There are many reasons for the conundrum that people believe they are self-aware when in fact they are not: 1) We judge ourselves by our intention and others on their behaviours. There is a big gap between intention and behaviour and because we focus on intention we just don't see the gap. Leader character focuses on observable behaviors and part of the learning journey is reflecting on the gap between intentions and behaviors. 2) Being able to observe your behaviours as others do is extremely difficult (see response to question above for example), hence the need for tools like the 360 leader character assessment; and 3) People have struggled with giving productive feedback needed to support the development of self-awareness because we have often lacked a robust model on which to base that feedback – the leader character framework and assessment provide the tools to provide the feedback. Also those with stronger character are more likely to provide effective feedback because they not only step up to handle difficult conversations, but they do so in a respectful and compassionate way. In summary, leader character provides a robust framework to identify a set of leadership behaviours that are critical for all leaders, the tools to assess and develop those behaviors, and importantly it fosters a willingness for individuals to undertake the journey of cultivating self-awareness because of the personal benefits associated with well-being and sustained excellence.
You mentioned links to culture and regulation/compliance, can you explain that a bit more.
One of the articles we are sharing describes culture as a reflection of the character of its members. Note that when organization members have strength of character, they exercise the judgment to transform organizational processes and routines that may not reflect that strength of character. Witness the CRA altering its leadership hiring practice to elevate character alongside competence in the selection process. Most organizations are interested in agility, resilience and innovation, and the foundation for this resides in character as well as competence. The first 25 years of my career I focused on organizational learning for strategic agility and innovation. Unfortunately, character wasn't on the radar, and still isn't for many organizations since many people think character only refers to ethics. However, examine the behaviours in the framework and it is pretty clear that without them, agility and innovation are hampered. On the flip side, regulators and those responsible for compliance in organizations are keenly interested in character as it relates to misconduct. As we have written, misconduct in organizations is less about bad people doing bad things but people with weakness in character making poor judgment. The anatomy of failed decisions is a story of weak character – lack of courage, accountability, humility, collaboration, integrity – and the list goes on.
Follow The Ivey Academy on LinkedIn, Twitter, Facebook, and Instagram for future virtual event announcements.
About The Ivey Academy at Ivey Business School
The Ivey Academy at Ivey Business School is the home for executive Learning and Development (L&D) in Canada. It is Canada's only full-service L&D house, blending Financial Times top-ranked university-based executive education with talent assessment, instructional design and strategy, and behaviour change sustainment. 
Rooted in Ivey Business School's real-world leadership approach, The Ivey Academy is a place where professionals come to get better, to break old habits and establish new ones, to practice, to change, to obtain coaching and support, and to join a powerful peer network. Follow The Ivey Academy on LinkedIn, Twitter, Facebook, and Instagram.