To propel a family business transition, founders and their families need to proactively and successfully blend the next generation into the family business's leadership, governance, ownership, and succession planning activities. To help navigate this transition, The Ivey Academy partnered with Ivey's Business Families Centre and KPMG Enterprise to build an executive education program for next generation family members taking a governance, ownership, or leadership role in their family business.
Transforming Canada's entrepreneurial families
On September 23, The Ivey Academy welcomed 42 of Canada's future family business leaders to the third offering of FamilyShift™, a week-long program focused on strategies and tactics for addressing leadership, growth, and family business ownership issues. Participants were taken through a deliberate series of Ivey case studies, break out groups, interactions with expert guest speakers, and coaching sessions, all designed to address the unique challenges faced by family members in and out of the business.
David Simpson, Program Director and Director of Ivey's Business Families Centre, explains the importance of FamilyShift™:
"Family as an ownership structure is the most common form of business ownership around the world. We don't often think about that in Canada and yet recent studies have shown how significant a portion of GDP is attributed to family business, and upwards of half of all new employment comes from family-owned businesses. But the most important thing that we're learning is family businesses actually outperform other forms of business ownership. For the Canadian economy, supporting business families is tremendously important and for Ivey, we decided to make business families a focal point and engage them as they try to make the transition to the next generation."
These sentiments are mirrored by Perry Muhlbier, Family Enterprise Advisor, KPMG Enterprise.
"At KPMG, we realize with certainty that many of our clients will be transitioning their businesses within the next decade. We want to set them up for success in their transition plans for their business, either to the next generation or in a sale transaction. We appreciate the partnership with Ivey in bringing our clients to the program. Ivey has the depth of resources and experience to develop a program that provides the opportunity for a personal interaction between participants, guest speakers, and also faculty. It's been a wonderful experience."
Managing technical and emotional challenges
Conducting generational transitions can be complex with both technical and emotional challenges. Throughout FamilyShift™ participants gain the tools needed to build a bridge to the next generation of family firm management and/or ownership and ensure success, continuity, and commitment for generations to come.
"Watching FamilyShift™ is a remarkable experience because I see program participants go through the challenges that are usually left unspoken. Everything from 'how do I ever earn the respect of my parents?' to 'I've married into this family and I'm not actually sure how or where I fit.' Those conversations don't just happen over a cup of coffee. This environment that we've created with FamilyShift™ is unique and the feedback has been beyond positive," said Carolyn Cole, Vice President, KPMG Enterprise, Family Office.
"Often family businesses are subject to tension and conflict. One of the main reasons for this conflict is that family members have no voice. When there's no voice, there's conflict. At FamilyShift™, the next generations are able to find their voice through various tools and techniques provided in the program, such as developing a governance system. So when you have a voice, you're able to move forward," added Muhlbier.
An expanded peer network
FamilyShift™ is a gathering of next-generation entrepreneurial family members who all have a common struggle: they thought they were alone. They thought the challenges they face were unique to their family.
Participants in FamilyShift™ work in small group forums, sharing ideas and discussing common business experiences with other next generation leaders and faculty members of the Ivey Business School. Once they're in the program and they're in a room full of peers, they realize they're just like other people. Forming that peer network is the strength of FamilyShift™.
"Coming from a family business, you aren't exposed to people who are in the same situation or are going through the same things you are," said Natasha Paikin, Marketing Director, New Horizon Development Group.
"My greatest takeaway from this program is to be able to absorb everyone else's experiences, so that if I may encounter the same situations in the future, I can apply what they learned to my situation as well."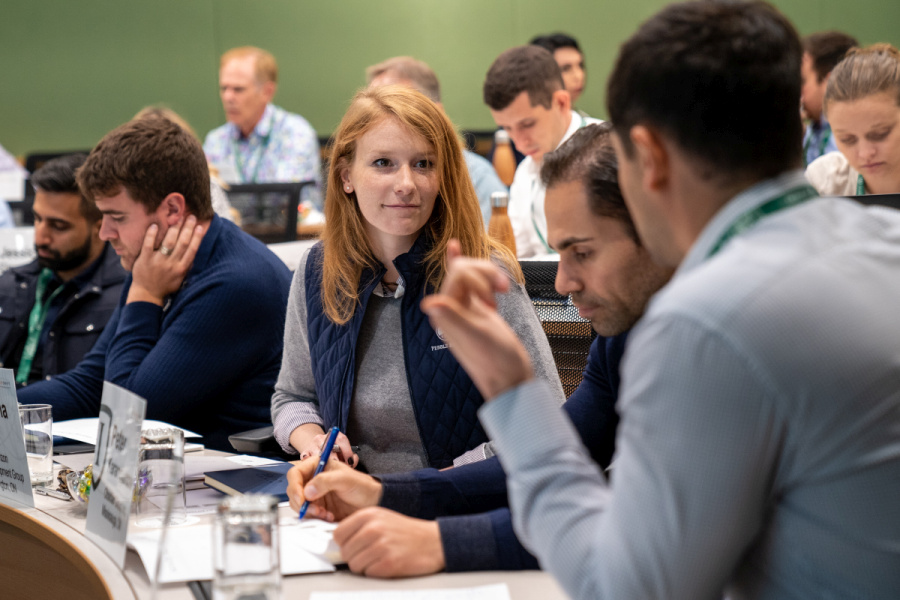 FamilyShift™ participant Natasha Paikin
Stratis Gavrilidis of Sherwood Electromotion Inc. found it reassuring to see how his peers were managing the transition from one generation to the next. By seeing how his peers were facing similar challenges, he was able compare his own progress against theirs.
"The program has exceeded all of my expectations. I've done enough leadership training, but none has been focused on the niche topic of the family business itself and that's the most important piece. I was able to benchmark where I am in my family business and how I can transition from generation to generation and go to the next level to become world class," said Gavrilidis.
The next session of FamilyShift™ is October 19 – 23, 2020. Interested candidates must complete an application form and be nominated by an Ivey Academy or KPMG Enterprise representative. Participants are selected by The Ivey Academy. To learn more about FamilyShift™, please download a program brochure.
About The Ivey Academy at Ivey Business School
The Ivey Academy at Ivey Business School is the home for executive Learning and Development (L&D) in Canada. It is Canada's only full-service L&D house, blending Financial Times top-ranked university-based executive education with talent assessment, instructional design and strategy, and behaviour change sustainment. 
Rooted in Ivey Business School's real-world leadership approach, The Ivey Academy is a place where professionals come to get better, to break old habits and establish new ones, to practice, to change, to obtain coaching and support, and to join a powerful peer network. Follow The Ivey Academy on LinkedIn, Twitter, Facebook, and Instagram.
.