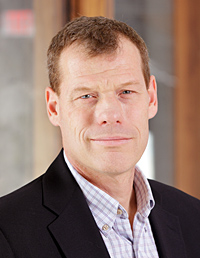 Mark Vandenbosch is Acting Dean at the Ivey Business School. He is also a Professor of Marketing and the Kraft Professor in Marketing. Mark earned his HBA from Ivey and his PhD from the University of British Columbia. He has held visiting professorships at IMD in Switzerland and INSEAD in France.
Mark's 26 years of institutional knowledge and leadership experience as Associate Dean, Programs, Program Director, and faculty member mean he is exceptionally qualified to lead Ivey.
In the News
Jul 24, 2017
Back in 2006, Ivey's switch to a one-year Master of Business Administration (MBA) was seen as a radical change. The MBA Class of 2017, which graduated in June, is the 10th class of the one-year program. As we celebrate this milestone, we reflect on the program's success.
Read More +
More In the News
Jul 21, 2017
Supporting women's equality is not only a matter of social and political justice, writes Executive MBA student Vasie Papadopoulos in The Globe and Mail's EMBA Diary. It's an economic imperative.
Jun 20, 2017
Ivey's Brandon Schaufele takes a look at the cold hard facts behind Ontario's electricity price policy.
May 15, 2017
Ivey Finance Professor Michael King argues Canada is in dire need of a national fintech strategy.