News@Ivey
Alumni reunite for in-person Ivey Homecoming 2022
Communications
|
Sep 26, 2022
This past weekend, Ivey welcomed more than 400 alumni and friends back to London to reconnect with their classmates and reminisce about their time at Ivey.
Being back in person after two years of virtual Homecoming events meant more opportunities for alumni to connect at Ivey's Open House, starting with a complimentary welcome breakfast, guided tours, and a Pledge Ceremony, where alumni committed or recommitted to the Ivey Pledge to act honourably and ethically.
The day also included three faculty-led sessions to discuss the Critical Issues in Ivey's new strategy, Ivey Next, and the research being done in the areas of Global Citizenship, Competitiveness and Innovation; the Evolution of Work; and Sustainability. The afternoon concluded with an interactive session run by the Ivey Academy, encouraging alumni to explore best practices that can help them recognize default habits as leaders and think about leadership from a different perspective.
Reunion classes also welcomed the opportunity to celebrate in person, with over 30 events taking place over Friday and Saturday evenings throughout the city.
Ivey Distinguished and Alumni Faculty Service Award recipients
Homecoming is also a time to recognize the exceptional contributions of our Distinguished Service and Faculty Service Award recipients in front of their classmates, family members, and colleagues.
In the above video, Dean Sharon Hodgson and Lisa Dymond, MBA '06, Chair of the Ivey Alumni Network Board, congratulate this year's Distinguished Service Award recipients Cynthia Devine, HBA '87, Larry Rosen, LLB/MBA '82, and Ian Ihnatowycz, MBA '82, LLD '13; as well as Alumni Faculty Service Award recipients Mary Gillett, HBA '82, MBA '02, and Fraser Johnson, HBA '82, MBA '92, PhD '95, who are not only outstanding teachers, they are also former classmates and alumni celebrating their reunion year.
"These alumni embody Ivey's mission and values," says Dean Sharon Hodgson. "Each [recipient] is an example of selfless service, passion, and generosity. Their contributions are truly inspiring."
Golden Alumni Brunch
Sunday's Golden Alumni Brunch drew more than 80 alumni and guests to Ivey's Brock Pavilion to celebrate their 50+ year reunion – a great way to end to a memory-filled weekend.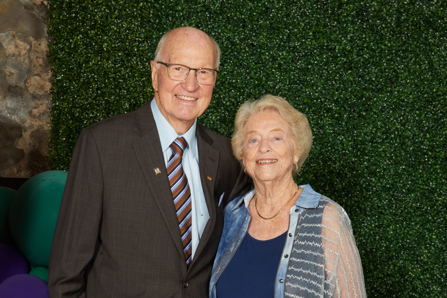 "As we have the opportunity to start connecting again in person, I encourage you to find new ways to connect with each other and with the School," says Lisa Dymond, MBA '06, Chair of the Ivey Alumni Network Board.
Mark your calendars for Homecoming 2023 (September 29 - October 1) as Ivey celebrates the School's Centennial.