Paul has over 30 years of experience in alternative investments, business development, corporate strategy and advisory roles gained in the USA, Canada, and Europe. He is the Founder and Executive Chairman of Sherpa International (ref. www.sherpaintl.com). He also owns and operates P-A-K Limited.
Clients include Le Fonds de Solidarite –FTQ, the Centre for the Commercialization of Regenerative Medicine, and XOR Laboratories. He also has advised the Kirchner Group and other PE/VC firms.
Previously, he was the Executive Vice President of the Business Development Bank of Canada, responsible for its Venture Capital business (BDC VC). BDC VC has over $1 billion in current and planned investments in both direct investing into technology based companies and Indirect fund of funds investing into technology focused funds. Prior to that, he was the Managing Director of Healthcare Funds for Drug Royalty Corporation (now DRI Capital) which deployed approximately $1 billion in royalty acquisitions with excellent returns.  He also has held the global Business Development position for the world's largest vaccine company, Aventis Pasteur, as well as having lead the corporate equity function at the 3rd largest pharmaceutical company, Aventis Capital, a subsidiary of Aventis SA.
He serves as Vice Chairman on the Advisory Council of the International Centre for Healthcare Innovation at the Ivey School of Business, Western University. He is also the Chair of the Advisory Committee of the Canadian Basketball Academy, a not-for-profit organization supporting youth in the GTA. He previously has served on the Board of Osteoporosis Canada, and of various public and private companies.
Paul has a BA from the University of Toronto where his thesis was 'Nationalism, Technology and the Multinational Corporation' and an MBA from the Ivey School of Business at Western University where he was awarded an academic scholarship for International Business.
Paul Kirkconnell, Vice-Chair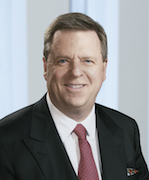 Owner and Operator, Sherpa International Inc.