As a graduate of both University of Saskatchewan and University of Toronto, Tony Dagnone has more than 38 years' experience in the Health Care sector, 25 of which have been as Chief Executive Officer of academic hospitals. After spending more than two decades at Royal University Hospital in Saskatoon, Saskatchewan, Mr. Dagnone was appointed in 1992 as the President and CEO of University Hospital, London Ontario.
In 1995, University Hospital merged with Victoria Hospital and became the London Health Sciences Centre (LHSC) and Mr. Dagnone was appointed President and CEO.
His career achievements include the visioning, planning and redevelopment associated with $600 million of new Healthcare facilities and technology. In 2009, he was appointed 'Independent Commissioner' by the Saskatchewan government to conduct a Province wide Patient First Review.
Over the years he has held a number of leadership and Board positions at the provincial, national and international level. Mr. Dagnone is past Chair of the Ontario Hospital Association, past Chair of the Canadian College of Health Care Leaders, and past Chair of the Change Foundation in Ontario. Between 1985 and 1989, he served as Chair of the Canada Games held in Saskatoon.
In 1991, he was granted the Order of Canada for his work in the community and leadership in health care. In 2005, Mr. Dagnone was the recipient of the Canadian College of Heath Service Executives (CCHSE) Distinguished Service Award as a testament to his extraordinary contributions to health care management. He is a Fellow of the Canadian College of Health Service Executives and a Fellow of the American College of Healthcare Executives. In 2009 he was awarded the Regents Award by the American College of Healthcare Executives.
The MEDBUY Board of Directors – a national group purchasing organization aggregating $700 Million of supplies for Canadian Health Care facilities – appointed him as "lnterm" CEO in 2011. The following year, he was appointed to Medbuy board where he served for 5 years as an Independent member.
Mr. Dagnone has served as Heath Care Advisor to Pacific and Western Bank of Canada for 5 years, and later served on the Committee advising a merger of the Parent company and Pacific & Western Bank to become todays VERSABANK.
Tony Dagnone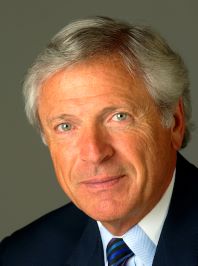 Former President and CEO, London Health Sciences Centre