Blogs
HBA students reflect on Sustainability Certificate kick-off
Emma Hogeterp and Eliana Viner
|
Oct 2, 2018
The Seven Grandfather Teachings: Indigenous knowledge changes how Ivey students think about leadership
Emma Hogeterp is a 2019 HBA and Global Development Studies dual-degree candidate enrolled in Ivey's HBA Sustainability Certificate Program. She attended the certificate kick-off event on September 17 and blogged about the experience.
Ivey Business School is situated on the territories of the Anishinaabeg, Haudenosaunee, Lenni-Lenape, and Attawandaron peoples. We pay respect to the land and to Elders past, present, and future.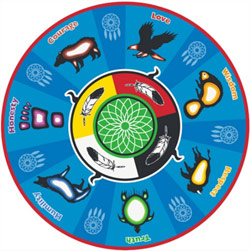 The HBA students in this year's Sustainability Certificate Program cohort were in for a night unlike anything they had experienced at Ivey before. Over just a few hours, the teachings of Indigenous knowledge holders and allies transformed who we are as leaders.
The evening kicked off at Innovation Works London with smudging and a meal of Three Sisters Soup – a culturally meaningful dish made with corns, beans, and squash. As the soup fed our stomachs and souls, the lessons from several Indigenous leaders and allies fed our minds and hearts:
Bill Hill, Ro'nikonkatste (Standing Strong Spirit), taught us to know our truth by embracing the negative and balancing it with the positive;
Michelle Baldwin, from Pillar Nonprofit Network, empowered us to pursue careers in social finance and share our impact through storytelling;
Summer Thorp, from the Positive Voice Program at Nokee Kwe, inspired us with the resilience of Indigenous women who healed and helped others through their stories; and
Amanda Kennedy, the creator of the Indigenous youth-to-youth platform Yotuni, shared her journey to overcoming injustice through community leadership and social enterprise.
These transformative leadership stories drew on a common set of principles: The Seven Grandfather Teachings. These teachings were given to the Anishinaabeg peoples as a guide for human conduct towards others, which includes Wisdom, Love, Respect, Bravery, Honesty, Humility, and Truth. I believe we can all learn from these teachings to lead organizations that act in the best interest of the land and its communities first – and profit second.
This land is shared by Indigenous and non-Indigenous peoples. As future business leaders, we must commit to the Truth and Reconciliation Commission of Canada (see Call 92 – Business and Reconciliation). Direct actions could include creating more inclusive hiring practices, prioritizing consultation with Indigenous communities, or buying from Indigenous-led organizations. However, to truly change our leadership behaviour, we must commit to building trust and long-lasting relationships with Indigenous communities on a deeper level. Bringing lessons from The Seven Grandfather Teachings into our daily lives is certainly a step in the right direction.
On behalf of Ivey and the Sustainability Certificate cohort, I send gratitude to those who shared their knowledge and lived experiences with kindness. For many of us, you helped to start a journey of learning and reciprocity that will shape our actions as business leaders for years to come.
Beyond the bottom line
Eliana Viner is a 2020 HBA candidate enrolled in Ivey's HBA Sustainability Certificate Program. She attended the certificate kick-off event on September 17 and blogged about the experience.
As business students, we're often taught to evaluate organizations based on their financial success and ability to turn a profit. While these are undeniably important, maximizing profit doesn't always need to be an organization's primary motivation. Putting social and environmental needs at the forefront of one's pursuit can be just as important.
This is one of the key messages I took away from the Sustainability Certificate's first event, as Amanda Kennedy of Yotuni and Summer Thorp of Positive Voices spoke about their organizations. These organizations were crafted to help individuals realize their worth and potential, to combat discrimination, and to improve the standard of living in marginalized communities. This isn't to insinuate that profit isn't important. Rather, it demonstrates that sometimes social objectives can be of equal or greater importance.
Ivey sustainability students were inspired and transformed by the speakers' impactful narratives and unique business perspectives. The evening challenged us to re-evaluate our traditional viewpoints and to look beyond the dollar signs of a business when deciding what new venture to start or which organization to join.
As young business people, the evening motivated us to seek out disruptors who are driving sustainable business forward, while also enacting positive social change.