Knowledge
Gerard Seijts | Leader Character: An overlooked, but essential component to your success
Communications
|
Apr 11, 2016
The 2008-2009 financial crisis didn't just expose the wrongdoings of major financial firms, it also revealed shortcomings in corporate leaders' character. That's why Ivey Professors Mary Crossan and Gerard Seijts and Professor Emeritus Jeffrey Gandz sought to prove that leader character can be assessed, developed, strengthened, and applied in the public, private, and not-for-profit settings. The end result is their new book, Developing Leadership Character, which provides a theoretical framework for leader character. Seijts, Executive Director of the Ian O. Ihnatowycz Institute for Leadership and Ian O. Ihnatowycz Chair in Leadership, shared insights on how character shapes the way leaders carry themselves, and the importance of leader character, in good times and in bad.
What prompted your interest in leadership and character?
Our research was motivated by the financial crisis. We wanted to know how leadership contributed to the 2008-2009 financial crisis, and the role of leader character came to the forefront. We interviewed more than 300 global business leaders and a consistent theme emerged: When it comes to leadership, character matters. In our summary of findings reported in the book, Leadership on Trial: A Manifesto for Leadership Development, we highlighted the three pillars of leadership: competencies, commitment, and character, and pointed out that if any of these three pillars are deficient, the shortfall will undermine the other two pillars and, ultimately, lead to performance problems for leaders, organizations, and related stakeholders. Since character seemed to be the most overlooked area of leadership development and the most difficult to understand, we wanted to next develop a way of framing and measuring leader character, similarly to how you measure competencies. This led to a program of research culminating in the book, Developing Leadership Character.
What is character?
We view character as a combination of virtues, values, and certain personality traits. Virtues are patterns of situationally appropriate behaviours that are representative of good leadership. Some of these virtues are trait-like variables, such as resiliency or conscientiousness, which may be inherited or acquired. And some of the virtues are values, such as fairness and transparency, which are firm beliefs people have about what is morally right or wrong, or what to do or not to do when choosing a course of action.
Character is an important element of leadership because it fundamentally shapes how we engage with the world around us. It influences what we notice, what we reinforce, who we engage with in conversation, what we value, what we choose to act on, and how we decide. It has been related to effective decision-making and consequently individual and organizational performance.
Our research has identified 11 virtues, or what we call character dimensions (See Figure 1).
Figure 1: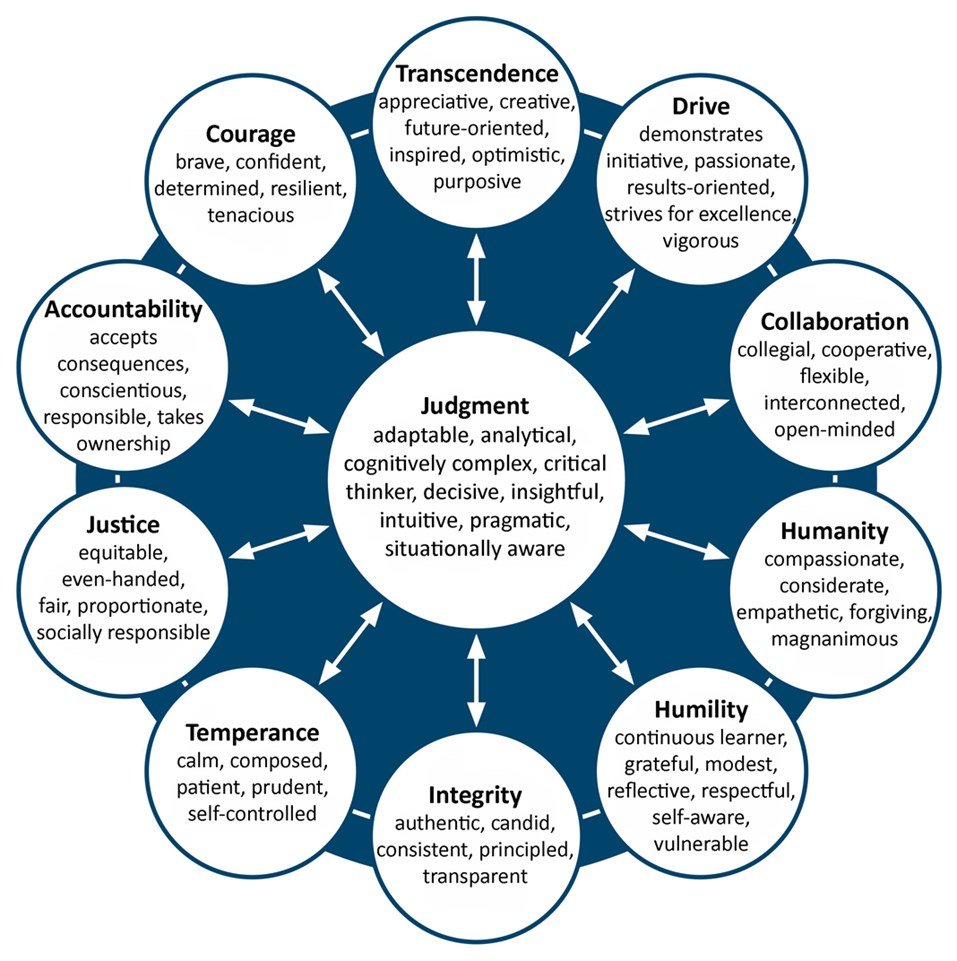 We placed judgment in the middle of the figure because it has a central place in an individual's character. Judgment moderates and mediates the way the other dimensions determine individuals' behaviours in different situations. It's like an air traffic controller. Depending on the situation, sometimes you have to dial up or dial down certain dimensions. There may be situations when a leader has to demonstrate exceptional courage. There may be situations when teamwork is important. But other times, given the situation or urgency of the crisis, the leader may have to make a decision alone. The important piece to understand is that individuals should be able to activate all 11 dimensions depending on the situation. This, of course, is a tall order.
Our wording of the dimensions is heavily influenced by the language used by executives in our research. It reflects a conscious decision to adopt relevant language rather than language that is used in philosophical, psychological, or other academic literatures, and which may be seen as rather foreign to executives.
The words in the circles (see Figure 1) are the behavioural illustrations of what it means to lead with each of the character dimensions. They define what each character dimension is in behavioural terms.
What is the most important character dimension?
The character dimensions are all important because they work together. However, we have found in our research that some organizations will emphasize accountability, courage, drive, and integrity and they somehow believe that humility, humanity, and justice are less important. That's a mistake. We see many examples where lack of justice, humility, or humanity has led to poor performance. For example, candour, an element of integrity, without compassion or empathy, elements of humanity, may lead to rejection of feedback because it will be seen as mean-spirited. This, in turn, hampers personal leadership development. Organizations need to focus equally on the other character dimensions because they work in tandem. The challenge for each leader in the public, private, and not-for-profit sectors is to work on developing all of the 11 character dimensions. Each one of us has strengths and certain preferences, but a mature leader is skilled in activating all of the dimensions.
Each of these dimensions can become a vice or a limitation when in excess or when deficient without being moderated by one or more of the other character dimensions. An example is drive. Drive in excess, without temperance, can result in reckless behaviour.
Can character be developed? If so, how?
Yes, character can be developed, but it is an ongoing journey involving awareness, feedback, reflection, and practice of the dimensions as they pertain to our workplace experiences. The individual's role in character development is to stretch and step out of his/her comfort zone. For example, Luke Skywalker in Star Wars and Frodo Baggins in Lord of the Rings both started as little people with modest ambitions, and – step by painstaking step – wind up leading.  That's because they looked for challenges. This, of course, is about how things work in the real world. If you don't feel that your character is challenged on a regular basis, you are likely not asking enough of it. Leaders learn by constantly stretching, reaching out for new performance levels, and discovering creative ways to contribute more to their organizations. Only through deliberate practice and feedback, can we see how we are doing, reflect back, and set goals for further development.
To help with this process, we developed the Leadership Character Insight Assessment (LCIA), which is available in two formats: self-assessment, and 360-degree format. This way, people can do an individual assessment or ask peers, colleagues, or their superiors to assess their leader character. This gives you some data upon which to reflect.
Senior leaders at organizations can also enhance their employees' character development by offering personal coaching or mentoring, and by modelling the right set of behaviours. This will influence what people at the organization believe is the right way of doing things and behaving in the organization. They should also hire and promote people who demonstrate the appropriate behaviours. This sends a signal and people will see the relevance of leader character and strive to develop it.  
Can character be assessed? If so, how?
Yes, character can be assessed through a behaviourally-based assessment instrument, such as the LCIA. The tool is designed to enhance awareness of a person's standing on each character dimension. The tool also promotes the personal reflection that is central to the developmental process and encourages goal-setting to improve or strengthen behavioural patterns. Organizations such as Aecon and General Dynamics Land Systems-Canada have used aspects of the tool in their performance management conversations and formal practices. The tool is helpful because it helps individuals to know what they should start doing, stop doing, or consider doing differently. Good coaching tools are always behaviourally-based and this one has been developed with the language of the practitioner in mind.
Can you provide some examples of leading with character?
When Michael McCain, CEO of Maple Leaf Foods, restructured the business in 2007, he drew on each of the 11 character dimensions. He demonstrated integrity in recognizing what needed to be done, transcendence in visualizing the end goal, and drive in making it happen, despite objections from shareholders. He also showed courage when he eliminated business units that couldn't be turned around, humanity by taking care of the employees who were losing their jobs, and justice in recognizing employees for past service and success. He further exhibited humility by seeking out the best business practices for leading a transformation, temperance by accepting the transformation would take a long time, and accountability because he focused on delivering results for shareholders. Adding to this were collaboration because he worked with a large and diverse group, and judgment through bringing all the dimensions together in an effective change process. This strong display of all of the leader character dimensions was a factor in his success. By 2015, the transformation was 90 per cent complete and Maple Leaf Foods' stock price was beginning to reflect its success.
Eileen Mercier, a professional director and the former chair of the Ontario Teachers' Pension Plan Board from 2007-2014, is another example. She is known for demonstrating integrity in the boardroom and has been praised for being a blunt and vocal conscience on more than a dozen boards. She is also known for challenging executives and directors on a myriad of issues, including inappropriate behaviour. No wonder she has been named to lists such as Top 25 Women of Influence and Canada's Most Powerful Women: Top 100. Her rise to the top underscores the importance of integrity over the long term.
What happens when leaders lack strength in leader character dimensions?
When Canadian food producer XL Foods had E. coli spread through its food processing plant in 2012, which led to the largest E.coli-related beef recall in Canadian history, none of the senior leaders stepped forward to apologize. Although the company apologized for the incident via a press release, the absence of an individual stepping up and owning the problem undercut the apology. The company also put recordings of its press releases on its media phone line, further giving the impression that it was out of touch, and it was perceived as lacking in accountability, courage, and justice.
The founder of a company that produces yoga clothing was criticized in 2013 when the company had an issue with some of its yoga pants becoming unexpectedly transparent under workout conditions. The founder made some awkward statements directed at women that were in the media. As a result, customers were upset, investors were reluctant to invest, and the board was irritated. This was an example of a leader lacking temperance.
How can leader character be used in recruiting, selecting, promoting, or developing current and future leaders?
The importance of leader character needs to be embedded in organizations by being incorporated into hiring practices and leadership development programs. This begins with a systematic and thorough assessment of leader character during the hiring process through use of biodata measures, interviewing, and reference checking. For example, in the initial interview, organizations may ask how candidates behaved in tough situations in the past, or how they think they would behave in specific situations in the future to get closer to unearthing leader character. In addition, organizations can add leader character to job descriptions and outline measures that will be taken to assess the character dimensions, to further underscore their relation to job performance.
Behaviourally-based feedback, through the LCIA, is particularly effective for the ongoing development of individuals so that self-management, stretching, and goal-setting are encouraged. Behavioural modelling, and mentoring will also help people to elevate their leader character dimensions. Initiatives will not gain traction if individuals believe leader character is a non-issue, therefore it is important that people across the organization believe leader character is critical to individual and organizational success.
How does leader character play a role in individual and organizational success?
It is important to reinforce that leader character is foundational for effective decision-making. Having the competencies and commitment to succeed is not enough. Most often the root cause of failure and success, both at the individual leader and organizational level, are grounded in character. Here are a couple of examples. The character dimension courage impacts leader behaviour because it causes leaders to put themselves in the line of fire or to vocally support in the face of strong opposition ideas that may be unpopular, but are the right moves. Likewise the character dimension justice might encourage leaders to reward good performance and confront poor performance, remain objective when hearing others out, be respectful of others' differences, and be vocally supportive of others who have been wronged.