News@Ivey
Romancing the case: Harlequin gets a strategy makeover
Communications
|
Mar 10, 2014
Ivey's HBA students may be too young to remember Harlequin Enterprises' rise to success in the book publishing industry, but they could certainly offer business strategy advice for keeping that stature in an increasingly digital world.
The students participated in a multi-day event -- Strategic Analysis and Action – during which they competed to provide Harlequin executives with the best advice to transition to e-books. The project involved reading a new case developed by Ivey Associate Professors Rod White and Tony Frost on the e-book opportunity and threat, preparing a 48-hour strategy report, presenting their ideas to their peers and professors, and possibly presenting to Harlequin executives if they moved on to the next level. One group from each of the eight HBA sections was selected to present their projects to Harlequin executives who visited Ivey on March 4 as the final stage of the project. After hearing the presentations, the Harlequin executives chose two winning ideas:
A loyalty program for digital readers from Ivey students Scott Donald, Ashton Rourke, Jonathan Drewnowsky, Tina Huang, Matt Nesvadba, Vinita Shah and Stephanie Yuen; and;
Transitioning more into single title authors and considering mergers and acquisitions to grow the company from Ivey students Zach Weber, Cherry Yang, Desmond Chan, Tibi Matei, Mike Picton, Kara Anderson, Kathy Zhang and Josh Weisfeld.
The experience was not only educational for the students, but was enlightening for the Harlequin executives as well.
"It was great to see the energy and enthusiasm that the students brought to the table and they did a great job of articulating what challenges are facing the company and coming up with creative thoughts and solutions," said Simeen Mohsen, Vice President of Strategy, Harlequin Enterprises. "It's very rooted in their consumer behaviour today, which is different from consumer behaviour from generations past so the ideas and the recommendations they made were very much rooted in their behaviour and how they consume content. I find that to be quite fascinating and very worthwhile for us to be considering."
40 Year Evolution of a Case
Harlequin Enterprises has been studied at Ivey for almost 40 years and the first Harlequin case, written by former Ivey Professor J.P. (Peter) Killing in 1979, was on how the company went about diversifying its products. Ivey Associate Professor Rod White and Ivey Professor Mary Crossan wrote a second case in 2003 about the company's possible re-launch of a single title women's fiction program and invited Harlequin representatives to Ivey for a live case discussion. That live case discussion was so well-received that when White wrote the third Harlequin case, launched last month, he decided to again invite Harlequin executives to Ivey for an even larger event with the students.
"Harlequin is a little known Canadian global success story. We've found it very valuable to study Harlequin's strategy and our students found it valuable to understand why it has been such as success story," he said. "This latest iteration of the case, on why the transition to e-books raises opportunities and challenges, is important because there are real issues for Harlequin in how it deals with the changing technology in its industry."
Ivey Assistant Professor Cara Maurer, who led the event, said the format of the project highlights the real-world leadership that Ivey is all about.
"We do cases, but we forget that there are real people behind them," she said. "It was great that this was a live case so the students didn't need to think back to what life might have been like a couple of decades ago and it was a way for them to feel more engaged."
Ivey HBA student Matt Nesvadba, who was on one of the winning teams, said he learned from the experience that issues aren't always as simple as they appear.
"On the surface, the case seemed to be about the e-book industry, but it was actually about way more than that. It relates to the relationship between the authors and the company and the relationship between readers and the company as well as the importance of online retailers," he said. "The key takeaway for me was that there is so much noise in the world of business and when you're analyzing a case it's all about filtering out the key facts that you want to focus on and the important elements in a company's strategy from the huge array of data you are given."
And while Nesvadba was unfamiliar with Harlequin before reading the case, he said he was surprised by how much he learned about the company in a short time.
"I think that's what Ivey is about as a program. Ivey gives you the opportunity to learn about stuff that you wouldn't necessarily have had knowledge about before and also to apply your knowledge to solve a problem in business. You really can't get that experience in a lot of other places," he said.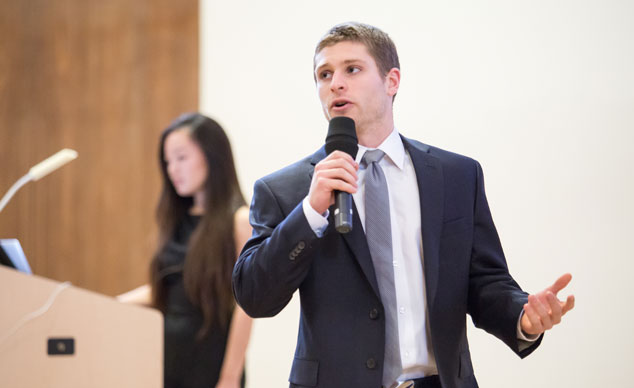 Student presenting his team's recommendations to Harlequin