News@Ivey
Welcome to Canada: Scotiabank International Case Competition 2017
Communications
|
Mar 7, 2017
International experience is coveted in the business world. The ability to adapt to and learn from different cultures is invaluable.
That's why for the 28th year Ivey's Scotiabank International Case Competition (SICC) drew teams from all over the world to come to Canada, form relationships with one another, and compete in a truly unique case competition.
Organized and executed by a team of HBA students, the event took place from March 2-5 and attracted 10 teams from 8 different countries. Here is the list of participating teams:
China – Tsinghua University School of Economics and Management
Germany – Muenster School of Business and Economics
Hong Kong – University of Hong Kong
Netherlands – Maastricht University of Business and Economics
Netherlands – Rotterdam School of Management
Puerto Rico – Inter American University of Puerto Rico
Singapore – National University of Singapore
Singapore – Singapore Management University
Spain – ESADE
United States – Northeastern D'Amore-McKim School of Business
The competition starts here
After initially meeting each other and learning more about the competition at the event's opening ceremony, teams travelled to Toronto and toured the Scotiabank Digital Factory.
With the philosophy "Reinventing how banking serves people," the Digital Factory has also reinvented what a bank looks like. The unique workspace has a games room, a meditation room, and even its own bowling alley. Here, participants were given the case – and it was all about FinTech.
Participants learned about the rise of FinTech, and the technologies that disrupt and change financial services to make the process more efficient. The case specifically focused on the future potential of blockchain technology for the Scotiabank Digital Factory.
Teams had approximately 15 hours to prepare their case before they presented to a panel of 11 judges, comprised mostly of Ivey alumni. Three teams advanced to the finals, where they presented to all judges as well as their fellow SICC peers.
The University of Hong Kong took home the first place prize, with Maastricht University of Business and Economics and Muenster School of Business and Economics as the other finalists. Maastricht also won the spirit cup, demonstrating the team's enthusiasm for both the social events and the competition itself.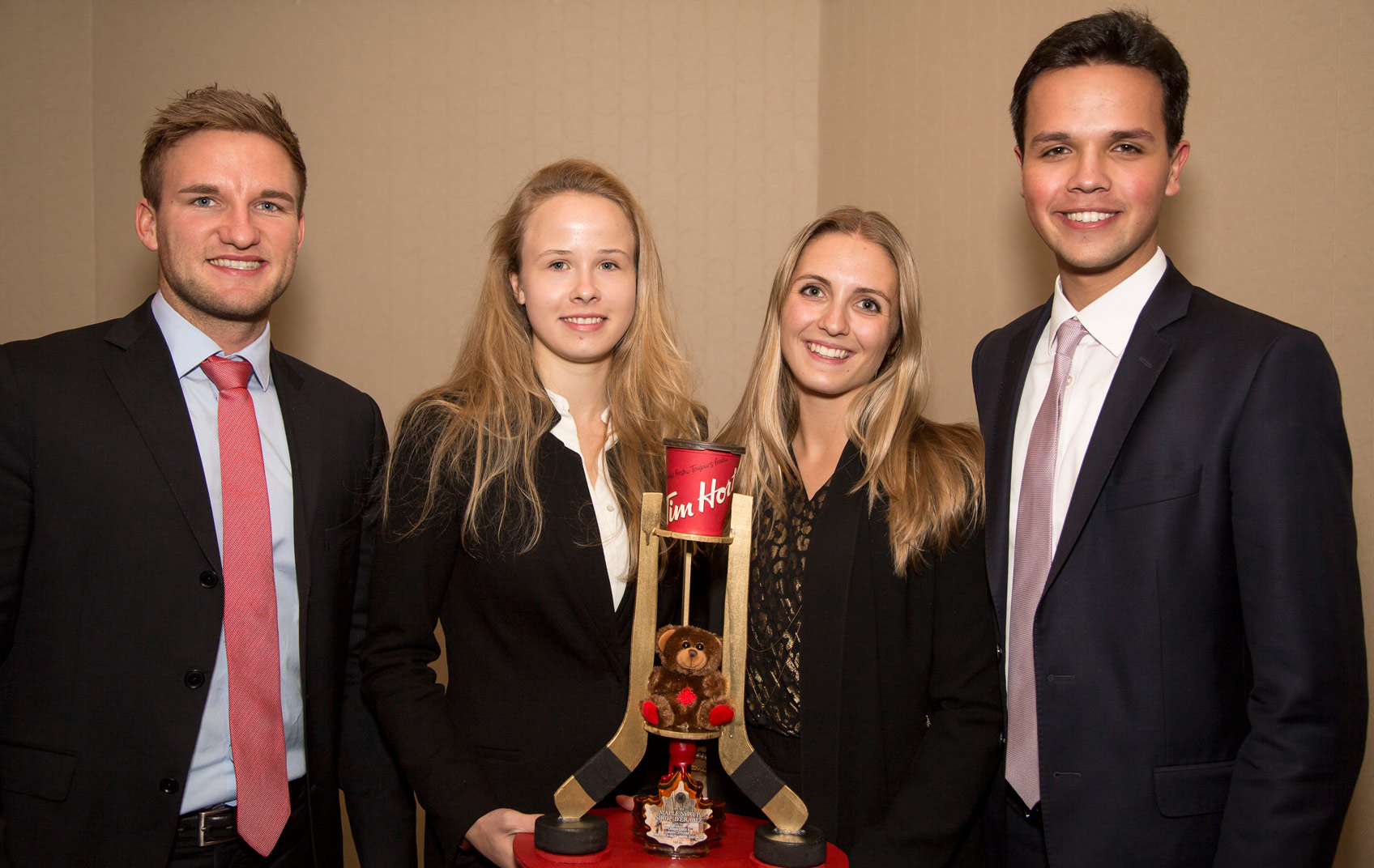 An unrivalled international experience
Although SICC is a competition at its core, there's much more to the four-day event. Teams bring their different points of view, cultures, and experiences to the table, learning from one another and getting a unique perspective into life in a different country.
"I learned so much over the brief competition period," said KT Irwin, HBA '18, one of the event co-chairs. "It was fascinating to watch the subtle differences between the teams throughout the event. Different countries had different strategies to completing the case, different presentation styles, and varying levels of intensity towards winning the case competition."
The HBA organizers gave participants a taste of Canadian culture. When they weren't working on the case, participants were indulging in poutine, enjoying a Molson Canadian or two, and playing mini stick hockey.
"In keeping with the Ivey tradition, we encourage all participants to work hard and play hard," Irwin and co-chair Jordan Sills, HBA '17, wrote in the SICC handbook. "We hope that time spent socializing with allow you to develop memories and friendships that will last beyond the competition."