News@Ivey
HBA students Break the Silence on mental illness
Communications
|
Jan 24, 2019
Break the Silence may be a week-long event, but the goal is to inspire students to carry its lessons with them for life.
Now in its fourth year, Break the Silence has become a staple of the HBA1 curriculum. Organized and executed by student group myHBA, the event encourages open dialogue about mental health.
"This could be the first time HBAs actually talk and open up about mental health," Sarah Fogh, myHBA Conference Coordinator, said. "Having all 600 students attend the event because we're talking about mental health – that shows how important it is."
Entirely student organized, this year's event included a panel of speakers, a zumba class, a yoga class, a meditation and colouring session, and a fresh fruit giveaway.
"In grade nine, I lost a family friend to suicide. At the time, it was really difficult to understand, especially being so young," Laura Watson, myHBA Co-Director, said. "From that point on, I've tried to get involved with mental health initiatives. Although I can't change the past, hopefully with myHBA events we can open up that conversation so other people don't feel so alone."
Thinking outside the classroom
This year's event focused specifically on mental health in the workplace.
"Ivey teaches students great skills about how to tackle the workplace and execute really high-quality work," Watson said. "But it's also important for students to learn how to manage our mental health, and to have these difficult conversations about mental health, especially in the workplace."
Support systems – like myHBA, Program Services, and The Wellness Education Centre – are in place for students during university, but it can be difficult taking care of yourself and knowing where to turn after graduation.
"My personal goal for this year is to motivate HBAs to prioritize their mental health as they begin their careers," Fogh said. "Yes, we need to prioritize our mental health in January recruiting month, but it goes beyond that. When you graduate and you're starting your first job, you have to continue to prioritize it."
Insights from the panel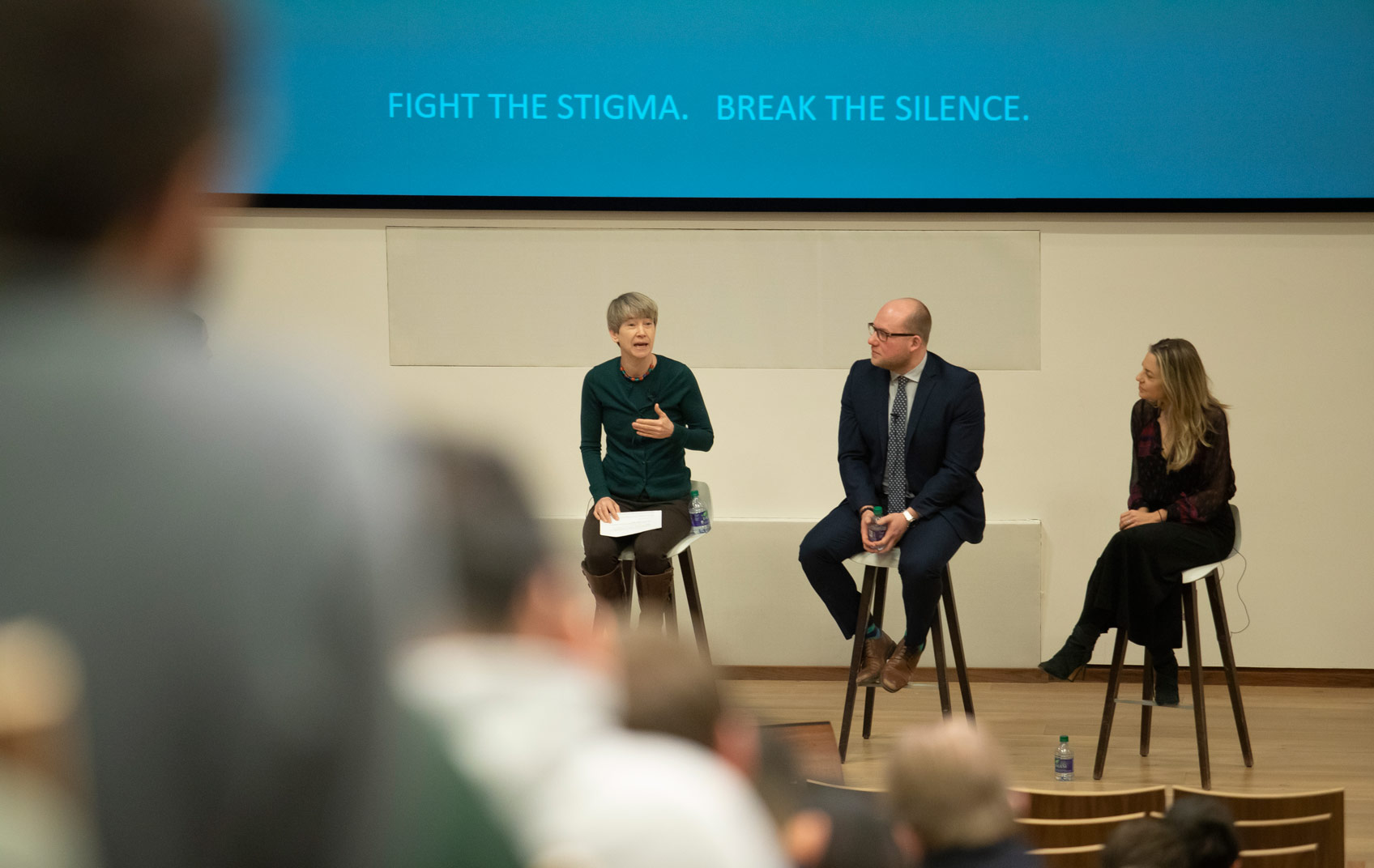 From left to right: Panelists Beth Beattie, Benjamin Leikin, and Jaime Saibil.

Past Break the Silence events have featured keynote speakers Michael Landsberg, Aliçia Raimundo, and Dr. Javeed Sukhera.
The 2019 event hosted a panel, moderated by HBA alum Hayley Rovet, HBA '12, and including Jaime Saibil, President, Saibil Counselling & Consulting; Benjamin Leikin, Supervisor, Mental Health, Ottawa Public Health; and Beth Beattie, Senior Counsel, Ontario Ministry of Health and Long-Term Care.
"Change the lens. Look for a fit." Saibil encouraged students to look for a good fit when interviewing for a job. Jobs are like relationships, she said. Both parties need to be happy, or else it won't work. When recruiting, she told students to keep in mind you're interviewing them as much as they're interviewing you.
"Don't go it alone." You will hit bumps in the road in your career and in life, Beattie said. She encouraged students to reach out to family, friends, and professionals for support.
"The biggest investment you can make is listening to your body." Leikin told students there are four key things to achieve sustainable success: Work hard, hone your skillset, be passionate, and check in on your operating system (i.e. your brain). If you only do the first three, and aren't checking in on yourself and working on your wellness regularly, you'll burn out.