News@Ivey
Three ways Canadian entrepreneurs can succeed internationally
Dawn Milne
|
Jan 27, 2020
Check any list of top global firms and try to spot Canadian companies. It will be tough to find them.
Albert Behr, CEO of BehrTech software company, and President and CEO of Behr & Associates Inc. consulting practice, says Canadian entrepreneurs are sadly absent from the world stage. Toronto-based Behr & Associates helps entrepreneurs succeed in commercializing their technologies worldwide.
"Name a world-class car company from Canada? There are none. Name a world-class food company from Canada? There are none. Yet Nestlé – the world's largest food company – is from Switzerland, which is smaller than Canada," he said. "How does that happen? Canadian companies, for whatever reason, have not shown longevity in the market. We're up and we're down."
Behr was one of the speakers for Ivey Entrepreneurship Weekend, which ran January 24-25. The two-day event, hosted by the Pierre L. Morrissette Institute for Entrepreneurship, included speaker sessions, workshops, and both undergraduate and graduate editions of the 2020 Ivey Business Plan Competition with student teams from universities across Canada and the U.S. competing for $40,000 in prizes.
How to take your company global
Behr spoke to students about Canada's place in the global startup community and gave advice on how Canadian entrepreneurs can make their mark globally. Here are his top three tips:
Never confuse where you live with where you make your money
Don't consider local success a stepping stone to world success. Behr said Canadian entrepreneurs should aim to sell their products or services in the U.S. and Europe.

"If you have aspirations to be a world player, no matter what your market is, you had better view Canada just as a place where you live," he said. "Would you sell to Walmart Canada, which has 400 stores and reports into Bentonville, Ark., or wouldn't you rather sell to Walmart Inc., which has more than 4,000 stores in the U.S. alone and is the place where the decisions are made?"

Pursue big partners


The business world is an oligopoly. Behr points to the food industry as proof, where only a handful of corporations produce the world's food. Since every industry typically has only a few big players, Behr recommends Canadian entrepreneurs seek partnerships with those giants.

"If you're not focusing on the top three, four, or five companies on the planet, then you are making a really bad call," he said. "Go to the largest companies and talk to them to see how you can help them by selling your products with their products."

Sell your company to your partners


Being a serial entrepreneur isn't just a calling; it's a strategy for success. Once they've partnered with a company outside Canada, Behr recommends Canadian entrepreneurs sell their businesses to their partners within three to five years and then start working on the next big idea.

"Get in, antagonize, sell the business to the partner, and get out because history does not show well for Canadian companies in the long term," he said.
The recipe for success
He points to the longevity of Miss Vickie's, a Canadian brand of potato chips that is now made by Frito-Lay in the U.S. and Canada and sold in both those countries, plus Europe. The brand was created by Canadian entrepreneurs Vickie and Bill Kerr in 1987 and sold to Hostess Frito-Lay (now Frito-Lay) – a subsidiary of global food giant PepsiCo – in 1993.
"Now Miss Vickie's chips are everywhere, but the brand started in Ontario. They [Vickie and Bill Kerr] grew the business, they worked with a partner, got distribution, and then said, 'buy me.' The owner has changed, but Miss Vickie's chips persists," he said.
And while Behr's talk was centred on Canadian entrepreneurs, his recipe for success can be applied by any entrepreneur, in any industry, anywhere around the world.
Ivey business plan winners
In addition to Behr, the event's speakers included Bruce Lamb, HBA '85, President and Chief SEO Expert of Avalanche Search Marketing Inc., discussing Digital Marketing, and a fireside chat with Steve Suske, MBA '77, President and CEO of Suske Capital Inc. They shared entrepreneurial lessons and advice before the teams pitched their business ideas to judges.
Here's a look at the winners from each edition.
Ivey HBA Business Plan Competition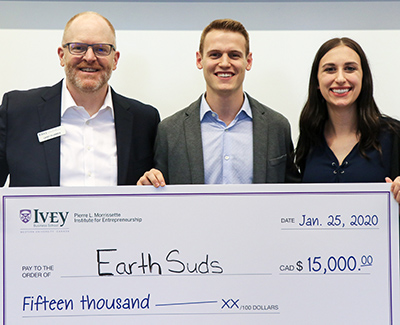 Team EarthSuds, Wilfrid Laurier University – First place (Daniel Moll and Marissa Vettoretti, with Ivey Associate Professor Larry Plummer on left) 
EarthSuds is a sustainable shower products company offering alternatives to the plastic toiletry containers used in hotels.
Ivey MBA Business Plan Competition

Team Hairstrong, Western University – First place (Nicole Baranowski, MSc '21 candidate) 
Hairstrong created the world's first customizable hair band. Founder Nicole Baranowski developed the product through Western's Propel Entrepreneurship incubator.
Pembroke Management prize in social enterprise

Team Urban Roots, Ivey (Richie Bloomfield, HBA '14, MBA '20 candidate, and Mariam Waliji)
Urban Roots London is a not-for-profit organic urban farm that grows organic produce and distributes it to consumers and to private and social enterprises in London.