News@Ivey
Honorary degree recipient Nancy Yeomans Love encourages Ivey graduates to find their true calling
Communications
|
Oct 21, 2022
When Nancy Yeomans Love, HBA '76, graduated from Ivey, her vision of success was to become CEO of a company and have a six-figure salary.
But her life has taken a very different path since that time. In 2011, Love's son, Jason, was diagnosed with relapsing-remitting multiple sclerosis (MS) at age 29. Success for her now means finding a cure for MS. Love, CEO and Principal of NLo Strategies Inc., has since been a tireless fundraiser for MS research as well as chair of the Multiple Sclerosis Scientific Research Foundation since 2015.
"In an instant, what mattered in my life – every measure of my success – changed," says Love. "As a mother, I wanted to rescue him [Jason], but as a leader, my first instinct was to somehow fix this."
Love shared her story with graduates at Western University's 320th convocation on October 21 where she was awarded an honorary Doctor of Laws for her many contributions to Western and Ivey and, most of all, society. The audience included more than 200 graduates from Ivey's HBA, MSc, MMA, EMBA, and PhD programs who also participated in separate Ivey Pledge Ceremony sessions and awards events.
Redefining success in business
Detailing how much the world has changed since she graduated, especially recently due to the COVID-19 pandemic, Love asked the graduates to think deeply about how they will define success for themselves. In addition to reshaping the world in many other ways, Love said the pandemic has ushered in new expectations of business.
"This experience [COVID-19] over the past two years has reshaped the world that you are stepping into … I believe it has also reshaped the definition of what it means to be successful in business," she said. "Today, we expect businesses to show up differently and play a much more meaningful role in solving some of the big challenges faced by society."
Love said the silver lining of the pandemic is that it has forced business and government to think differently about the way they function and can work together to solve some of the world's recently-surfaced problems. One inspiring example is how quickly the COVID-19 vaccine came to fruition by bringing together the best minds, along with free exchange of ideas, international cooperation, and the cutting of red tape.
That approach should be top of mind as current and future leaders seek to address other societal issues, such as climate change, systemic racism, food insecurity, and income inequality.
"These evolving expectations will extend to you, our future leaders, and will influence what you see as success for yourself in business or in whatever profession you choose to pursue," she said.
Advice for future leaders
Love encouraged the graduates to take four important steps as they embark on their careers:
Find your calling or passion – Love said her calling is to make a difference in the lives of those living with MS. And while it may have been thrust upon her, it drives her every day;
Answer the call by focusing on what you can do – Understand what your specific skills are and figure out how you can contribute in your own way;
Build your team – Surround yourself with people who drive you and give you strength and energy; and,
Never say "no."
"Never say, 'I can't do it.' But if you do, like I did, give your head a shake and just get on with it," she said.
Making a difference
She cited two recent successes related to her own personal calling that have proven to her that anything is possible. One was when Love and her family, along with 160 volunteers, rappelled off of a 20-storey downtown Toronto office building, which resulted in a special MS fundraising campaign exceeding its $75-million goal. Another is the fact that MS research has now advanced to the point that those diagnosed with relapsing-remitting MS are no longer at as high of a risk of developing a more progressive type of the disease.
"The research is working. The drugs are working. We are making a difference," she said. "I tell you these stories to encourage you to pay attention to your lives and the needs of your community … Someday, your community will call on you to bring whatever skills you have to solve a problem. Listen to your heart and do not be afraid to answer that call."
As you go forward, pay attention to the people you meet, the causes that call to your heart, and the lessons that you learn. They will not only aid you in your career, but perhaps someday they will help you with a higher calling."
– Nancy Yeomans Love, HBA '76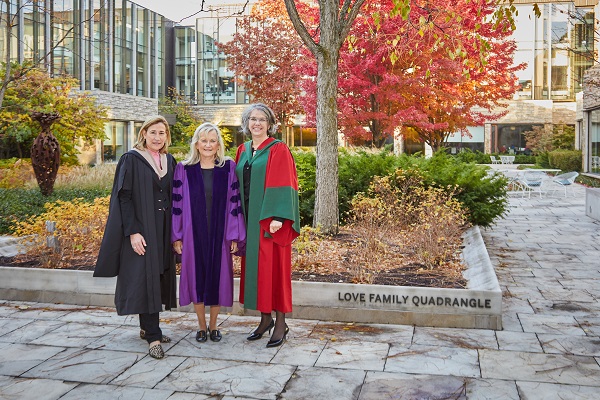 L-r: Ivey Dean Sharon Hodgson with Nancy Yeomans Love and Lyn Purdy, Associate Dean of Programs, in the Love Family Quadrangle.
More about Nancy Yeomans Love
Nancy Yeomans Love and her husband; Jon Love, HBA '76; funded the Barlo MS Centre at St. Michael's Hospital, a world-leader in advancing MS care, education, and research. The couple also established the Love Chair in Prostate Cancer Prevention Research at Princess Margaret Hospital and has supported the Centre for Addiction and Mental Health, Community Food Centres Canada, The Next 36 entrepreneurship initiative, and other causes.
For close to 20 years, Nancy Yeomans Love was a member of the Council of Ambassadors for the Junior League of Toronto, a charitable organization that trains women to be leaders in the community, and served as its president from 1996 to 1997. She has also been a member of the fundraising campaign cabinet for Pathways to Education, an organization that helps youth in low-income communities to graduate from high school and successfully transition into post-secondary education.
Ivey has benefited from the Love family's generosity, including support for the Ivey building and an HBA scholarship. Both the Love Family Quadrangle at the Richard Ivey Building and the Love Family Foyer at Ivey's Toronto campus are named in the family's honour.